2011 La Gazzetta dello Sport
European player of the year:
Alba Torrens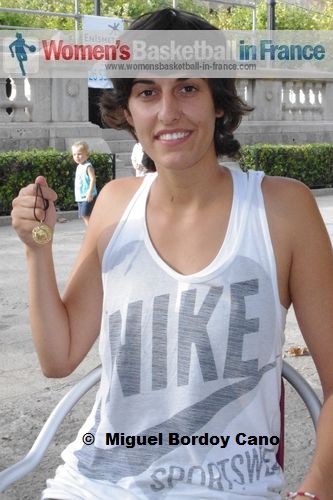 Alba Torrens has added the La Gazzetta dello Sport 2011 European basketball player of the year award to her collection of personal accolades.
In 2011 Torrens had domestic success in Spain with Perfumerías Avenida in becoming champions of Spain. However the highlight of the season came in the EuroLeague Women campaign with Halcon Avenida winning the competition as well as Torrens being rewarded as MVP while ending the four-year reign of Sparta&K Moscow Region.
Now for the first time in her career Alba Torrens has moved from Spain and is currently playing for Galatasaray Medical Park (2011-2012 season) in the Turkish League.
Concerning the Gazzetta dello Sport award Torrens succeeds Hana Horákova, the 2010 holder of the Gazzetta accolade and Anete Jekabsone-Zogota and Sandrine Gruda who had won this award earlier. Torrens, Jekabsone-Zogota and Gruda had also all received the FIBA Europe youth player of the year award.
Since the creation of the La Gazzetta dello Sport accolade in 1979, Torrens is the first player from Spain to win this prize. The 2009 winner of La Gazzetta dello Sport trophy, French international Sandrine Gruda was voted second while Czech Republic international Eva Viteckova came third.
Every year the newspaper selects an international jury of players, coaches and journalists to make up the panel and the winner is the player with the most votes.
This year 16 players had received votes:

1. Alba Torrens (SPA) 76 points
2. Sandrine Gruda (FRA) 66
3. Eva Viteckova (CZE) 44
4. N. Yilmaz (TUR) 41
5. E.Danilochkina (RUS) 35
6. M.Stepanova (RUS) 24
7. I.Perovanovic (ME) 20
8. S. Mandir (CRO) 10
9. S. Lyttle (SPA) 4
10. S. Dominguez (SPA) 3
11. J. Skerovic (ME) 2
12. A. Bimbaite (LTU), A. Montañana (SPA), S. Kaltsidou (GRE), B. Vardarli (TUR), E. Babkina (LAT) all with 1 vote
---
Visit our 2011-12 Ligue Féminine de Basketball page
Visit our EuroLeague Women index page
Visit WBBIF blog for latest news
Return to the top of page
Picture credits:


FIBA Europe

Date created: 11 January 2011

---