Halcon Avenida Salamanca:
EuroLeague Women champions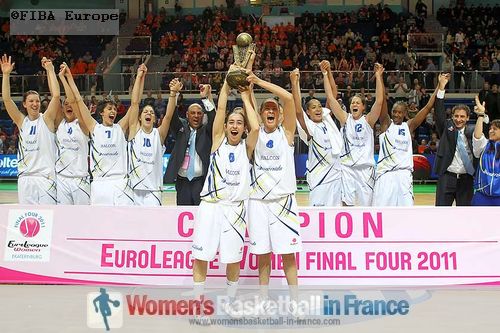 Halcon Avenida put their name on the EuroLeague Women trophy for the first time in their history by beating four-time defending champions Sparta&K Moscow Region (68-59).
Alba Torrens, final four MVP, and Silvia Dominguez with 13 and 16 points each played a big part in the Spanish club's victory. Their team mate Sancho Lyttle took care of defensive rebounds with 11 to finish the game with a double-double of 12 points and 13 rebounds.
Taj Mc Williams (in picture) fired in 17 points and picked up 11 rebounds for the defending champions while Sue Bird and Epiphanny Prince added 16 and 12 points each.
Halcon Avenida Salamanca head coach, Lucas Mondelo, who took over the reigns of the club this season explained after the match why his team won the EuroLeague Women final:"Our plan for the game was to stop the important players of the opponent - Sue Bird and Epifaniya Prints. Moreover, we used alternative defenses, some new moments, built our play from inside to outside and everything turned out well for us.
We came out nervous; everybody usually is in all finals like this. At the end Sue Bird took her team on her shoulders, and once again proved her worth. I must say, Sparta&K is a great team, they have great coaching staff, but we prevailed."
Pokey Chatman was full of praise for Halcon Avenida and basically explained that the loss was down to playing a team that was more aggressive, defended well and shot the ball 10% better than her team.
This is the last EuroLeague Women final four in this format. From next season the final phase will be contested by eight teams in a venue to be decided before the competition tips off in October.
Halcon Avenida capture EuroLeague Women title
The game started poorly for both teams with just one success from open play with Taj Mc Williams scoring in the paint for the defending champions.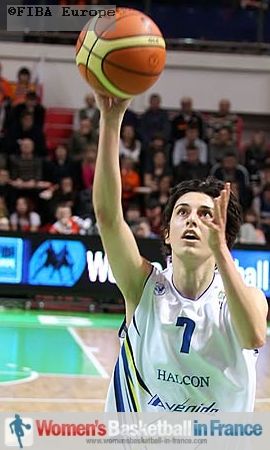 Halcon led (4-2) halfway through the first quarter with Silvia Dominguez and Belinda Snell going a perfect 4-of-4 from the charity stripes.
The introduction of Alba Torrens (right) sparked Halcon Avenida into action. She fired in a trey which was quickly followed by a second tree-pointer from Belinda Snell (10-2).
Noel Kuin ended the barren spell for the defending champions. Then Serbian international Jelena Milovanovic added another 2 points.
Both sides became more physical in the closing stages of the first quarter which resulted in free trips to the free-throw line for the Spanish side.
Despite picking 2 quick files Sonja Petrovic picked up a wild miss from beyond the arc by Jelena Milovanovic to tap in on the buzzer.
All the same Halcon Avenida led (14-8) after the first quarter.
Sue Bird opened the scoring in the second quarter from the free-throw line as both teams continued to be physical.
When Erika de Souza picked up her 3rd foul for an illegal screen (offensive foul) after 12 minutes she was forced to return to the bench.
Halcon Avenida weathered the storm with Sancho Lyttle scoring her first points of the game. Shortly afterwards Ana Montañana scored from the top of the key (18-10).
However the team from Salamanca dropped their guard allowing Russian international Irina Osipova to muscle her way in the paint to score and also win the free throw.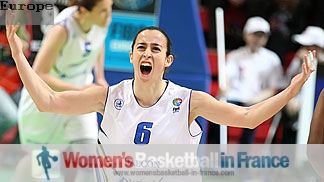 Halcon Avenida's coach Lucas Mondelo called an immediate time-out to refocus his players. He was quickly rewarded with Anke De Mondt hitting a trey while Lyttle secured all defensive rebounds.
Halcon's advantage reached double digits (28-13) after a sequence of 7 points where first Dominguez (left) managed to waltz her way for an easy lay-up.
Snell was then allowed to collect her own rebound after missing a trey for another easy lay-up before Dominguez connected from the land of many.
Pokey Chatman called for a time-out and changed her team's defensive option.
They switched to zone to stop their opponents while Mc Williams scored back to back baskets. A trey by Epiphanny Prince resulted in Halcon Avenida using a time-out.
The first half came to end with Torrens and Bird exchanging baskets and Avenida leading (30-22).
Both teams started the second half playing zone defense. Yet Sparta&K Moscow Region were quicker into their stride with the first 4 points.
Halcon Avenida then stepped up a gear and began to score from all over the court in a 16-2 run for a 20-point lead (50-30) with 27 minutes played.
Sparta&K somehow weathered the storm and finished the quarter with an 8-0 run. They further reduced their deficit with Bird adding 5 more points (43-50).
Once again the two teams became more physical: Lyttle and Marta Xargay restored their earlier double digit advantage (55-43).
The fouls were mounting up quickly with Petrovic fouling out with 7 1/2 minutes to play.
The Spanish team's remaining points came from the charity stripes as they held off a ferocious finish by Mc Williams and Bird to win their first EuroLeague Women title (69-65).
Sparta&K Moscow Region: Epifaniya Prints 12, Sonja Petrovic 2, Natalia Vieru DNP, Ilona Korstin 0, Jelena Milovanovic 4 (3 assists), Sue Bird 16 (3 assists), Ekaterina Ruzanova DNP, Irina Osipova 6, Nadezda Grishaeva DNP, Taj Mc Williams 17 (11 rebounds), Irina Sokolovskaya DNP, Noel Kuin 2
Halcon Avenida: Anke De Mondt 9, Belinda Snell 7, Silvia Dominguez 16 (3 assists), Alba Torrens 13, Isabel Sanchez DNP, Amaya Gastaminza DNP, Marta Xargay 2, Laura Gil 0, Ana Montañana 3, Erika De Souza 6, Sancho Lyttle 12 (13 rebounds)

You can watch game highlights on FIBATV
---
Return to the EuroLeague Women index
Return to the index at the top of page
---
EuroLeague Women picture credits:


FIBA Europe

Date created: 10 April 2011

---