Playing EuroLeague Women basketball in Russia is never straightforward
The first three games of the 7th round of EuroLeague Women were played too early in the afternoon for most European nations to follow even with live streams.
The first game of the day started with Russian champions UMMC Ekaterinburg against Seat Unisze Györ.
UMMC started slowly to lead (10-8) with four minutes played. Then they went on a brutal acceleration with a 21-8 run to finish the quarter (31-16) and more or less ended the contest with the first 13 points of the second quarter (44-16).
UMMC strolled to victory (97-60) with all the nine players playing at least 13 minutes and scoring, with seven in double digits.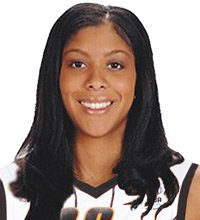 Candace Parker had a productive 23 minutes scoring 19 points, while Sandrine Gruda pulled down 7 rebounds and blocked 2 shots while scoring 10 points. Cappie Pondexter dished out 6 assists and made 4 steals while scoring 13 points.
Quanitra Hollingsworth led the Hungarian team in points with 16 while Croatian international Iva Ciglar scored 15 points.
Parker from UMMC said after the game: "Coming out in this game we knew we will have to play tough defense, because the Hungarian team had tall players in the zone and a couple of good players at the perimeter. We also knew they were good at rebounding. In the second half they picked up a good fight and jumped on us at a high speed. It is a young team and hope they will be able to do much better."
Nadezhda Orenburg appear to like making EuroLeague Women basketball difficult
Nadezhda Orenburg went into the final quarter leading by 12 points (64-52) and appeared to have everything under control against CCC Polkowice.
However with five minutes left to play CCC, still trailing by 12 points, started an incredible fightback, with Joanna Walich and Sharnee Zoll (15 points) doing most of the damage.
The hosts were saved from defeat by Katie Douglas (16 points) whose free throws with just over a minute to play gave them a 5-point cushion. Yet the game was still in the balance with 40 seconds to play after Walich (6 points) hit the target.
A poor execution by the reliable Rebekkah Brunson (19 points) in the closing seconds gave the guests one more chance of forcing overtime.
Zoll had no choice but to attempt a three-ball, yet the ball did not drop and the rebound was scrambled away, allowing Nadezhda Orenburg to win (74-71).
Iva Perovanovic's effort with 16 points and 5 rebounds was not enough for the Polish team to pick up their third EuroLeague Women victory of the season.
There are some games in basketball where you can forget everything that happened for 39:55 and concentrate on the last five seconds. This was the case between Sparta&K Moscow Region and Lattes Montpellier.
The match between the two teams was evenly balanced throughout and then exploded in the dying seconds.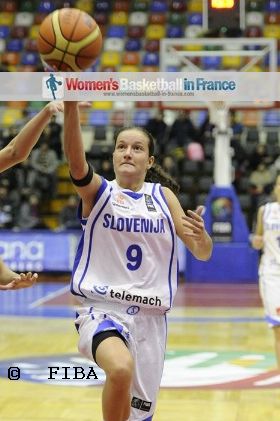 With the game tied (70-70) Sonja Petrovic fired a shot from behind the arc that failed to connect. Candice Dupree (19 points) battled for the offensive rebound and in the hustle to try and score Kristen Mann was called for a foul.
Dupree hit the two free throws. The Montpellier's coach requested for a time-out with 1.7 seconds left to play. Mann was given the task to take the last shot to force overtime but it was off target and Montpellier were beaten (70-72).
Seimone Augustus also had 19 points for the victors while Nika Baric's (right) 13-minute ELW play resulted in 11 points. Fatimatou Sacko and Stephany Skrba had 12 points each for Montpellier.
---
Look back at what happened in round 6
Visit our 2011-12 Ligue Féminine de Basketball page
Visit our EuroLeague Women index page
Visit WBBIF blog for latest news
Return to the top of EuroLeague Women news page
Picture credits:
UMMC Ekaterinburg

Date created: 23 November 2011

---