EuroLeague Women surprise of the week
Wisla Can-Pack stun
Sparta&K Moscow Region
Sparta&K Moscow Region's EuroLeague Women qualification for the second phase suffered its first hiccup with a home defeat against Wisla Can-Pack Krakow in the major surprise on the first day of action in round 2.
Wisla Can-Pack's drive for victory started late in the first quarter with a 9-2 run that enabled them to win the first quarter (19-12).
The hosts battled away during the second quarter. But a 8-0 reversal at the close of the first half more or less sealed their fate heading into the half-time break trailing (28-42).
The Polish side took full advantage of a poor shooting display by Sparta&K Moscow Region in the third quarter to build on their lead (58-37) going into the final quarter.
The Russians came storming back during the final quarter as they regained their scoring touch.
However the deficit was too much to make up. Wisla, led by 18 points and 14 rebounds of Milka Bjelica (in picture), currently share first place in EuroLeague Women Group C with Montpellier.
Also in double digits for the winners were: Erin Phillips and Nicole Powell with 15 and 10 points respectively. For the Russians Candice Dupree and Jelena Skerovic had 12 points each while Sonja Petrovic, Irina Osipova and Rebekka Hammon added 10 apiece.
In the other game from ELW Group C, Good Angels Kosice had no trouble in beating Rivas Ecópolis (81-63).
Good Angels, playing at home, led from start to finish. Despite dominating the play for the first 21 minutes they only led by 3 points (43-40).
However their better rebounding and good finishing saw them blow their opponents off the court during the final stages of the game. Danielle Mc Cray led the scoring with 20 points while Miljana Bojovic followed up with 18 points and 4 assists.
Natalia Vieru with 15 points and Lucia Kupcikova with 10 points were the other players in double digits. For Rivas Ashja Jones led all scorers with 24 points while also picking up 9 rebounds. Elisa Aguilar had 12 points.
Montpellier had what turned out to be an easy game at home beating Frisco Brno (80-50) with Ana Lelas scoring 14 points and Stephany Skrba adding 13 points while picking up 10 rebounds.
The final game in Group C between Cras Basket and Gospic Croatia is one of two games scheduled for the second day.
Elsewhere in the EuroLeague Women competition on day 2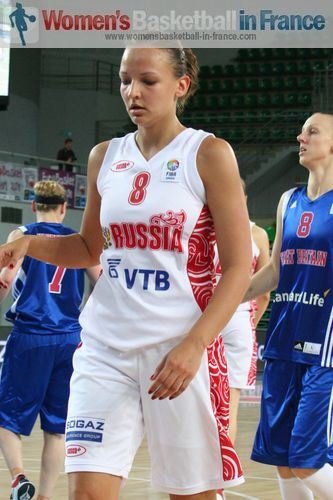 EuroBasket Women 2011 MVP Elena Danilochkina's (in picture) three-pointer lifted Nadezhda Orenburg to victory (78-76) in overtime against UNIQA EuroLeasing Sopron.
For EuroLeasing it was a disappointing finish to a game that they had in their hands in front of their supporters.
They had an 11-point advantage going into the final quarter and were still leading by 10 points with five minutes to play during regulation time.
However a 12-2 run completed by a pair of free throws from Anastasiya Verameyenka (21 points) was enough for overtime.
The three-ball of Danilochkina (21 points) put the Russian side in front for good with 20 seconds left to play in overtime.
Soperon required a three-pointer to keep the game going. But the Russian players did not allow the Hungarians to set up a three-point shot and instead fouled Olexandra Kurasova (13 points) with the clock running down.
Kurasova hit the first and missed the second free throw. But her team-mates could not get the offensive rebound and the game was over.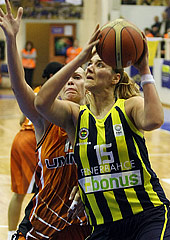 Also in Group B, Fenerbahçe SK's first game in the EuroLeague Women went well with a comfortable victory against CCC Polkowice (86-66).
Angel McCoughtry and Ivana Matovic (in picture) both scored 19 points in the victory while Nevriye Yilmaz and Penny Taylor also finished in double digits with 14 points apiece.
For CCC Polkowice Sharnee Zoll led the way with 17 points while Evina Maltsi and Megan Frazee finished with 14 and 11 points each.
In the last game of the evening from Group B defending EuroLeague Women Champions Perfumerias Avenida made light work of Beretta-Famila Schio (86-66).
The champions did the damage during the first 10 minutes leading (30-17) and were never troubled for the rest of the game with all 12 players getting on the score sheet.
In Group A, French international Isabelle Yacoubou-Dehoui helped herself to 19 points and 8 rebounds in the victory of Ros Casares against VICI Aistes (83-55). Her team-mates Ann Wauters scored 24 points and grabbed 11 rebounds while Shay Murphy poured in 22 points in a one-sided match.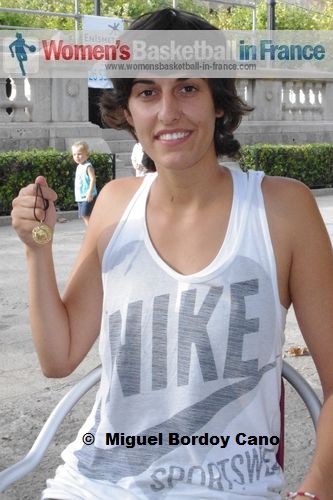 This week it was the turn of Alba Torrens (in picture) to steal the headlines in Galatasaray.
She scored 14 of her 23 points in the final quarter to deny ZVVZ USK Prague the win.
The Czech champions led (70-64) with four minutes but then went cold the rest of the way.
Diana Taurasi started the final with a 14-0 burst for the Turkish club with a shot from beyond the arc. She added 2 more points from the charity stripes and then left the rest of the work for Isil Alben, Tina Charles (18 points and 11 rebounds) and Torrens (23 points, 4 steals and 6 assists).
In the other match from the group UMMC Ekaterinburg beat Bourges Basket (68-50).
Seat Unisze Györ will complete the round with a match against Lotos Gdynia on the second day.
---
Visit our 2011-12 Ligue Féminine de Basketball page
Visit our EuroLeague Women index page
Visit WBBIF Blog for latest news
Return to the top of EuroLeague Women news page
EuroLeague Women picture credits:


womensbasketball-in-france
FIBA Europe

Date created: 19 October 2011
---