EuroLeague Women history for Seat Unisze Györ
Lotos Gdynia's EuroLeague Women history is well known. This is their 13th consecutive participation and they participated in two Final Fours. However their opponents and hosts for round 2,
Seat Unisze Györ
are newcomers to ELW.
The Hungarian side have added a new line to this competition history by recording their first victory (88-78) in overtime.
Jolene Anderson who started her professional career in France with Villeneuve d'Ascq in 2008 sent the game into overtime with a three-pointer on the buzzer (71-71). But her team was unable to keep going during the last five minutes.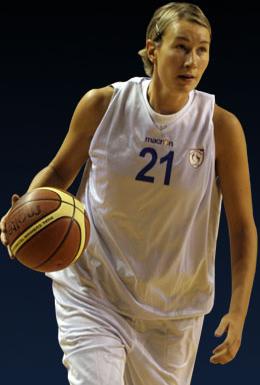 For Seat Unisze Györ, Györgyi Öri, Viktória Vincze and Nora Nagy had all fouled out of the game before overtime.
Yet with Iva Ciglar (9 assists), Quanitra Hollingsworth (23 points) and Renee Montgomery (17 points) on the court they had enough fire power to control the last five minutes.
Anderson led Lotos with 25 points while Aneika Henry added 19 points and picked up 15 rebounds. Géraldine Robert did not have the best of games offensively with 4 points in the defeat.
For French international Elodie Godin (in picture) it was a perfect evening with 21 points and 11 rebounds for Cras Basket in their victory against Gospic Croatia (78-63) in the final game of the second round.
All the results from round 2
ZVVZ USK Prague 70-78 Galatasaray MP
UMMC Ekaterinburg 68-50 Bourges Basket
Ros Casares 83-55 VICI Aistes
Seat Unisze Györ 86-76 Lotos Gdynia

UNIQA-Euroleasing Sopron 76-78 Nadezhda Orenburg
Fenerbahçe SK 86-66 CCC Polkowice
Perfumerias Avenida 86-66 Beretta-Famila

Sparta&K Moscow Region 62-74 Wisla Can-Pack
Good Angels Kosice 81-63 Rivas Ecópolis
Lattes Montpellier 80-50 Frisco Brno
Cras Basket 78-63 Gospic Croatia

---
Surprise defeat for Sparta&K Moscow Region at home in round 2
Visit our 2011-12 Ligue Féminine de Basketball page
Visit our EuroLeague Women index page
Visit WBBIF Blog for latest news
Return to the top of EuroLeague Women news page
Women picture credits:


Cras Basket

Date created: 20 October 2011
---