EuroLeague Women master classes:
How to win on the road
Three-point shooting
Perfumerias Avenida started their defense of their EuroLeague Women title with a road victory in Poland while Spanish rivals Ros Casares did the same in Hungary.
Beretta-Famila Schio needed 22 minutes to overcome their guests Nadezhda Orenburg before cruising to victory (81-69).
Cheryl Ford led the Italians to victory with 19 points and 9 rebounds. But it was the collective effort that saw them through with a total of 25 assists. Laura Macchi who scored 15 points dished out 8 assists while Janel Mc Carville popped up with 14 points and 7 assists.
For Nadezhda, Belarus international Anastasiya Verameyenka led the way with 20 points and 9 rebounds.
EuroLeague master class by Diana Taurasi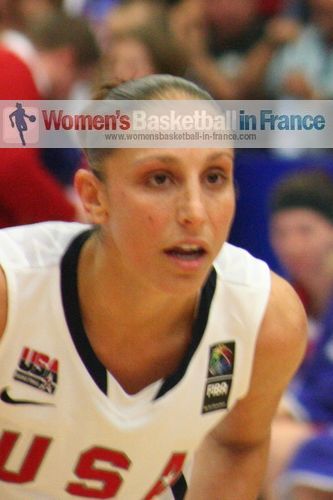 For the fans of European basketball, the return of Diana Taurasi (in picture) to ELW was welcomed after an unfortunate incident that cut short her participation last season.
She did not disappoint with a perfect display of shooting from beyond the arc 7-from-7 as Galatasaray Medical Park beat VICI Aistes (83-66) in front of a capacity ground.
Taurasi who finished the match with 31 points, 6 assists and 8 rebounds opened the scoring in the match. But then she had to wait until the 33rd minute for her team to knock out their guests from Lithuania.
With six minutes to play Taurasi started the final run with a trey (67-62). VICI then fell apart and conceded 16 points with Alba Torrens and Tina Charles taking over from Taurasi in the scoring department.
Torrens finished with 18 points while Charles had 12 points in 18 minutes of play while Isil Alben picked up 8 steals. For the guests Vita Kuktiene led the way with 17 points while Courtnay Pilypaitis scored 16 points and dished out 4 assists.
Sandra Linkevicien added 8 points and 10 rebounds.
Spanish delight on the road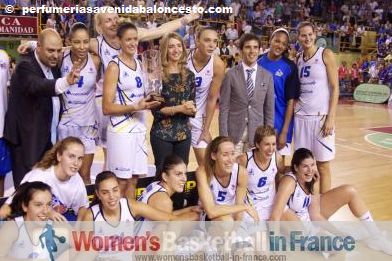 Perfumerias Avenida started slowly but finished strongly in overcoming their hosts CCC Polkowice (74-52). Leading by just a single point at the interval (36-35) they only blew their opponents away in the final quarter.
DeWanna Bonner (13 rebounds) and Marta Fernandez were the only players in double digits with 21 and 18 points for the visitors. The hosts playing in the first ELW game in their history were led by Valeriya Musina who scored 12 points.
Ros Casaras did the damage in the first 20 minutes against Seat Unisze Györ (45-28). They paced themselves the rest of the way for a comfortable victory (80-63).
Eshaya "Shay" Murphy was on fire with a total of 28 points while Ann Wauters contributed 19 points and picked up 11 rebounds. French international Isabelle Yacoubou-Déhoui who opened the scoring finished the match with 12 points and 7 rebounds.
ELW results and other news:
Seat Unisze Györ 63-80 Ros Casares
Galatasaray MP 83-66 VICI Aistes
CCC Polkowice 52-74 Perfumerias Avenida
Beretta-Famila 81-69 Nadezhda Orenburg

Look back on the news from the first day of action of the 2011-2012 ELW season.
The sad news from the first day of action was the confirmation that Spanish international Amaya Valdemoro fractured both her wrists during a fall and will be in plaster for at least six weeks.
---
Visit our 2011-12 Ligue Féminine de Basketball page
Visit our EuroLeague Women index page
Visit WBBIF Blog for latest news
Return to the top of EuroLeague Women news page
EuroLeague Women picture credits:


womensbasketball-in-france
perfumeriasavenida.com

Date created: 13 October 2011
---