Ligue Féminine de Basketball
and EuroLeague Women do not mix well
The EuroLeague Women season is becoming tougher for clubs in the Ligue Féminine de Basketball with all three clubs dropping games in round 8.
For Tarbes, the chance of qualifying for the next phase was already slim with six defeats from the first phase. Loosing again this week just makes a qualification nearly impossible.
However for Bourges Basket and Lattes Montpellier the defeats came against teams they beat on the opening day of the EuroLeague Women season.
Bourges Basket fell to ZVVZ USK Prague in the FIBA Europe match of the round (69-73), a defeat that leaves them in fifth place that is two games behind the team above them in Group A.
A fifth-place finish should be enough to qualify for the next phase but they are just one game above Lotus Gyndia, a team that defeated them during the first phase. So qualification is far from being secure.
Lattes Montpellier suffered their first defeat in domestic action during the weekend against Challes-les-Eaux and were unable to reverse the fortunes of French clubs in this competition by losing to Cras Basket on the road (65-71).
Montpellier dug a big hole for themselves by falling behind (19-38) with 15 minutes Played. The Italian club side then maintained a double-digit advantage until the 36th minute (69-52).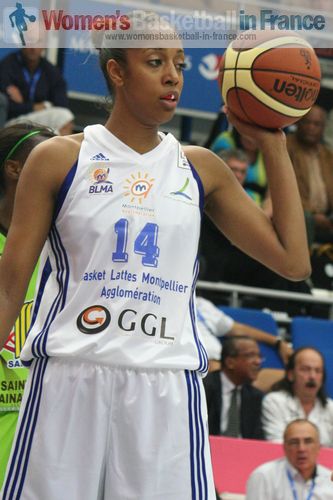 Lattes Montpellier with Ana Lelas (21 points) and Stephany Skrba in picture (16 points) sharing an 11-point finish with a 13-2 run to give the hosts a little scare as they attempted to steal the game.
Edwige Lawson-Wade was the only other player in double digits for Montpellier with 11 points while dishing out 8 assists in the defeat.
For Cras Basket Simona Ballardini led the scoring with 16 points. Other players with double-figure scores were Kia Vaughn with 14 (9 rebounds) and Elodie Godin with 12 points.
Montpellier drop to fourth place in EuroLeague Group C with 4 wins and 4 defeats.
They are still well placed to qualify for the next phase despite their second straight defeat in the competition.
In the other game played on Thursday evening Nadezhda Orenburg beat Famila Schio (70-63). Neither side was able to really control an exciting match for any length of time.
Nadezhda Orenburg led (63-60) with five minutes to play and were able to make home court advantage count in their favour with Katie Douglas making the breakthrough.
She went on a 5-0 run by going 5-of-6 from the free-throw line within a space of two minutes (68-60) to put the hosts on their way to victory.
Natalia Zhedik finished the game as top scorers for the hosts while Belarus international Anastasiya Verameyenka helped with 19 points and 9 rebounds. For Famila Schio Laura Macchi scored 20 points.
---
Look back at what happened in round 7
Visit our 2011-12 Ligue Féminine de Basketball page
Visit our EuroLeague Women index page
Visit WBBIF blog for latest news
Return to the top of page
EuroLeague Women picture credits:


womensbasketball-in-france.com
FIBA Europe

Date created: 2 December 2011

---