Nine hours of EuroLeague Women

The start of the second phase of group play in the EuroLeague Women did not necessarily follow the intended script with a few surprise results.
This week we comment on the nine hours of action in the order the matches played. As practically every game from this round will be available to watch on the internet, we ignore turnovers, bad passing, bad shooting and concentrate on what makes this competition exciting.
UMMC Ekaterinburg opened the 8th round of EuroLeague Women action with a (79-56) victory against Lotus Gdynia.
UMMC are never in a hurry at home and with four minutes played they were tied (8-8). However by the end of the first quarter they led (22-14) and by the 16-minute point (35-18). The contest then was over.
Aneika Henry who was the top scorer for Lotus with 14 points did the majority of her scoring in the first 20 minutes like so often this season. With her out of the equation Géraldine Robert (10 points), Jolene Anderson (12 points) and Ivana Jalcová (10 points) did what they could. But they had no answer for their hosts.
Olga Arteshina (right) had one of those days in which nearly everything she touched turned to gold. In addition was was the spark of the team: she scored 12 points and dished out 6 assists.
Candace Parker played just 21 minutes. Yet with 5-of-7 shooting for her 11 points and 3 assists, nobody is complaining.
Sandrine Gruda also played 21 minutes and hit 70% of her shots by putting in 15 points. Cappie Pondexter (3 assists) and Anete Jekabsone-Zogota (5 assists) also finished with double-figure scores of 11 and 10 points respectively.
What is interesting about UMMC is that Svetlana Abrosimova, Hana Horakova and Deanna Nolan were all absent with injuries and Sue Bird is expected to join the line-up some time in 2012.
Sparta&K Moscow Region played for 10 minutes then practised
For the first 10 minutes of the match Frisco Brno could do nothing as Sparta&K Moscow Region beat them in all the sectors of the game.
The difference in level between the teams was so much in the opening minutes that the Sparta&K players did not even have to defend as they raced off to a (33-7) opening first quarter.
The blow-out did not happen because Pokey Chatman decided to run her bench as if they were in practice. Nobody played more than 22 minutes because she wanted her players to work on certain aspects of their game.
She explained afterwards: "I am very happy because we had a solid performance on both sides of the court. I am also satisfied because after some games where we struggled on the floor we had a good shooting performance by our players. We have to continue working hard in order to achieve our goals."
Candice Dupree had a great time converting 12-of-13 shots for a game high 25 points as her team ran out winners (97-62).
It rained threes for Gospic Croatia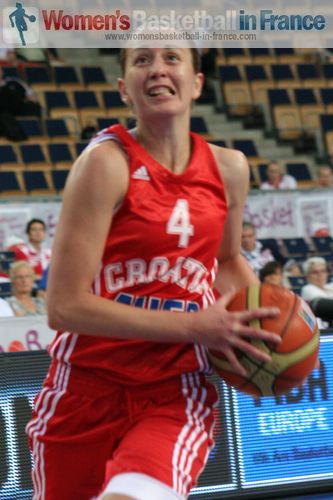 When Rivas Ecópolis lost to Gospic Croatia on the opening day of EuroLeague Women action, it was argued that the injury to Amaya Valdemoro may have unsettled them.
This time around Rivas Ecópolis left themselves open to the three-point shooting of their hosts.
In the first quarter Jelena Ivezic hit 2-of-2 while Sandra Mandir (right) finished with 2-of-3 as Gospic Croatia edged the first quarter (20-13). The hosts connected 12 times in total from beyond the arc to end the five-game winning streak of Rivas Ecópolis (67-52).
Mandir was the player of the match. She contributed 16 points and 13 rebounds in the victory keeping her team in the race for qualification.
Bahar Ceyhan plays for Galatasaray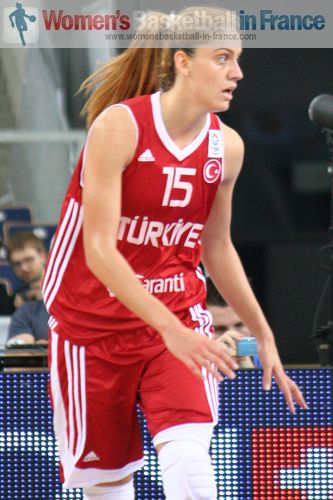 Epiphanny Prince (Epifaniya Prints) may have led the scoring wit 16 points but for a change we can talk about the contribution of Turkish players in the victory of Galatasaray against VICI Aistes (84-66).
Bahar Ceyhan (left) was the catalyst behind nearly everything that went well for Galatasaray. She scored scored 10 points and made 4 steals while her team-mate and fellow international Isil Alben in an almost perfect display of shooting scored 15 points and also dished out 5 assists to become the player of the match.
So for once Tina Charles (14 points) and Diana Taurasi were able to take a back seat. A 12-O run in the first quarter enabled Galatasaray to take command of the game for good (18-6) with just under eight minutes played.
Rima Valentiene from VICI Aistes said after the game: "We have to do what coach tells us in every game. Some of our players have to decide if they want to play basketball when they step up on the court."
Delisha Milton-Jones and Ticha Penicheiro down Bourges Basket
ZVVZ USK Prague outscored Bourges Basket in an entertaining game which went back and forth (73-69).
When Cathy Joens buried a corner trey after a pass from Céline Dumerc (67-64) with 105 seconds left to play, it appeared that Bourges had taken advantage for good.
However 10 seconds later Katerina Elhotova managed to wrong-foot Joens before stepping back to fire in a three-pointer without the ball touching the net.
A couple of plays later the teams were still tied (69-69) and there were just 48 seconds to play.
Ticha Penicheiro (right) then came up with the move again by faking a pass while driving to the baseline. She side-footed the hole of the Bourges defense before passing to Vitecková who was then fouled.
Vitecková put the hosts back in front from the free-throw line leaving Bourges Basket 25 seconds to save the game.
Dumerc ran the play and fed off to Joens who took one bounce too many and 37-year old Delisha Milton-Jones had the ball in her hands. She was on her way down the court. Eventually the ball reached the hands of Penicheiro who is also 37 years old who was then fouled. She hit the remaining free throws and Bourges were beaten.
Penicheiro is covering for the absence of Lindsay Whalen and last played in the EuroLeague in 2008. Despite having been knocked to the ground on several occasions she was the player of the match.
Back in the Bourges line-up after a five-week injury lay-off, Dumerc's court vision was not enough to save her team from another defeat.
Elsewhere in the EuroLeague Women players stepped up
Nicole Powell and Anke De Mondt combined for 9-of-12 from behind the arc as Wisla Can-Pack escaped on the road against Good Angels Kosice (72-69). The game went all the way to the wire with the Polish side needing free throws from Erin Phillips at the end to seal the victory.
For Good Angels Natalia Vieru continues to shine in this ELW season with 19 points and 12 rebounds. However Powell with her 25 points was the player of the match.
Tarbes yet again fell short at home. This time they lost to UNIQA-EuroLeasing Sopron (67-76). Alex Montgomery on her début and Naura El Gargat had 14 points each.
Olexandra Kurasova with 20 points was the match top scorer and was one of four players in double digits for the team from Sopron.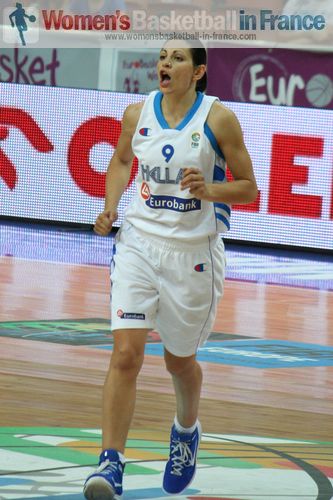 It has been coming and finally the FIBA Europe 2009 EuroBasket Women MVP Evanthia Maltsi (in picture) exploded with 28 points as CCC Polkowice beat EuroLeague Women defending champions Perfumerías Avenida on their home court (85-78).
While Maltsi was hitting her shots, the ever running Sharnee Zoll dished out 10 assists while scoring 14 points in the victory. Erika De Souza scored 22 points for the champions, who have now lost two straight games at home.
Ros Casares rolled over Seat Unisze Györ (80-43). The contest was over by the end of the first quarter with the Spanish club leading (29-7). Natalia Hejková, the coach from Ros Casares summed up the game as follows: "I'm satisfied with this game, especially in the first half. We played nice basketball and in the second half we prepared different things."
EuroLeague Women results from round 8
UMMC Ekaterinburg 76-56 Lotos Gdynia
Sparta&K Moscow Region 97-62 Frisco Brno
VICI Aistes 66-84 Galatasaray MP
Gospic Croatia 67-52 Rivas Ecópolis
ZVVZ USK Prague 73-69 Bourges Basket
Good Angels Kosice 69-72 Wisla Can Pack
Ros Casares 78-43 Seat Unisze Gyor
Tarbes 67-76 UNIQA-Euroleasing Sopron
Perfumerías Avenida 78-85 CCC Polkowice
Nadezhda Orenburg 70-63 Famila Schio
Cras Basket 71-65 Lattes Montpellier
---
Look back at what happened in round 7
Visit our 2011-12 Ligue Féminine de Basketball page
Visit our EuroLeague Women index page
Visit WBBIF blog for latest news
Return to the top of EuroLeague Women news page
EuroLeague Women picture credits:


womensbasketball-in-france.com
FIBA Europe

Date created: 1 December 2011
---