EuroLeague Women horror for Spanish clubs
This week it was the turn of the Spanish LFB to suffer in the EuroLeague Women competition. All three clubs from Liga Femenina de Baloncesto (LFB) were beaten this week as the ELW group phase is reaching its climax.
The defending EuroLeague Women champions Perfumerías Avenida suffered their third consecutive defeat, falling on the road to Italian club side Beretta-Famila (64-67).
This result hurts Tarbes more than any other team in Group B, because they need to win their remaining five games and hope that CCC Polkowice and Beretta-Famila do not win any more games.
Berette-Famila's opening quarter with (22-9) put them in control for most of the game.
However the champions took advantage when Cheryl Ford fouled out for the hosts with just under five minutes to play in the final quarter. They reduced the deficit to a single point with 90 seconds left to play.
But they failed to score again and 2 points by Janel McCarville enabled the Italians to win (67-64).
Good Angels Kosice won on the road against Rivas Ecópolis (68-62) to set up a three-way tie with Rivas and Lattes-Montpellier for third place in EuroLeague Women Group C.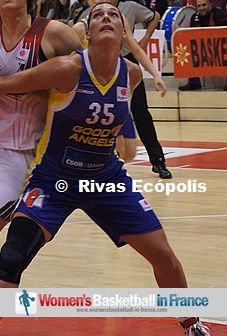 Rivas Ecópolis struggled for most of the game against Good Angels Kosice but had appeared to have weathered the storm with 8 straight points from Jelena Dubljevic to bring the teams level going into the final quarter (47-47).
The hosts were still leading (56-51) with just under five minutes to play when Danielle McCray sparked Good Angels into action. She scored 6 unanswered points with 4 coming from the charity stripes for her team to go in front.
Then her team-mate Erin Lawless (right) who scored a total of 20 points and completed the 12-0 run (63-59) with some help from Natalia Vieru.
The hosts had less than two minutes to save the game but fell short.
With Ros Casares' buzzer beater defeat the previous evening the EuroLeague Women round 9 nightmare is complete for the participating Spanish clubs.
Galatasaray MP win while Seat Unisze Györ do the double
Galatasaray MP did not look convincing in their victory against ZVVZ USK Prague (75-67). Diana Taurasi stepped up when required to hit 26 points while Tina Charles put in 25 points and pulled down 10 rebounds for the Turkish side.
For ZVVZ USK Prague Katerina Elhotova led the scoring with 16 points while DeLisha Milton-Jones added 13 points and picked up 9 rebounds.
Galatasaray MP are now back on top of Group A. More importantly they cannot be caught by the team sharing sixth place. What this means is that the fifth placed teams from Group B and Group C will qualify for the play-off.
In the last game also from Group A, Seat Unisze Györ beat Lotus Gdynia (87-71). Rita Rasheed was the sharp shooter with 28 points while Iva Ciglar assisted with 20 points. Quanitra Hollingsworth took care of the defensive glass with 14 of her 17 rebounds. She also scored 18 points.
For the hosts Aneika Henry scored the most with 17 points but after the first quarter her team was never in the game.
This final result favours Bourges Basket who are now two games clear of the chasing pack for the fifth spot in EuroLeague Women Group A.
All the results from ELW round 9
Galatasaray MP 75-67 ZVVK USK Prague
Beretta-Famila 67-64 Perfumerías Avenida
Lotos Gdynia 71-87 Seat Unisze Györ
Rivas Ecópolis 62-68 Good Angels Kosice

Nadezhda Orenburg 64-51 UNIQA-EuroLeasing
VICI Aistes 73-72 Ros Casares
CCC Polkowice 79-86 Fenerbahçe
Gospic Croatia 91-75 Cras Basket Taranto
Frisco Brno 58-78 Lattes Montpellier
Wisla Can-Pack 81-60 Sparta&K Moscow Region
Bourges Basket 79-74 UMMC Ekaterinburg
---
Look back at what happened in round 8
Visit our 2011-12 Ligue Féminine de Basketball page
Visit our EuroLeague Women index page
Visit WBBIF blog for latest news
Return to the top of page
EuroLeague Women picture credits:


FIBA Europe

Date created: 8 December 2011

---