Nothing is written in stone
for EuroLeague Women
Last season VICI Aistes were the EuroLeague Women giant killers. So their victory against Ros Casares should not really come as a surprise. In the same vain UMMC Ekaterinburg's defeat against Bourges Basket should not be viewed as a shock.
The new format of the competition has created a sense of urgency for teams in danger of missing the second round. They are now beginning to make home advantage count.
Ros Casares' current roster is so impressive that Sancho Lyttle's absence was not noticed. Her absence meant that Lauren Jacckson was able to play in her traditional position.
VICI Aistes have not been consistent this season and have allowed too many games to pass them by in the closing minutes.
Leading (39-30) at the interval they lost their way in the third quarter and entered the final quarter trailing (51-55).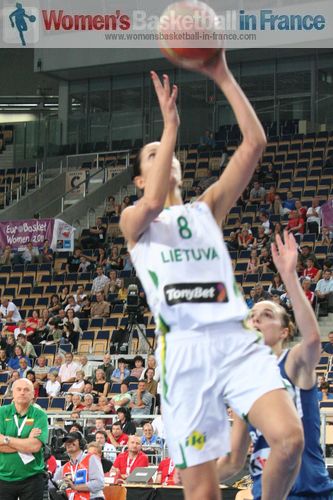 The teams were tied for the fifth time in the fourth quarter (70-70) with about 30 seconds to play.
With about 2.2 seconds to play Ros Casares thought they had nailed the victory as Silvia Dominguez slashed her way to the basket.
Mantas Sernius, the coach from VICI-Aistes, called a time-out and calmly drew up the final play.
Rima Valentiene (in picture) was handed the responsibility of finishing the game with the last shot which she accepted. Her three-point buzzer beater won the match (73-72). Anybody just tuning in at the end of the match would have thought that VICI-Aistes had just won a major championship.
Valentiene said during the EuroLeague Women press conference: "It was a coach decision that I took the last shot. God helped me. After all the hard work we had put in training we believed that some day we should be rewarded."
With VICI-Aistes winning, Bourges Basket needed to beat UMMC Ekaterinburg to maintain their two-game advantage over VICI-Aistes and defend their fifth place position in Group A.
EuroLeague Women: Smiling Céline Dumerc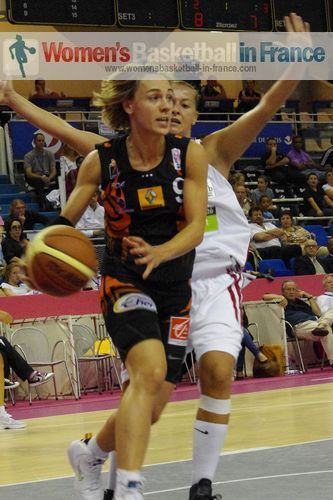 Bourges Basket had a full bench with Céline Dumerc (in picture) in the playing line-up and Emméline Ndongue sitting on the bench encouraging her team-mates.
UMMC Ekaterinburg had everything in their power to win the match Maria Stepanova was playing well. Her only miss came from a shot beyond the arc while Candace Parker was very efficient in her 21 minutes on the court with 10 points.
Anete Jekabsone-Zogota who played for Bourges Basket during her career in France had 15 points while Sandrine Gruda added 14 points.
However as a team UMMC missed a lot of scoring opportunities from open play and also missed 10 free throws.
The turning point in the match came 30 seconds to the end of the second quarter with Bourges trailing (32-37) when Parker from UMMC picked up a technical foul.
Cathy Joens hit the two free throws. Bourges then had the ball back because of the technical. Dumerc fed the ball to Joens who hit a three-ball to tie the game (37-37) going into the break.
A trey during the first minute of the third quarter by Styliani Kaltsidou put Bourges in the lead for good. It was a gritty performance by Bourges Basket with Nwal-Endéné Miyem (12 points, 7 rebounds and 4 assists) back to her best and Cathy Joens shooting the ball well for her 18 points.
However the star of the match was Dumerc who hustled down everything while scoring 17 points and dishing out 5 assists.
Bourges Basket will remain in fifth place this week no matter the results of the remaining games.
EuroLeague Women news from other games
Lattes-Montpellier's manner of winning on the road against Frisco Brno (78-58) was not to the liking of their coach Valéry Demory. Montpellier led by 18 points at the interval (47-29). Yet eight minutes into the third quarter the advantage was reduced to just 2 points (53-51).
Fatimatou Sacko was the leading scorer for Montpellier with 17 points while Tereza Peckova scored 15 for the hosts.
Frisco Brno are last in Group C and with five games left to play, time is now against them in the qualification race.
Gospic Croatia only hit 7 three-pointers this week but it was still enough to see them beat Cras Basket (91-75) on the back of a strong third quarter for their third straight victory in EuroLeague Women play.
Marija Vrsaljko led the scoring for Gospic with 20 points while team captain Sandra Mandir compiled a stats sheet of 15 points, 7 assists, 7 rebounds and 3 steals. Julie McBride also had 7 assists while scoring 16 points.
For Cras Basket Megan Mahoney compiled a double-double of 26 points and 10 rebounds while Kia Vaughn had 20 points.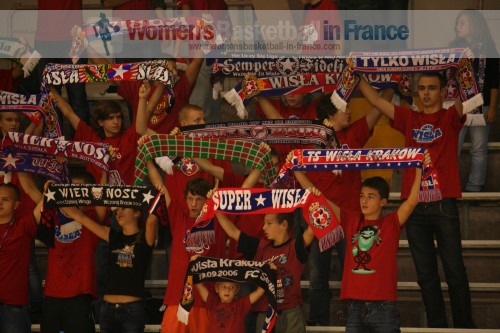 Wisla Can-Pack beat Sparta&K Moscow Region for the second time this season. Wisla, playing at home, built on a solid first quarter to eventually blow away their visitors (81-60).
Erin Phillips and Nicole Powell with 25 and 23 points respectively did most of the damage as Wisla are now alone at the top of Group C.
In EuroLeague Women Group B,
Fenerbahçe SK
needed something special from Angel McCoughtry (20 points) and Penny Taylor (17 points) to halt CCC Polkowice (86-79).
Ivana Matovic and Nevriye Yilmaz were also on form inside the paint with 20 and 17 points each as Fenerbahçe remain the only unbeaten team in the EuroLeague Women this season.
CCC playing at home were served well by Sharnee Zoll who continues to run non stop for 40 minutes. She scored 9 points and dished out 9 assists while Evina Maltsi having regained her scoring touch last week fired in 17 points. Agnieszka Majewska stepped up with 22 points and 5 blocks but all this was in vain.
Orenburg Nadezhda's home games are archived on their club's website. When it comes to suspense then Orenburg become the season masters.
Orenburg trailed (43-44) going into the final quarter against UNIQA-Euroleasing Sopron. They finally stepped on the accelerator to the delight of a large crowd with a 21-7 final-quarter demonstration.
Nadezhda Orenburg 64-51 UNIQA-EuroLeasing
VICI Aistes 73-72 Ros Casares
CCC Polkowice 79-86 Fenerbahçe
Gospic Croatia 91-75 Cras Basket Taranto
Frisco Brno 58-78 Lattes Montpellier
Wisla Can-Pack 81-60 Sparta&K Moscow Region
Bourges Basket 79-74 UMMC Ekaterinburg
---
Look back at what happened in round 8
Visit our 2011-12 Ligue Féminine de Basketball page
Visit our EuroLeague Women index page
Visit WBBIF blog for latest news
Return to the top of page
EuroLeague Women picture credits:


womensbasketball-in-france.com

Date created: 8 December 2011

---