EuroLeague Women
Ros Casares on cloud 9
Ros Casares are regular visitors to EuroLeague Women finals. Based on their display in dispatching Lotos Gdynia (90-78) it should take a big reversal in fortune not to reach the Final Eight.
In the last game of the evening Fenerbahçe SK won on the road against Beretta-Famila (70-65).
After three rounds of games Ros Casares, Galatasaray MP, Perfumerias Avenida and Wisla Can-Pack have won all three games. Fenerbahçe SK are also unbeaten. But they have just played two games due to the uneven number of teams in Group B.
The qualification process for the play-off series is not complicated provided that the hosts Galatasaray MP finish in the top 5 of their group - all teams below fifth place are eliminated.
After three rounds of games CCC Polkowice, Frisco Brno, Lotos Gdynia, Tarbes and VICI Aistes are yet to record a victory and are currently out of the play-offs spots.
In the nine matches played on the first day Galatasaray MP's victory against UMMC Ekaterinburg sent shock waves around the competition.
In the final matches Ros Casares excellently displayed in how to use the high/low pass to score uncontested baskets to outscore Lotos Gdynia (90-72).
In the last match of the week Penny Taylor led Fenerbahçe SK to victory against Beretta-Famila (70-65) with a cool display in the art of free throwing with 11-from-13 in her 23-point total.
A summary of both games can be found below by scrolling down the page.
All the results from round 3
Galatasaray MP 84-65 UMMC Ekaterinburg
VICI Aistes 70-80 ZVVZ USK Prague
Bourges Basket 87-68 Seat Unisze Györ
Lotos Gdynia 72-90 Ros Casares

UNIQA-Euroleasing Sopron 64-74 Perfumerías Avenida
Tarbes 60-65 Nadezhda Orenburg
Beretta-Famila 65-70 Fenerbahçe SK

Gospic Croatia 76-91 Good Angels Kosice
Frisco Brno 59-66 Cras Basket
Wisla Can-Pack 66-58 Lattes Montpellier
Rivas Ecópolis 75-73 Sparta&K Moscow Region

Ros Casares are on a EuroLeague Women mission
Lauren Jackson and Maya Moore are missing from the Ros Casares roster and yet the team looks so complete. Sancho Lyttle made her début for the club in ELW and within 10 seconds of getting on the court she was already on the score sheet.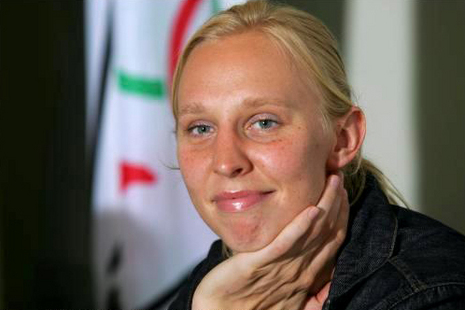 Ann Wauters (18 points) and Isabelle Yacoubou-Dehoui (23 points) and Lyttle (18 points) hit a total of 22-from-29 shots and went 15-from-16 from the free-throw line.
With the three players dominating during the first 20 minutes it appeared that Lotos Gdynia would be blown out of space as they went into the locker room trailing (30-48).
However Lotus Gdynia corrected some of their mistakes from the first half, making theirs guest work harder and also they started to hit their shots with more regularity which kept the game interesting despite the deficit.
For Ros Casares Laia Palau, handicapped with 2 first-quarter fouls, was elegant as usual and dished out 5 assists. Silvia Dominguez who came up with the point of the game to close the first half and Katalin Honti had 7 assists each.
Jana Veselá's work on the court is not always reflected in the statistics but her good defense - when things were not going well for her team - was noticeable.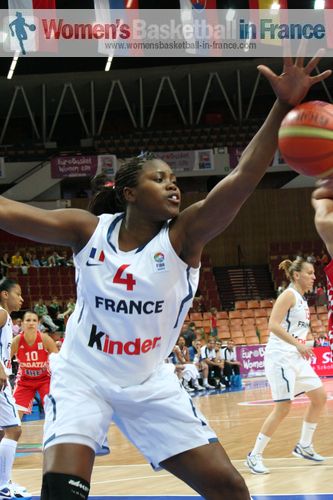 Shay Murphy did not have the best of game but still came up with 4 steals. Miriam Foraste who was the only player not to score for the Spanish side, showed her defensive qualities with her block on Justyna Zurowska.
For French basketball the performance of Yacoubou-Dehoui (in picture) who hit her first 6 shots was encouraging.
For the hosts Géraldine Robert scored 6 points and had 3 steals but was not at her best while her team-mates Zurowska with 18 points and Adrijana Knezevic with 16 points and 5 assists were on top of their game.
Former Villeneuve d'Ascq's favourite Jolene Anderson playing in the FIBA Europe EuroLeague Women match of the week appears to be not her cup of tea.
What to you say about Penny Taylor playing for Fenerbahçe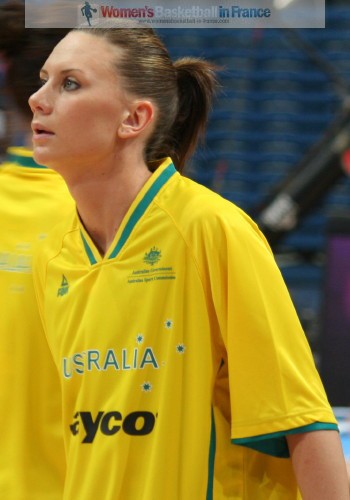 Penny Taylor (in picture) had played for Famila Schio between 2003 and 2007.
This time round she was the match winner for the opposing team hitting 2 treys and went 4-of-4 from the free-throw line as Fenerbahçe SK cruised past their hosts, Beretta-Famila Schio in the first quarter (31-20).
Fenerbahçe continued to dominate the game to go into the locker room leading (44-29).
Taylor finished the game with a game high 23 points, which included 3-from-7 from beyond the arc and 11-of-13 from the charity stripes.
The Italians picked up their game during the third quarter and were able to bring their deficit down to single digits (49-58).
When the hosts went all out during the final quarter with points flying in from all over the court with Maja Erkic, Anja Brumermane, Laura Macchi and Janel McCarville making big scores they made it a 4-point game (63-67) with 90 seconds to play.
However free throws by Angel McCoughtry and Birsel Vardarli enabled the visitors to hang on for the win.
---
Visit our 2011-12 Ligue Féminine de Basketball page
Visit our EuroLeague Women index page
Visit WBBIF Blog for latest news
Return to the top of EuroLeague Women news page
EuroLeague Women picture credits:


womensbasketball-in-france
hin.be

Date created: 27 October 2011
---