EuroLeague Women
5 teams qualify from Group A
The return of EuroLeague Women basketball after a four-week pause did not have the bang as in previous weeks. Sue Bird made her début for UMMC Ekaterinburg while Maya Moore was in action for Ros Casares.
However the attention was on the length of shorts worn by
Diana Taurasi
. Apparently Taurasi and her club Galatasaray MP had been fined 2000 Euro per match due to dress code violation.
Off the court the final destination of Agnieszka Bibrzycka for the rest of the season is still not known. Bibrzycka had her first child, a girl born in September 2011, and is expected to resume her basketball career this season.
For French clubs it was another mixed round with just Bourges Basket coming away with a victory. Tarbes ended their qualification chances for good by losing at home while Montpellier were bumped on the road by Rivas Ecópolis.
EuroLeague Women Group A - Three teams eliminated in one sweep
The bottom three teams in this group all required victories to maintain a chance of qualifying for the second round prior to the evening events.
First up were VICI Aistes who hosted UMMC Ekaterinburg. Sandra Linkeviciene who played for VICI Aistes earlier in the season but is now on the UMMC roster was suited up for this game due to an agreement between the clubs when she transferred.
UMMC took the lead for good with five minutes played and paced themselves to a comfortable victory (88-56). Candace Parker finished with 23 points and 10 rebounds while Deanna Nolan marked her return to EuroLeague Women action after an injury lay-off with 16 points and 6 assists. Anete Jekabsone-Zogota, Olga Arteshina and Sandrine Gruda all finished with double digits scores of 15, 11 and 10 points.
Then Seat Unisze Györ had to face Galatasaray MP on the road. The game was over in ten minutes with Galatasaray leading (30-13). They went on to win (96-48). Diana Taurasi only played for 21 minutes in the game hitting 28 points with an efficient 11-from-13 shots from the floor.
However the more interesting news is that Tina Charles and not Sylvia Fowles was lined up as the second non European in the Turkish team.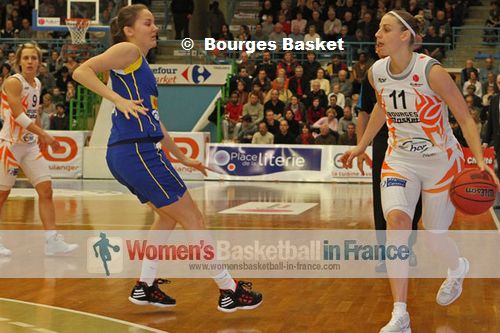 So with Unisze Györ and VICI Aistes already eliminated Lotos Gdynia needed to beat Bourges Basket to stay in the competition.
Trailing (25-27) at the interval the Polish side were still in the game.
It was not a clinical performance by Bourges. But they managed to take control of the game after the break to win comfortably (65-49). Cathy Joens had 18 points, while Céline Dumerc dished out 6 assists and Emméline Ndongue blocked 3 shots. Bourges are assured a place in the knock-out phase while the ELW dream of Lotus is over for another season.
In the other game in the group ZVVZ USK Prague failed to complete the double over Ros Casares by falling at home (70-81). It was a balanced scoring attack that the Spanish side used to win the game with Isabelle Yacoubou-Dehoui leading the way with 14 points.
EuroLeague Women Group B - Tarbes are out of contention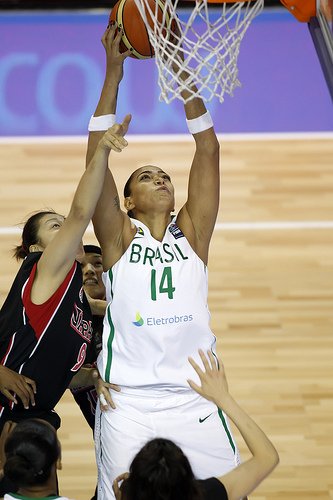 With so many comings and goings at Tarbes this season it has been difficult for the team to form an identity in the ELW play as well as domestically. Perfumerías Avenida were not concerned with Tarbes' issues and despite playing on the road took command of the game in the first quarter (30-18) to cruise to victory (98-69).
Erika De Souza (in picture) and Marta Fernandez led the way for the defending champions with 22 and 20 points each.
Fenerbahçe were without Penny Taylor but were still too strong for their hosts UNIQA-EuroLeasing to win (78-62). Ivana Matovic led the way with 22 points for the winners while Angel McCoughtry had 18 points and 9 rebounds. On the positive side for the Turkish side was the performance of Elina Babkina who recently returned from injury. She had 12 points and 2 assists.
Zsófia Fegyverneky was the leading player for the hosts with 18 points and 5 assists.
Beretta Famila Schio turned up the heat and crushed CCC Polkowice early in the game to secure a comfortable victory (85-67). Cheryl Ford was the driving force for the Italians with 17 points and 15 rebounds.
EuroLeague Women Group C - Lattes Montpellier in limbo
Rivas Ecópolis and in particular Asjha Jones (31 points and 13 rebounds) walked over Lattes Montpellier (82-63). While the absence of Stephany Skrba in the Montpellier line-up was rather noticed in the game, the sudden disintegration during the third quarter was not so obvious:
With Kristen Mann not even much of a factor before her injury and Sandra Dijon-Gérardin fouling out, their side was left short-handed.
The only good news for Montpellier this week is that Gospic Croatia and Cras Basket Taranto both lost, which leaves Montpellier in fifth place alone.
Wisla Can-Pack avenged their shock defeat against the new kid of the block, Frisco Brno with a hard fought victory (80-64). With this defeat Frisco Brno are officially eliminated from the competition.
Good Angels Kosice notched up their third victory in a row by beating Cras Basket (68-56) while Candice Dupree with 24 points led Sparta&K Moscow Region to victory against Gospic Croatia (79-60).
EuroLeague Women 2012 - Round 11 results
UNIQA-EuroLeasing 62-78 Fenerbahçe SK
VICI-Aistes 56-88 UMMC Ekaterinburg
Wisla Can-Pack 80-64 Frisco Brno
Good Angels Kosice 68-56 Cras Basket
Galatasaray MP 99-46 Seat Unisze Györ
ZVVZ USK Prague 70-81 Ros Casares
Bourges Basket 65-49 Lotos Gdynia
Tarbes 69-98 Perfumerías Avenida
Rivas Ecópolis 82-63 Montpellier
Beretta-Famila 85-67 CCC Polkowice
Gospic Croatia 60-79 Sparta&K Moscow Region
---
Look back at what happened in round 10
Visit our 2011-12 Ligue Féminine de Basketball page
Visit our EuroLeague Women index page
Visit WBBIF blog for latest news
Return to the top of page
EuroLeague Women picture credits:


Bourges Basket
FIBA


Womensbasketball-in-france.com

Date created: 12 January 2012

---