FIBA Europe EuroLeague Women : 2010-2011 season
The EuroLeague women's basketball competition brings together the top teams from various European basketball leagues.
FIBA Europe rules for participation in this competition varies from season to season.
But the principle remains the same. The competition format changes and has resulted in the competition played in three distinct phases:
1. the group stage (round robin) in which eight teams are eliminated,
2. the knock-out stage in which twelve teams are eliminated and
3. the final four.
If
live basketball
coverage is not available on television or by web casts during match day, it is possible to follow the play-by-play live actions of
the matches here
.

This page is updated all along the season as we follow the competition. You can subscribe to our RSS Feed to receive information on our news' updates.
If you are not familiar with the RSS Feed just click on this link for instructions: What is a RSS Feed?
You can move between sections as they appear by clicking on the links below or by scrolling down the page.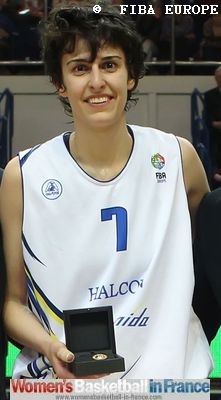 1. Final four

2. Play-off news

3. All Star Game

4. The qualification round news


5. General news

---
EuroLeague Final four news
10 April 2011: Halcon Avenida end the reign of Sparta&K Moscow Region

10 April 2011: Another third place for UMMC Ekaterinburg

10 April 2011: Halcon Avenida eliminate Spanish rivals Ros Casares

10 April 2011: Sparta&K Moscow Region are in the final again

08 March 2011: 2011 final four hosts are UMMC Ekaterinburg

Return to the page index
---
Play-off news
25 February 2011: A Russian Spanish final four

22 February 2011: Ros Casares take quarter-final game one

21 February 2011: Ros Casares and Bourges Basket looking towards the final four

10 February 2011: Home advantage helps top seeds

05 February 2011: Four teams qualify for the quarter-finals

03 February 2011: Quarter-final game one round-up - ZVVZ USK Prague win on the road

Return to the page index
---
All Star Game News
08 March 2011: Rest of the World win 2011 All star game

08 March 2011: 2011 ELW All star game set to go

07 February 2011: All star game substitutes announced

03 February 2011: All star game starters announced

22 December 2010: 2011 All Star Game voting opens

Return to the page index
---
Qualification round
19 January 2011: Final evening of qualifying round - Fenerbahçe remain unbeaten

19 January 2011: Mondevillle and Tarbes need to win

15 January 2011: The wrong results for Tarbes and Mondeville in game nine

12 January 2011: Firepower on display: Candace Parker is back

16 December 2010: Disappointing end of year for French teams

08 December 2010: Nothing can halt this competition

02 December 2010: Ros Casares' perfect run comes to and end

26 November 2010: Beretta-Famila got past Bourges in overtime

25 November 2010: Fenerbahçe and Ros Casares are top at midway point

18 November 2010: A good night for Russian and Spanish clubs

12 November 2010: Lenae Williams fires Mondeville to a road victory

11 November 2010: Turkish clubs are setting the pace

10 November 2010: UMMC Ekaterinburg coast to victory again

03 November 2010: Fenerbahçe and Diana Taurasi put on a show

02 November 2010: Master class display by Ros Casares

30 October 2010: Penny Taylor's display makes her player of the week

28 October 2010: VICI Aistes end streak of defending champions

Return to the page index
---
General News
12 May 2011: Diana Taurasi has signed for Galatasaray Medical Park

30 January 2011: The signing period has come to and end

18 January 2011: Taj McWilliams is back while other players move on - part 2

12 January 2011: Players come and players go - Part One

12 January 2011: European basketball while Diana Taurasi with career on hold

25 October 2010: Everything ready for 2011 edition

03 July 2010: Spartak Moscow region and Tarbes are drawn in group C

18 June 2010: 24 teams confirmed for 2010-2011

Return to the EuroLeague Women page index
---
Return from FIBA Europe EuroLeague Women page to "What's New" page
EuroLeague Women picture credit:

Ciamillo Castoria - Fiba Europe
FIBA Europe
Free DHTML scripts provided by:Dynamic Drive for picture slideshow
Date created: 13 September 2011
---