A promising start for French clubs in EuroLeague Women
On the 22 October 2008, Spartak Moscow Region lost in the EuroLeague women
on the road to TEO Vilnus (64-72)
.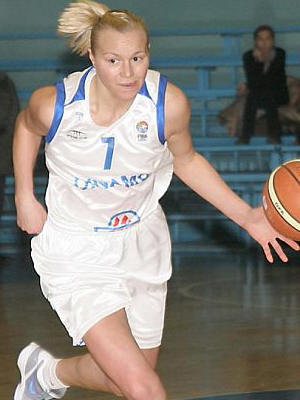 TEO may have moved to Kaunas and are now called VICI Aistes, but the end result is the same. The defending champions may have changed their name also but they do not like travelling to Lithuania in October.
Ausra Bimbaite (left) who scored 8 points during TEO's victory in 2008 was the hero with the game-winning shot practically on the buzzer. She finished the night with 26 points, 7 rebounds, 4 assist and 3 steals.
The defeat brings an end to the 19-game winning streak for Sparta&K Moscow Region.
Bourges Basket, playing at home, made hard work of beating Polish side KSSSE AZS-PWSZ Gorzów (57-50). Bourges had to make up a third quarter 9-point deficit to win their first EuroLeague Women game of this season.
Nwal-Endéné Miyem led the Bourges attack with 20 points while Cathy Joens added 18 points.
USO Mondeville, also playing at home, beat Polish opponents to pen their qualifying round series. They beat Wisla Can-Pack (76-65) with 20 points coming from Lenae Williams.
Tarbes travelled to Galatasaray and then allowed the hosts a (21-2) head start.
Tarbes continuously chased after the score to reduce the deficit to 3 points early in the third quarter before finally conceding the game (84-64).
Select the links below to read the EuroLeague Women (or EWL) basketball news from the first round of games on day 1.
1. Group A
2. Group B
3. Group C
4. Group D
5. Penny Taylor's display makes her player of the week
---
Mondeville shine in the only EuroLeague Women game in Group A
USO Mondeville got in their qualifying round challenge off to a perfect start with a victory against last season's fairytale team Wisla Can-Pack (76-65).
Mondeville fired in a total of 9 three-pointers from 17 attempts as they made up an early second-quarter deficit (25-37) to run out winners.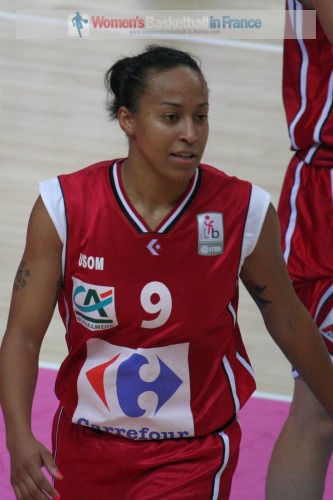 Mondeville went to work during the third quarter. With back to back shots from the land of many by Lenae Williams and Valeriya Berezhynska, they went into the final quarter leading (52-50).
With K. B. Sharp (right) giving assist after assist and the long shots hitting the basket Mondeville rolled to victory.
Williams went 4-8 from beyond the arc to lead the scoring with 20 points. Aija Brumermane added 12 while Pauline Thizy finished on 10 points. Sharp scored 6 points but dished out 7 assists.
For Wisla Can-Pack Erin Philips was the pick of the player with 18 points.
Return to Group index
Victory is more important than looking good
In the only EuroLeague Women tie of the evening in this group Ann Wauters went a perfect 7-from-7 from the field with 14 points while Sandrine Gruda added 17 points as UMMC pulled off a road victory against Gospic Croatia Osiguranje.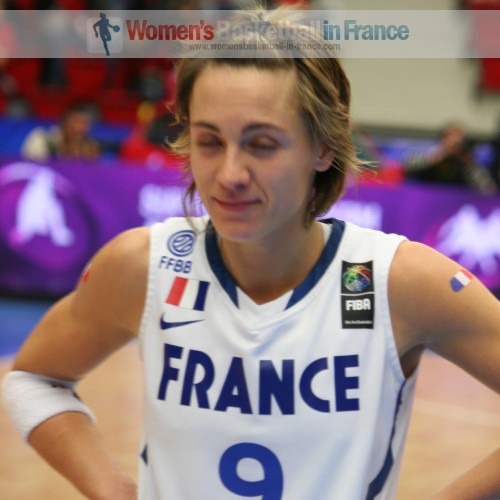 Maurita Reid (20 points) caused UMMC all kinds of problems early on. It was until Wauters, helped by Agnieszka Bibrzycka (11 points), started to pull away late in the second quarter.
Céline Dumerc (left) scored just 3 points for UMMC but dished out 3 assists. Cappie Pondexter and Crystal Langhorne both scored 12 points each while Deanna Nolan who is officially Russian in the eyes of FIBA scored 8 points and dished out 5 assists.
Group C already living up to expectations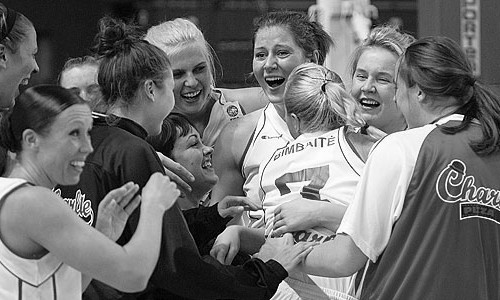 Group C has already been described as the EuroLeague Women group of death this season.
As a result of Sparta&K Moscow Region losing on day one and Halcon Avenida just scraping through it appears that analysts might be right in the name they have given for the group.
Epiphanny Prince who is playing for Sparta&K Moscow Region has a new name. She has become Russian and is now called Epifaniya Prints.
Prints also top scored for her side - in their opening day defeat against VICI Aistes - with 22 points and 5 assists.
VICI Aistes were cruising at one stage leading (42-24) late in the second quarter.
Sparta&K fought back and with just over two minutes left to play Print levelled the tie (76-76).
Irina Osipova gave the visitors the advantage in the last minute. It then appeared that the four-time defending champions would steal the win.
However Ausra Bimbaite had other ideas and hit a difficult three-point shot to level the game and practically on the buzzer hit the winning basket.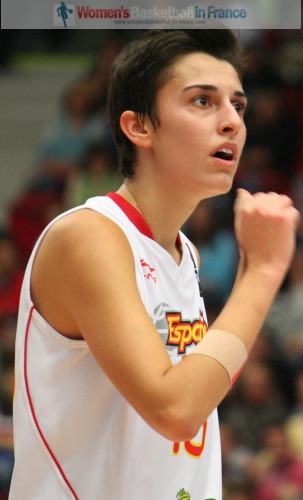 In the game in Prague it was Alba Torrens (left on picture) pouring in 20 points with Halcon Avenida that walked away with the victory (66-65).
In an exciting game in which both sides did not have a good shooting game ZVVZ USK Prague went in front (63-62) with just over a minute to play.
Torrens replied with a BIG three-pointer before Silvia Dominguez sealed the victory by splitting a pair of free throws.
Alain Jardel from Tarbes must have been wondering what happened to his players as they conceded 19 straight points against Galatasaray to trail (2-21) with less than seven minutes on the game clock.
With the damage already done his team huffed and puffed their way back into the game to trail by (34-38) at the interval.
Sylvia Fowles (16 points and 11 rebounds) and Seimone Augustus with 20 points were just too strong and Galatasaray weathered the storm and then cruised to victory (84-68).
Return to Group index
Ros Casares' and Bourges Basket's experience made the difference
Katie Douglas and Edwige Lawson-Wade scored 17 and 16 points each and combined for 5-of-8 from beyond the arc as Ros Casares picked up a valuable EuroLeague Women road win against Orenburg Nadezhda (76-68).
Rebekkah Brunson was the other big scorer with 15 points.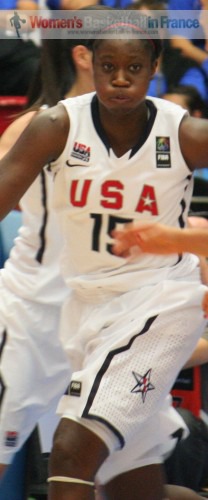 For the hosts Tina Charles (left) fired in 23 points and picked up 13 rebounds while Becky Hammon scored 15 points and delivered 6 assists.
again came up with a strong defensive performance to get themselves out of jail and win the game.
KSSSE AZS-PWSZ Gorzów led (36-29) with 22 minutes played but then only managed 14 points for the rest of the game.
While Nwal-Endéné Miyem and Cathy Joens take much of the credit for their combined total of 38 points, Anaël Lardy should not be forgotten for her 7 assists.
For Gorzów Yelena Leuchanka scored 12 points while Izabela Piekarska poured in 10 points and picked up 9 rebounds. Samantha Richard scored 10 points and dished out 4 assists.
Return to Group index
---
Return to the EuroLeague Women index
Return to the index at the top of page
---
EuroLeague Women picture credits:

womensbasketball-in-france.com
FIBA Europe

Date created: 27 October 2010
Date Updated: 30 October 2010
---