EuroLeague Women eighth-final game one review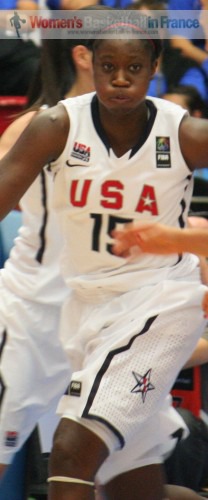 A good evening of EuroLeague Women action saw seven of the eight hosts come away with victories in game one. The only team to win on the road was
ZVVZ USK Prague
against Cras Basket.
Tina Charles (left) won the player-of-the-week award despite her team finishing on the losing side.
She led Nadezhda Orenburg with 24 points, 12 rebounds, 5 assists, 4 blocks and 3 steals in an overtime defeat (70-75) to Wisla Can-Pack.
Bourges Basket are the only club from France still in the competition. They gave their supporters a scare trailing for most of the match.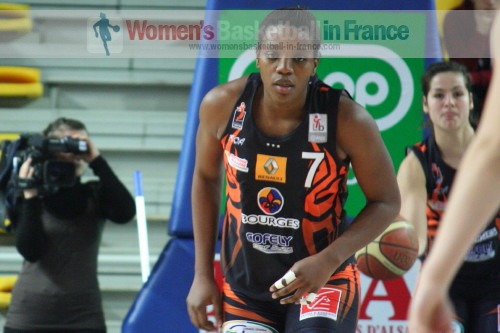 However in the final quarter Styliani Kaltsidou and Cathy Joens went on the rampage offensively for Bourges to overturn a six-point deficit to win the match (76-68).
Joens led the Bourges attack with 18 points and went 4-of-7 from beyond the arc.
Emméline Ndongue added 14 points and picked up 9 rebounds while Kaltsidou and Nwal-Endéné Miyem (above in picture) contributed 13 and 11 points respectively.
For Good Angels Crystal Langhorne scored 22 points and collected 6 rebounds while Candice Dupree and Marina Solopova scored 14 points apiece.
After the EuroLegue Women match, Joens from Bourges explained despite trailing for long periods in the match "Our team always keeps trust in the group and the game, and never felt pressure."
Pierre Vincent, head coach from Bourges, admitted that he was surprised by the way that Good Angels played but was satisfied how his players reacted after the interval.
EuroLeague Women news from game one for top 3 seeds
Fenerbahçe turned on the style to defeat Galatasaray (77-58) with 24 points coming from Nevriye Yilmaz.
The all-Turkey clash remained close during the first half with Fenerbahçe leading (36-33).
An 11-0 run after the break put Fenerbahçe in command for the rest of the game. For Galatasaray Seimone Augustus scored 19 points.
Fenerbahçe who finished the regular season undefeated are the only team with a perfect record in the competition this season.
Former French international Edwige Lawson-Wade (left) and Rebbekah Brunson scored 16 points each as number two seeds Ros Casares cruised past MKB EuroLeasing (84-56).
The number three seeds Halcon Avenida, also from Spain, were given a tough workout by Pécs 2010 before securing the victory (76-60).
With three minutes left to play Pécs 2010 trailed (57-64). They were unable to get any closer because Erika De Souza and Alba Torrens went on a scoring spree.
De Souza led all scoring with 16 points while Belgium international Anke De Mondt and Torrens (10 rebounds) added 15 points each.
However the scoring award in this game went to FIBA Europe postcard blog writer Alexandria Quigley (Pécs 2010) with 22 points.
EuroLeague Women play-off thrills
Sandrine Gruda had an almost perfect day in scoring 21 points for UMMC Ekaterinburg as they edged out Rivas Ecópolis (63-58).
The third meeting between the two sides this season did not produce much fireworks from behind the three-point line but remained close and entertaining.
UMMC playing at home found themselves trailing (47-50) with less than a minute played in the final quarter.
Maria Stepanova then stepped up for the hosts and UMMC regained the lead for good.
Candace Parker was the only other player from UMMC in double digits with 10 points. French Captain Céline Dumerc scored 5 points and handed out 3 assists.
For Rivas Ecópolis Dewanna Bonner, Courtney Paris, Amaya Valdemoro and Anna Cruz scored 19, 12, 11 and 10 points respectively.
Cras Basket were the only top seed to lose in game one.
They allowed Katerina Elhotova (left) with 21 points and ZVVZ USK Prague to win the game (73-53).
Eva Vitecková and DeLisha Milton-Jones (10 rebounds) added 19 and 13 points each.
Kathy Wambe fired in 17 points for the Italians, while French international Elodie Godin scored 6 points.
Roberto Ricchini, the head coach from Cras Basket, summed up the match as follows: "We only lost the battle, not the war. I have already looked my players in their eyes, I feel the revenge in Prague. But it's important finding our basketball."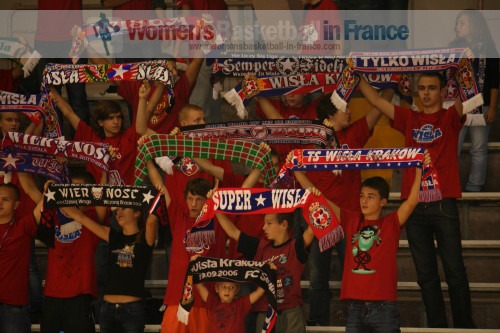 The fans of Wisla Can-Pack were in good voice for most of the game.
Despite the efforts of Tina Charles, Wisla Can-Pack looked home a dry after a triple by Nicole Powell (66-54).
Charles and Liudmilla Sapova had other ideas and shared the 12 points to bring the teams level (66-66) with 80 seconds left to play in regulation time.
Neither team was able to score again and in the dying seconds Sapova fouled out.
After almost seven minutes without scoring the arena erupted after Ewelina Kobryn hit a pair of free-throws. The joy was short lived with Charles scoring again.
However the hosts regained control with 2 more points from Kobryn and then stayed ahead for the remaining time to win the first game in the tree-match EuroLeague Women series.
Erin Philips finished the game with 18 points for the winners.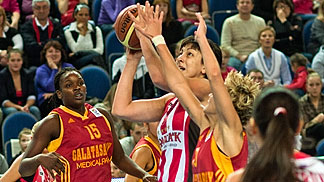 Sparta&K Moscow Region, Vidnoje had to thank two Serbian players from the 1989 generation for easing past Beretta Famila Schio (65-60).
Jelena Milovanovic (right) and Sonja Petrovic scored the last 17 points between them as they led EuroLeague Women Champions Sparta&K to victory.
Milovanovic finished the match with 23 points while Epiphanny Prince (Epifaniya Prints) added 16 points. Sue Bird dished out 7 dimes and scored 10 points while Petrovic finished with 9 points.
French international Isabelle Yacoubou-Dehoui scored 17 points for Beretta. She was outscored by Liron Cohen with 18 points but was joined in double digits by Janel McCarville with 15 points and 14 rebounds.
---
Game 1 EuroLeague Women eighth-final results:

Fenerbahçe 77-58 Galatasaray MP

Ros Casares 84-56 MKB Euroleasing

Halcon Avenida 76-60 Pécs 2010

UMMC Ekaterinburg 63-58 Rivas Ecopolis

Cras Basket Taranto 56-73 ZVVZ USK Prague

Wisla Can-Pack 75-70 Nadezhda

Bourges Basket 76-68 Good Angels Kosice

Sparta&K M. R. Vidnoje 65-60 Beretta Famila

---
Return to the EuroLeague Women index
Return to the index at the top of page
---
EuroLeague Women picture credits:


womensbasketball-in-france.com
FIBA Europe

Date created: 3 February 2011

---