Another season of EuroLeague Women basketball in 2010-2011
The FIBA Europe EuroLeague Women will be played under the FIBA rules for basketball. The new court markings will also be applied.
The second change for this edition will be the rules used to determine the nationality of players.
FIBA Europe allows two players from outside the FIBA zone to play for a club in the EuroLeague Women and EuroCup Women competition.
In the past players from outside the European region who happened to acquire the passport from a European zone member would be counted as Europeans.
This rule has been modified and, although complicated to understand, it basically states that if a players has represented a nation outside the European zone from the age of 16, then that will be their nationality no matter what other passport they hold.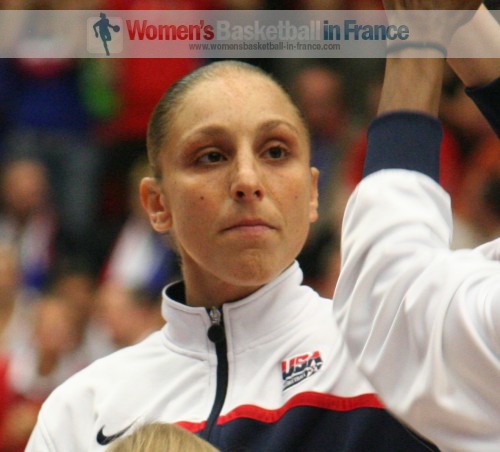 This means for example Diana Taurasi (left) who has an Italian passport but has played for the USA will now count in the quota of players from outside the European Union.
On the other hand Becky Hammon who is a US citizen but has represented Russia is a member of the European region.
This rule does not necessarily apply to the domestic leagues in Europe.

The format of the competition remains the same for the
24 participants
as last season.
The brackets for the eighth-final is determined by the final ranking after the preliminary phase.
The teams are ranked according to their win, loss record and point average and not according to the final places in their groups.
So the draw would be as follows: (1) vs. (16), (2) vs. (15), ... (8) vs. (9).
The eight-final and quarter-final games winners are determined in a best of three series. The higher ranked team will host the third game if required.
EuroLeague basketball rules do not allow more than two teams per Federation to contest the final four.
In the case of more than three teams from one Federation qualifying for the quarter-final, the brackets will be modified so that that the lower two ranked teams will have to play against each other.
EuroSport still have the TV rights for EuroLeague Women and will be broadcasting games all season.
However Eurosport and FIBA Europe have agreements that will allow other media outlets to broadcast on TV or web stream games.
---
Return to the EuroLeague Women index
---
Picture credits:

womensbasketball-in-france.com

Date created: 26 October 2010
---