EuroLeague Women
The stars are out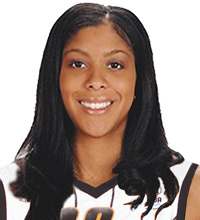 Candace Parker
(in picture) opened her EuroLeague Women account with 23 points and 3 assists in her team's road victory against MKB EuroLeasing.
UMMC Ekaterinburg did not get off to the best of starts and trailed for most of the first quarter despite finishing the first quarter in front (19-17).
UMMC stayed in front for the rest of the game. But they only started to stamp their authority midway through the second quarter which enabled them to walk into the locker room leading (41-32).
A 12-0 run by UMMC in the third quarter put an end to MKB's effort while Sandrine Gruda with 20 points and Parker continued their festival.
Amber Holt scored 20 points for the hosts. However with just Tijana Krivacevic in double digits with 10 points they were unable to trouble the Russians.

Delisha Milton-Jones,
Lindsay Whalen
(right) and Katerina Elhotova all scored 20 points while Eva Vitecková for
ZVVZ USK Prague
made no mistake in beating surprise specialists VICI Aistes (87-60).
ZVVZ USK did most of the damage during the first half of the game leading (52-29).
Marina Solopova scored 20 points for the guests.
In the other EuroLeague Group C match of the evening Galatasaray were beaten at home for the first time this season.
They were no match for Halcon Avenida (64-81) who had four players in double digits.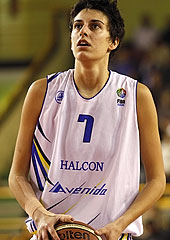 Alba Torrens (left) led all scoring with 24 points while Erika De Souza (11 rebounds) and Anna Montañana scored 18 and 17 points each.
A 17-2 run by the Spanish side between the first and second quarter gave them a (25-8) advantage and deflated the spirit of their hosts who never recovered.
Silvia Dominguez helped herself to 12 assists while Sancho Lyttle scored 12 points and 8 rebounds.
For Galatasaray Seimone Augustus led the way with 15 points while Sylvia Fowles (12 rebounds) and Melisa Can scored 12 points each.
In EuroLeague Women Group D, KSSSE ASE PWSZ Gorzow and Frisco Sika Brno are out of the competition after losing to Ros Casares and Bourges Basket respectively.
Gorzow playing at home with a reduced roster after the departure of key players for financial reasons held their own for 10 minutes with Ros Casares (18-19).
Ros Casares then blew them away 51-12 during the second and third quarter before relaxing to win (86-52). Rebekkah Brunson led the Spanish team with 16 points while all 9 players got on the score sheet.
Jo Leedham scored 19 points for the hosts.
Bourges Basket made hard work of beating their guests Frisco Sika Brno (77-60) in an uneven performance.
Nwal-Endéné Miyem was in sparkling form. She scored 22 points and collected 7 rebounds. Cathy Joens, Styliani Kaltsidou and Emméline Ndongue all reached double digits for the hosts.
Cheryl Ford may have been on the losing side but her 19 points and 21 rebounds were the highlight of the game. Frida Eldebrink on her first game in France since her departure added 14 points.
---
Thursday night's results of game 9 EuroLeague Women:

MKB Euroleasing 68-87 UMMC Ekaterinburg
ZVVZ USK Prague 87-60 VICI Aistes
Galatasaray MP 64-81 Halcon Avenida
KSSSE ASE PWSZ Gorzow 52-86 Ros Casares
Bourges Basket 77-60 Frisco Sika Brno
---
Return to the EuroLeague Women index
Return to the index at the top of page
---
EuroLeague Women picture credits:


womensbasketball-in-france.com
FIBA Europe
UMMC Ekaterinburg

Date created: 12 January 20101

---