EuroLeague Women defeat in Spain again for Bourges Basket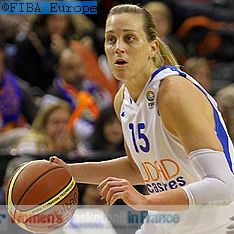 Ros Casares controlled the first leg for three quarters of their EuroLeague Women encounter against Bourges Baasket.
However in the one quarter that they played badly they almost allowed Pierre Vincent and Bourges Basket a chance for a surprise.
Katie Douglas (left) once again showed why she is one of the best players in the world.
She scored 27 points and hustled in defense as she led her team to victory.
Rebekkah Brunson did not have a good shooting. But it did not stop her working hard in defense and going a perfect 7-of-7 from the free-throw line.
Cathy Joens poured in 18 points for Bourges Basket. Yet once Sónia Reis was given the task of guarding her, her team's chance of pulling off a road victory went.
EuroLeague Women game report:
The game got off to a scrappy start with Edwige Lawson-Wade and Anaël Lardy exchanging fouls in the first minute.
In an error ridden opening, we had to wait almost three minutes for the first points of the game which came from Nwal-Endéné Miyem by splitting a pair of free throws.
Ros Casares were soon off the mark with Cindy Lima getting herself between the bodies in the paint to lay up.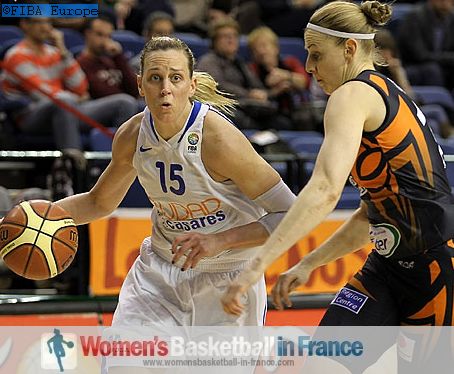 Both teams continued to play well defensively making scoring difficult. Cathy Joens put Bourges back in front with a jumper from the free-throw line.
Ros Casares finally got going offensively after Reis hit a lovely jump shot from the top of the arc.
Katie Douglas then punished Bourges for falling asleep by going coast to coast (8-3) with seven minutes played.
Joens did her best to keep Bourges in the game with 7 first quarter points while Ros Casares pulled ahead (14-8).
Ros Casares came firing on all cylinders at the start of the second quarter and pushed their advantage (20-8) with 12 minutes played.
Bourges failed to get going and were punished time and time again. They trailed (32-18) with a minute to play in the half.
Lima scored again for the hosts but Miyem hit a buzzer beater after some excellent work by Maja Miljkovic (20-34).
Bourges came to life at the break with Joens hitting three-pointer after three-pointer. Bourges almost completed the comeback (37-38) when Natalia Hejkova called a time-out.
Reis spent the rest of the quarter following Joens while her team-mate Nuria Martinez hustled the French point guards.
Douglas continued her scoring spree while Rebekkah Brunson huffed and puffed all round the court as the hosts regained control (47-41) by the end of the third quarter.
Surprisingly Ros Casares stepped up defensively and managed to keep Bourges scoreless while stretching their advantage (58-41) with four minutes played in the final quarter.
Although Bourges were able to make the scoreline to look respectable they had no chance of coming back.
Ros Casares: Jana Veselá 7, Marta Fernandez 2, Cindy Lima 6, Edwige Lawson-Wade 0, Laia Palau 4 (5 assists), Sónia Reis 8, Nuria Martinez 0, Rebekkah Brunson 11 (10 rebounds), Agne Abromaite DNP, Katie Douglas 27
Bourges Basket: Anaël Lardy 4, Maja Miljkovic 2, Nwal-Endéné Miyem 7 (9 rebounds), Styliani Kaltsidou 10, Jennifer Digbeu 9, Catherine Joens 18, Paoline Salagnac DNP, Emméline Ndongue 8, Ilona Burgrova 0
Sparta&K Moscow Region Vidnoje are not giving up the title easily
Fenerbahçe's unbeaten EuroLeague Women run has come to an end as they dropped game one to Sparta&K Moscow Region (78-86).
Nevriye Yilmaz and Ivana Matovic did the bulk of the scoring for the Turkish team with 24 and 20 points respectively. But they were unable to defend a (57-47) lead with 15 minutes to play.
Spartak Moscow's scoring was more evenly distributed. Once again when the game reached crunch time, Sue Bird and Taj McWilliams were in the thick of the action.
The Russian team was led with 19 points by Epiphanny Prince (Epifaniya Prints) while McWilliams (12 rebounds) and Irina Osipova scored 16 points each.
Look back from the news and stories from the previous round.
Game 1 EuroLeague Women quarter-final results:

Fenerbahçe 78-86 Sparta&K M. R. Vidnoje
Halcon Avenida 87-70 Wisla Can-Pack
Ros Casares 65-58 Bourges Basket
UMMC Ekaterinburg 68-51 Cras Basket

---
Return to the EuroLeague Women index
Return to the index at the top of page
---
Picture credits:


FIBA Europe

Date created: 22 February 2011

---