EuroLeague Women quarter-finalists
are known
The 2011 EuroLeague Women quarter-final will be contested by the top eight teams from the round-robin league phase of the competition.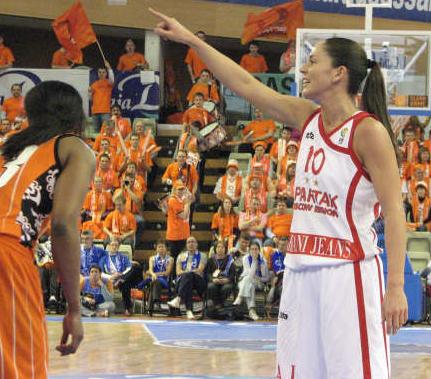 For the hosts of the deciding games in the eighth-final play-off, home court advantage paid off with all four teams winning.
Sparta&K Moscow Region had to thank season campaigners Sue Bird with 18 points (in picture)and Taj McWilliams with 14 points (9 rebounds, 3 blocks and 3 steals) as they hung on to beat Beretta Famila (69-63).
Laura Macchi finished with 18 points for the Italians.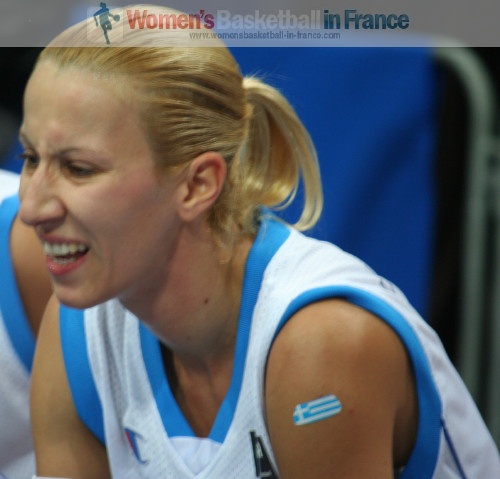 Styliani Kaltsidou has waited all season for a big game for Bourges Basket. She led Bourges Basket (right in picture) to victory against Good Angels Kosice (79-68).
Kaltsidou was a perfect 3-of-3 from behind the arc and also the catalyst for Bourges during the last five minutes.
She hit the jumper for Bourges to go into the lead for good (62-61) and then completed the 14-3 run with a trey (74-64) to put the game out of the reach of Good Angels.
Good Angels gave Pierre Vincent a lot to think about as they turned a (17-21) deficit at the end of the first quarter into a (36-28) advantage at the interval.
Crystal Langhorne with 20 points and 8 rebounds was a major threat for Bourges.
While Bourges managed to keep Candice Dupree under wraps offensively Lucia Kupcikova and Marina Solopova with 18 and 13 points each made sure Bourges had to sweat.
Emméline Ndongue and Cathy Joens added 14 and 12 points each for Bourges to join Kaltsidou in double digits.
Bourges will now face Ros Casares in the quarter-final.
Cras Basket and Ros Casares stay on course
Cras Basket trailed for the first seven minutes of their EuroLeague basketball game with ZVVZ USK Prague. They then switched on the turbo to finish the first quarter with a 7-0 run (19-13) to never look back.
They ended up winning (83-49) with 16 points coming from Kathy Wambe and Dubravka Dacic.
However the other Spanish team, Ros Casares were forced to work a little harder in overcoming MKB EuroLeasing (86-63).
The first quarter was close with the hosts just coming out on top (24-20). Ros Casares then paced themselves through each quarter without allowing MKB a chance to trouble them.
Katie Douglas finished with 25 points for the Spanish giants.
Zane Tamane rounded up her competition with 19 points for the Hungarians.
Look back from the news and stories from game two.
Game 3 EuroLeague Women eighth-final results:

Sparta&K M. R. Vidnoje 69-63 Beretta Famila
Bourges Basket 79-68 Good Angels Kosice
Ros Casares 86-63 MKB EuroLeasing
Cras Basket 83-49 ZVVZ USK Prague

EuroLeague quarter-final pairings
Ros Casares vs. Bourges Basket
Halcon Avenida vs. Wisla Can-Pack
UMMC Ekaterinburg vs. Cras Basket
Fenerbahçe vs. Sparta&K M. R. Vidnoje

---
Return to the EuroLeague Women index
Return to the index at the top of page
---
Picture credits:


womensbasketball-in-france.com

Date created: 9 February 2011

---