EuroLeague Women
Four teams qualified for quarter-final
Wisla Can-Pack
's EuroLeague Women basketball campaign for 2011 continues after eliminating Nadezhda Orenburg 2-0 in the best of three game series.
Erin Philips (left) will steal all the headlines for the victory of Wisla (72-63) in the second game. She finished the game with 22 points. She went 6-of-7 from the land of many and also collected 7 rebounds.

Nicole Powell had a steady but not spectacular game scoring 19 points while her team-mate Paulina Pawlak was also having fun from beyond the arc. She went 3-of-4, scored 11 points and finished with 4 dimes.
Nadezhda Orenburg, playing at home, had the best start to the game dominating the first quarter (22-14). Despite losing the lead mid-way through the second quarter the hosts went into the locker room ahead (38-34).
Anastasiya Verameyenka (15 points) and Tina Charles (18 points) did the bulk of the scoring for Nadezhda. But they were powerless in stopping the avalanche of three-pointers from their opponents.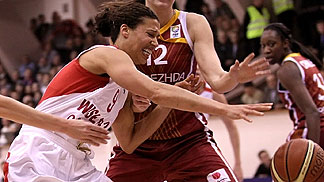 However a trey by Elena Baranova and 2 points by Becky Hammon allowed the hosts to go into the final quarter leading (52-51).
The final quarter turned into a shooting display by Wisla for Poland with Powell (right) and Yelena Leuchanka joining in the action as they cruised to victory.
EuroLeague Women game three required for Bourges, Cras Basket and Ros Casares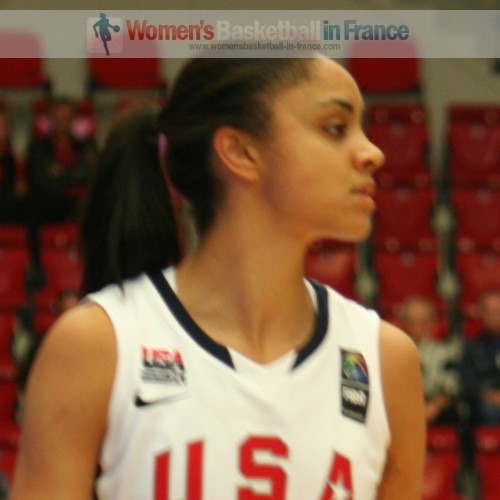 Bourges Basket worked hard for 35 minutes keeping their hopes of sweeping the series against Good Angels Kosice.
Good Angels weathered the storm. During the final five minutes they edged in front with a free throw from Candice Dupree (right).
Bourges failed in their attempt to regain the lead and trailed by just 2 points with 14 seconds to play.
In order to gain time Bourges Basket were forced to foul their opponents, who then went 8-0f-8 from the charity stripes.
Bourges managed just 3 points and had to concede defeat (51-64).
Dupree finished with a double-double of 13 points and 13 rebounds for Good Angels while Cathy Joens scored 19 points for Bourges Basket.
The deciding match will be played in Bourges.
Cras Basket recovered from their home defeat in game one to stun ZVVX USK Prague (75-73) in a roller coaster game.
Cras Basket dominated the first quarter (25-17). But the hosts, ZVVZ had the better of the second quarter and went into the interval leading (45-36).
ZVVZ stayed in front going into the final quarter (62-54).
Cras Basket chipped away at the deficit. With money-time approaching went into the lead (75-73) through Megan Mahoney (in picture) with a three-pointer.
The two teams managed to miss every possible shot for the remainder of the game and as a result the two teams will meet again in game three.
Sophia Young scored 24 points for Cras Basket, while Elodie Godin added 13 points and picked up 9 rebounds. For ZVVZ, USA international Lindsay Whalen fired in 20 points and dished out 6 assists.
---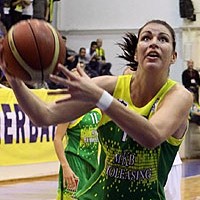 Tijana Krivacevic's (left) 21st point of the match turned out to be the most important for MKB EuroLeasing as it put her side back in the driving seat with 90 seconds left to play.
Rebekkah Brunson tied the match once more in the last minute for the guests (70-70). Yet MKB made two trips to the charity stripes.
Ros Casares fumbled their remaining attacks leaving them no chance of securing the EuroLeague Women series win.
Marissa Coleman added 15 and Katalin Honti 12 points each for the home side to join Krivacevic in double digits.
Brunson led the way for the Spanish side with 23 points and 13 rebounds. She was joined in double digits by Katie Douglas with 16, Marta Fernandez with 13 and Cindy Lima with 11 points.
Isabelle Yacoubou-Dehoui's last two points gave Beretta Famila the breathing space they required in the dying seconds to hold off Sparta&K Moscow Region (66-64).
Yacoubou-Dehoui led her team in scoring with 19 points while Epiphanny Prince (Epifaniya Prints) poured in 26 points for the defending champions.
Teams waiting for EuroLeague Women quarter-final
The big match in Turkey failed to live up to its billing because the hosts Galatasaray failed to get out of the starting blocks against Fenerbahçe.
Sylvia Fowles and Seimone Augustus did not score a point during the first 10 minutes. Whereas their guests opened with a (14-2) and led (19-9) by the end of the first quarter.
Fenerbahçe paced themselves through the rest of the match hitting 8-from-11 shots from the land of many as they cruised to victory (73-51).
Esmeral Tuncluer led the way with 16 points, while Ivana Matovic and Anete Jekabsone added 16 and 14 points apiece. Fowles picked up for the hosts in the second quarter and finished with 14 points.
Halcon Avenida made life difficult for themselves. But with Sancho Lyttle scoring 22 points and pulling down 10 rebounds, they held on to beat Pécs 2010 (73-67).
The final game of the evening between Rivas Ecópolis and UMMC Ekaterinburg was decided in overtime with the Russian club side coming out on top (83-74).
Overtime turned into the Cappie Pondexter (right) show with scoring 7 of her team's final 13 points.
Olga Arteshina and Pondexter (7 assists) finished the game with 19 points. Sandrine Gruda and Céline Dumerc (6 steals) contributed 13 and 7 points each.
Dewanna Bonner was the top scorer from Rivas with 23 points.
---
Game 2 EuroLeague Women eighth-final results:

Galatasaray MP 51-73 Fenerbahçe (Fenerbahçe win series 2-0)

MKB Euroleasing 72-70 Ros Casares (series tied 1-1)

Pécs 2010 66-73 Halcon Avenida (Halcon Avenida win series 2-0)

Rivas Ecópolis 74-83 UMMC Ekaterinburg (UMMC Ekaterinburg win series 2-0)

ZVVZ USK Prague 72-75 Cras Basket Taranto (series tied 1-1)

Nadezhda Orenburg 63-72 Wisla Can-Pack (Wisla win series 2-0)

Good Angels Kosice 61-54 Bourges Basket
(series tied 1-1)

Beretta Famila 66-64 Sparta&K M. R. Vidnoje (series tied 1-1)

Look back from the news and stories from game one.
---
Return to the EuroLeague Women index
Return to the index at the top of page
---
EuroLeague Women picture credits:


womensbasketball-in-france.com
FIBA Europe
UMMC Ekaterinburg

Date created: 5 February 2011

---