EuroLeague Women comings
and goings in 2011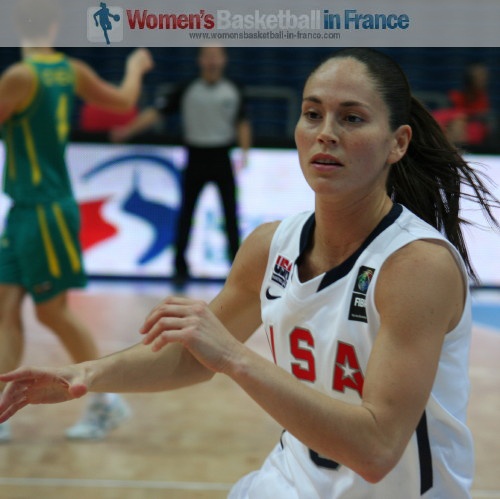 Clubs have until 26 January to register players for EuroLeague Women.
Sue Bird (in picture), Candace Parker and Nicole Powell's arrivals after the Christmas break were known before the current season started.
While Bird rejoins Sparta&K Moscow Region Vidnoje, Lauren Jackson has returned to Australia due to injury.
Jackson hurt her achilles but hopes to return before the end of the season.
At UMMC Ekaterinburg it was a straight swap, Parker in, Crystal Langhorne out.
At Wisla Can-Pack Powell was always coming but the departure of Janell Burse was not planned.
She is expecting a baby. So she had to end her season and has been replaced by Yelena Leuchanka who moved from KSSE AZS PWSZ Gorzow.
Other movements:
Sophia Young joined Cras Basket leaving Brooke Smith to find another club and then signed for Tarbes.
At Galatasaray Tamika Catchings replaced the injured Monique Currie while Ceyda Kozluca and Melek Bilge have also left the club.
Angel McCoughtry leaves MKB EuroLeasing for Fenerbahçe while Marissa Coleman and Bernadett Németh are the new players at EuroLeasing.
George Dikeoulakos is the new head coach of Lotos Gdynia and is joined by French international Pauline Krawczyk.
At TTT Riga Quanitra Hollingsworth left to join Good Angels Kosice. Kim Butler is also leaving the club to play in Spain.
Over the coming days more movements and transfers will be confirmed.
---
Return to the EuroLeague Women index
Return to the index at the top of page
---
picture credits:


womensbasketball-in-france

Date created: 11 January 2010

---