EuroLeague Women complications for
Mondeville and Tarbes
USO Mondeville
suffered their fifth successive EuroLeague Women defeat while LFB rivals Tarbes also lost.
Neither team has been mathematically eliminated from the competition but their qualification for the play-offs depends on them winning next week and better placed teams losing.
EuroLeague Women Group A: Mondeville or Pécs
Mondeville travelled to Italy to play Cras Basket. For the first 15 minutes it appeared that they may get the road win leading (32-27).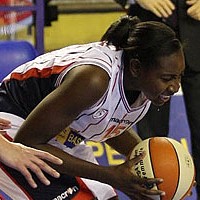 However Cras Basket recovered quickly with Elodin Godin (15 points and 7 rebounds), Megan Mahoney, Jami Montagnino and Kathy Wambe firing on all cylinders as they reduced the deficit by the interval (40-42).
During the third quarter Sophie Young (18 points - in picture) started to throw her weight. Hence the hosts went into the final quarter leading (62-58) to stay in front all the way to the end (79-67).
Lenae Williams led Mondeville with 18 points while Aurélie Bonnan compiled a double double of 15 points and 11 rebounds. Anne-Sophie Pagnier had a perfect shooting day with 11 points.
While Mondeville lost, Pécs 2010 came out on top against Good Angels Kosice (75-72).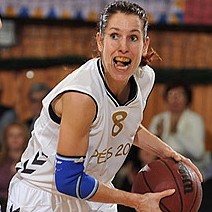 Dalma Ivanyi's (right) 18 points and 6 assists not only helped Pécs to victory, but put them in the driving seat for the last qualification place in Group A.
In the final games next week Pécs 2010 will qualify for the play-off if they win or Mondeville lose. However if Mondeville win and Pécs 2010 are defeated, then Mondeville is qualified.
EuroLeague Women Group C: Galatasaray MP, Tarbes GB and VICI Aistes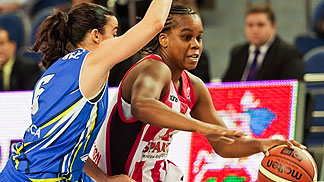 Tarbes welcomed Sparta&K Moscow Region and finished empty handed for their sixth defeat of the season.
The defending champions, who had Sue Bird playing, won (78-61) with 21 points coming from Epifaniya Prints (Epiphanny Prince in picture).
They never trailed in the game and went 10 points clear by the end of the first quarter (23-13) to pace themselves to victory.
Sonja Petrovic and Ilona Korstin who have both played in France for Bourges Basket scored 11 and 7 points each while Bird scored 12 points.
Tarbes are currently bottom of the group but can still qualify for the play-offs next week.
They must beat VICI Aistes and Galatasaray has to lose at home to ZVVK USK Prague.
The clubs fighting for ranking positions
Fenerbahçe maintained their unbeaten record with a hard fought victory against Polish club side Lotos Gdynia (77-64).
Nevriye Yilmaz led the way with 19 points while Ivana Matovic scored 16 points and picked up 15 rebounds. Penny Taylor also scored 16 points.
Monica Wright fired in 23 points for Lotus but with this defeat her side is eliminated from the competition.
In the other game from Group B, Rivas Ecópolis were involved in an exciting game with Gospic Croatia. Rivas held on to win (99-89) to book their ticket into the play-offs while Gospic are eliminated.
In the final game from Group D, Beretta-Famila beat Nadezhda Orenburg (74-66). Both teams had already qualified from the group.
You can read all the EuroLeague Women news from the first day of action of the ninth rounds.
---
Friday night's results of game 9 of EuroLeague Women:

Pecs 2010 75-72 Good Angels Kosice
TTT Riga 76-82 Wisla Can-Pack
Lotos Gdynia 64-77 Fenerbahçe

Tarbes 61-78 Sparta&k Moscow
Cras Basket 79-67 USO Mondeville
Ecopolis 92-70 Gospic Croatia
Beretta Famila 74-66 Nadezhda Orenburg

The current EuroLeague ranking table is as follows:
Fenerbahce (1), UMMC Ekaterinburg (2), Cras Basket Taranto (3), Halcon Avenida (4), Ros Casares (6), Sparta&K Moscow Region, Vidnoje (7), Wisla Can-Pack (8), Bourges Basket (9), Good Angels Kosice (10), ZVVZ USK Prague (11), MKB EuroLeasing(12), Nadezhda Orenburg (13), Rivas Ecópolis (14), Pécs 2010 (15), Galatasaray MP (16)
---
Return to the EuroLeague Women index
Return to the index at the top of page
---
EuroLeague Women picture credits:


FIBA Europe

Date created: 14 January 20101

---