Fenerbahçe dominate the first phase of
EuroLeague Women

The first phase of the FIBA Europe EuroLeague Women has been dominated by
Fenerbahçe
. They are unbeaten, picked up two ELW player-of-the-week awards and scored more than 100 points twice and are averaging 93.8 points per match.
Diana Taurasi, on her first visit to Russia since leaving Sparta&K Moscow Region, handed UMMC Ekaterinburg their first defeat (73-67). Taurasi led the scoring for Fenerbahçe with 23 points, while hitting five shots from behind the arc.
Ros Casares are the second team to have survived the first phase unscratched. They beat Frisca Sika Brno (82-74) with Rebekkah Brunson doing most of the damage with 27 points and 12 rebounds.
It was a mixed night for France, with Tarbes winning at home and Mondeville losing on the road. Bourges played on Thursday and lost in overtime (68-77) to Beretta Famila .
Elsewhere in the EuroLeague Women ZVVZ USK Prague won against Galatasaray MP while Sparta&K Moscow Region beat Halcon Avenida.
In the TV game of the week Wisla Can-Pack got past Good Angels Kosice.
Select the links below to read the EuroLeague Women (or EWL) basketball news from the fifth round of games on day 1.
1. Group A
2. Group B
3. Group C
4. Group D
5. Results

Look back on the basketball news from the previous round

---
Everything to play for in EuroLeague Women Group A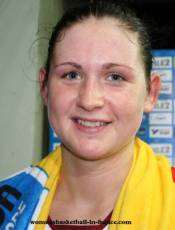 TTT Riga picked up their first victory (55-50) at the expense of USO Mondeville. It was not the home coming Aija Brumermane (left) could have wished for, at the moment playing for Mondeville.
She led the scoring alongside Lenae Williams with 14 points. However the hero of the day was Quanitra Hollingsworth who set TTT on the way to victory with 5 points during the final quarter.
Hollingsworth finished the game with 10 points and 13 rebounds while her team-mate Shavonte Zellous fired in a game high 23 points.
In the EuroSport 2 televised game Wisla Can-Pack came out on top against Good Angels Kosice (66-61). Last week's ELW player of the week Erin Philips led Wisla to victory with 18 points.
The final game in the group was played on Thursday between Cras Basket and Pécs 2010. Cras Basket won the match (68-40)and return to the top of the group.
Mondeville and Good Angels Kosice currently lie in joint second plac with 3 wins each.
Return to Group index
---
EuroLeague Women Group B is all about Fenerbahçe
Fenerbahçe have dominated the news headlines since the start of the competition this season and are now officially one of the challengers for the title.
UMMC Ekaterinburg are very difficult to beat at home and hence the victory of Fenerbahçe (73-67) is big news.
Diana Taurasi (23 points) was having fun from beyond the arc while Penny Taylor compiled 13 points, 6 assists, 8 rebounds and 2 steals for the player-of-the-match award.
Crystal Langhorne fired in 17 points for the hosts.
Fenerbahçe are ranked number one in the EuroLeague Women and are two wins away from qualifying for the play-off.
MKB EuroLeasing got past Gospic Croatia (82-68) to snap their two-game losing streak, while Rivas Ecópolis got past Lotos Gdynia (70-65)
Gospic are the only team to finish the first half of the qualifying round without a victory.
Return to Group index
EuroLeague Women Group C is a headache for the bookmakers
All the clubs in this group are still in the battle for play-off qualification.
Tarbes picked up their second win by beating VICI-Aistes (63-59). However it appeared that Tarbes did everything possible in the last couple of minutes to lose the game.
4 free-throws missed during the last couple of minutes almost allowed VICI-Aistes to snatch the game.
For Tarbes Jelena Dubljevic fired in 23 points, while Erin Thorn scored 15 points.
Eva Vitecková stole the show as ZVVZ USK Prague notched up their third consecutive victory.
Vitecková scored 25 points, pulled down 9 rebounds and handed out 4 assists for ZVVZ USK to overcome Galatasaray Medical Park (84-56).
Sylvia Fowles (in picture on the left) fired in 23 points for Galatasaray. But her USA team-mate playing for ZVVZ USK Lindsay Whalen (in picture on the right) had the last say with 16 points and 4 assists.
Delisha Milton-Jones also added to the misery of Galatasaray by scoring 20 points and collecting 11 rebounds.
Sparta&K Moscow Region, led by Irina Osipova with 15 points, had to wait until the final quarter to pull away from Halcon Avenida (72-60) for their third victory.
Sancho Lyttle's third double double with 12 points and 13 rebounds as well as the 19 points from Ana Montañana were not enough for Halcon Avenida to avoid their first defeat of the season.
Halcon still stay on top of the group with 4 wins while Sparta&K Moscow are one game behind with 3 wins.
Tarbes and Galatasaray have 2 wins each. VICI-Aistes hold up the table with just 1 win.
At the moment all six teams can still qualify for the play-off phase.
Return to Group index
---
Group D so far belongs to Ros Casares
Ros Casares made it 5 wins from five games in beating Frisco Sika Brno(82-74).
Rebekkah Brunson finished the game with her fourth straight double double with 27 points and 12 rebounds. Cheryl Ford led Sika Brno with 17 points and 20 rebounds.
With Jo Leedham hitting a three-pointer with 13 seconds left to play she sealed the victory for KSSSE AZS-PWSZ against Orenburg Nadezhda (76-73).
Beretta Famila move into second place after beating Bourges Basket in overtime (77-68).
Return to Group index
---
Game 5 EuroLeague Women results:

Wisla Can-Pack 66-61 Good Angels Kosice
TTT Riga 55-50 USO Mondeville
Cras Basket Taranto 68-40 Pécs 2010

MKB EuroLeasing 82-68 Gospic Croatia
UMMC Ekaterinburg 67-73 Fenerbahce
Rivas Ecópolis 70-65 Lotos Gdynia

Sparta&K M. R. Vidnoje 72-60 Halcon Avenida
ZVVZ USK Prague 84-56 Galatasaray MP
Tarbes GB 63-59 VICI Aistes

Gorzow 76-73 Nadezhda
Ros Casares 82-74 Frisco Sika Brno
Beretta-Famila 77-68 Bourges Basket

---
Return to the EuroLeague Women index
Return to the index at the top of page
---

EuroLeague Women picture credits:


womensbasketball-in-france.com
FIBA Europe


Date created: 24 November 2010
Data Updated: 26 November 2010

---