Russian and Spanish clubs step up in EuroLeague Women matches
This was a perfect night of EuroLeague Women basketball for clubs from Spain and Russia with six victories. However it was the opposite for clubs from Hungary and Italy who came away with nothing.
From Russia with love without 007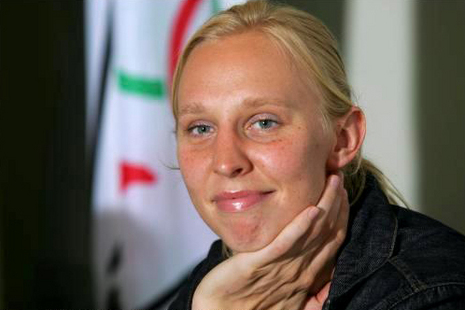 The big news from Russia this week came from Ann Wauters (left), who announced that her season had come to and end because she was expecting a baby.
Yet her club UMMC Ekaterinburg continued their perfect run in the ELW by beating MKB EuroLeasing (80-61).

This was also the first home game for the Russians.
Agnieszka Bibrzycka led the scoring for the home side with 18 points. Crystal Langhorne followed with 17, while Sandrine Gruda and Maria Stepanova both scored 16 points each.
MKB EuroLeasing were unable to find their shooting touch and managed just 19-from-56 shots.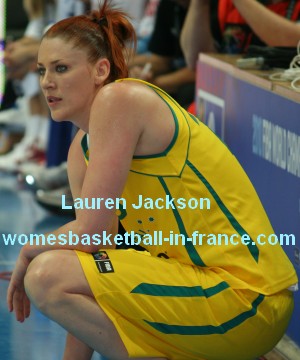 Sparta&K Moscow Region, Vidnoje bounced back from last week's defeat by beating Tarbes (87-55).
Lauren Jackson (right) did most of damage with 24 points in 24 minutes.
Tarbes were never allowed to get into the game and conceded defeat by the end of the third quarter (37-68).
Nadezhda Orenburg have ended their negative series by getting their first victory of the EuroLeague basketball season (56-54) against Beretta Famila Schio.
Nadezhda never trailed in this game and yet almost allowed their Italian guests to steal the game with some poor plays in the closing minutes.
Anastasiya Verameyenka's last points of the game with two minutes left to play turned out to be the winning shot. She finished the game with 11 points and 16 rebounds.
This is why we enjoy Spanish Women's basketball
When the chips are down Spanish clubs have a habit of stepping up their game. Rivas Ecópolis needed a win to get their EuroLeague Women campaign started.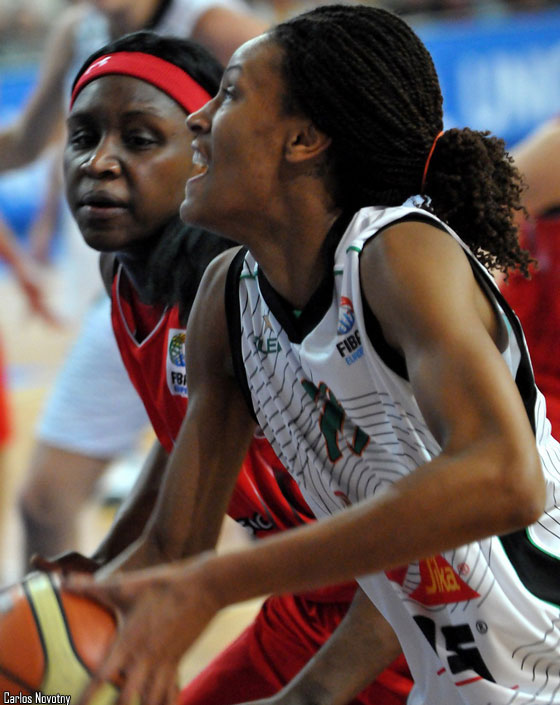 They recovered from a slow start to beat Gospic Croatia (92-75).
With Rivas trailing at the end of the first quarter (16-20) Tamara Abalde sparked her team into action with a three-point play to begin the second quarter.
Rivas Ecópolis went into the interval leading (43-30) and then never looked back. DeWanna Bonner (left) fired in 30 points and collected 13 rebounds for the Spanish club.
Once again Maurita Reid was the best player for Gospic with 20 points.
Ros Casares had a bad shooting day and turned the ball over 19 times. Yet they somehow managed to beat their guests KSSSE AZS-PWSZ Gorzow (60-53).
In a game in which defense was the order of the day Rebekkah Brunson came out on top with 16 points and 12 rebounds for the Spanish champions. Katie Douglas also scored 16 points.
For the Polish side, Kalana Greene had 15 points while Yelena Leuchanka compiled a double-double 14 points and 12 rebounds.
Halcon Avenida completed a successful evening for Spain by beating Galatasaray MP (86-59).
Avenida's 12-0 run early in the first quarter (14-2) set them on their way. Spanish international Alba Torrens with 18 points and Sancho Lyttle with 14 points and 17 rebounds did most of the damage.
Anke De Mondt had fun from beyond the arc with 4-of-6 while Galatasaray had an evening to forget.
Some good news for France in EuroLeague Women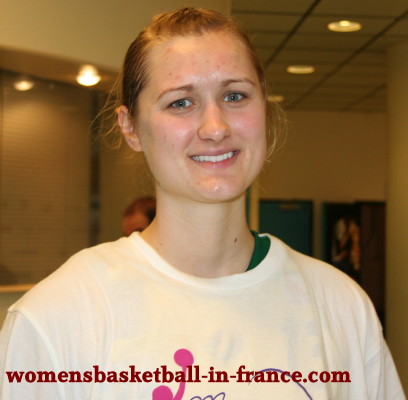 Valeriya Berezhynska (left) exploded for Mondeville with 19 points and 16 rebounds in their home victory (64-59) against Cras Basket.
In a tight game that went to the wire it was the hustle of Berezhynska that secured the victory for Mondeville.
Yacine Séné also had a good night in attack with 17 points. K. B. Sharp had a mixed night but still handed out 7 assists.
This was Cras Basket's first defeat in ELW. Now they share first place in Group A with Mondeville and Good Angels Kosice.
Good Angels Kosice had a comfortable victory over Pécs 2010 (75-57), while Wisla Can-Pack beat TTT Riga (89-48).
Bourges Basket once again survived with some excellent defending in the closing minutes to beat Frisco Sika Brno (67-62).
Cheryl Ford was the star of the match and almost won the game for the hosts by herself. She scored 24 points and took down 16 rebounds.
Nwal-Endéné Miyem came to the rescue for Bourges with her team's last 4 points. She finished the game with 15 points. Cathy Joens also scored 15 points (5-of-8 from beyond the arc).
Bourges are now second in Group D with three wins. They are one game down on Ros Casares.
Fenerbahçe's scoring spree continues with a (107-84) victory against Lotos Gdynia.
Diana Taurasi fired in 25 points and added 6 assists while Penny Taylor scored 24 points, had 5 assists and picked up 7 rebounds.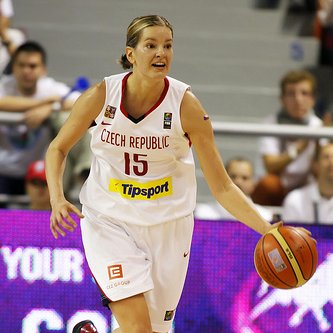 Ivan Matovic also scored 24 points. Next week Fenerbahçe face UMMC in the game between the two unbeaten teams in Group B.
ZVVZ USK Prague's second consecutive victory against VICI Aistes (83-72) moves them into joint second place in Group C with Sparta&K Moscow and Galatasaray MP.
Eva Vitecková (right), Delisha Milton-Jones and Katerina Elhotova scored 21, 18 and 16 points respectively for USK.

Look back on the previous round of EuroLeague Women action:
Rivas Ecópolis out-classed by UMMC Ekaterinburg
Teams are stepping up in the competition
USO Mondeville pick up second victory of the season
Game 4 EuroLeague Women results:

Good Angels Kosice 75-57 Pécs 2010
Wisla Can-Pack 89-48 TTT Riga
USO Mondeville 64-59 Cras Basket Taranto

Gospic Croatia 75-92 Rivas Ecópolis
UMMC Ekaterinburg 80-61 MKB EuroLeasing
Fenerbahçe 107-84 Lotos Gdynia

VICI Aistes 72-83 ZVVZ USK Prague
Sparta&K M. R. Vidnoje 87-55 Tarbes GB
Halcon Avenida 86-59 Galatasaray MP

Frisco Sika Brno 62-67 Bourges Basket
Ros Casares 60-53 Gorzow
Nadezhda 56-54 Beretta Famila

---
Return to the EuroLeague Women index
Return to the top of page
---
EuroLeague Women picture credits:

womensbasketball-in-france.com
HLN.be
FIBA Europe

Date created: 17 November 2010
---