USO Mondeville pick up second
EuroLeague Women victory of the season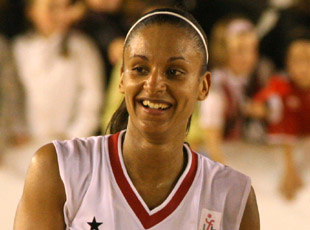 Lenae Williams
(left) was all smiles after USO Mondeville came away with a EuroLeague Women road victory (70-58) against Pécs 2010.
She hit 4-of-8 shots from beyond the arc as well as converting 7-from-9 in two-point territory. She was also perfect from the charity stripes (4-of-4) for a grand total of 30 points.
Her team-mate K. B. Sharp took care of the offensive rebounds with 12, to go with her 13 points.
Mondeville took full advantage of the strength of Aurélie Bonnan and Aija Brumermane in the first quarter to lead (18-5) with six minutes on the clock.
The hosts rallied back but Mondeville still had the advantage (24-15) by the end of the quarter.
With 13 minutes played Mondeville failed in blowing the game away despite a couple of three-pointers by Anne-Sophie Pagnier and Sharp but still opened up a 15-point lead (32-17).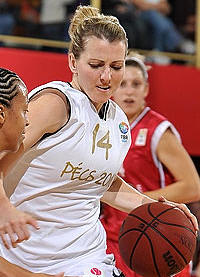 Zsofia Fegyverneky and Alexandria Quigley (right) started a home side revolt that resulted in 10 straight points.
Free-throws by Kelsey Griffin and Jela Vidacic brought the hosts to within 3 points with two minutes left to play in the quarter (31-34).
This was as close as the hosts were to get as Mondeville regained control to go into the locker room (42-35).
After the break both teams struggled in scoring as defense became the order of the day.
However Sharp and Williams broke the dead lock as Mondeville stretched their advantage going into the final quarter (53-39).
Pécs 2010, under the impulsion of Quigley reduced their deficit (50-57) with six minutes left to play.
However Williams had not finished her scoring festival and the fightback of the hosts came to an end.
Williams scored the very last points of the game from beyond the arc.
With the second ELW victory for Mondeville they now lie in third place in Group A.
Pécs 2010Z: Zsófia Fegyverneky 12 (3 assists), Krisztina Raksányi 5, Dalma Ivanyi 7 (5 assists), Nikolett Sarok 0, Nikoletta Benczurné Turóczi 0, Alexandria Quigley 18 (10 rebounds, 3 assists), Nora Nagy-Bujdosó 2, Sara Krnjic 4, Noémi Czirják DNP, Kelsey Griffin 8, Jela Vidacic 2, Regina Palusna DNP
USO Mondeville: Touty Gandega 0, Anne-Sophie Pagnier 3, Esther Niamké-Moisan 0, Aija Brumermane 8, K. B. Sharp 13 (12 rebounds), Lenae Williams 30, Yacine Séné 0, Pauline Thizy 2, Aurélie Bonnan 8, Valeriya Berezhynska 6
Euroleague Women round 3, day 2 news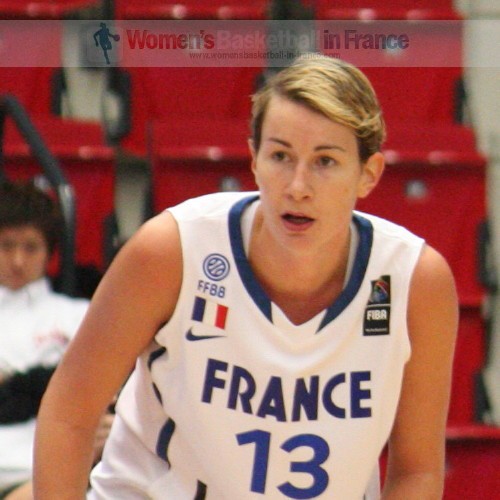 Cras Basket Taranto found the going tough in their Group A home encounter with Wisla Can-Pack.
Elodie Godin put the hosts in the lead for good with four minutes left to play (56-55) with her team's last points from open play to win (63-57).
Cras Basket finished the game scoring 7-of-8 from the charity stripes.
Brooke Smith led the way with 17 points and 10 rebounds while Belgium international Kathy Wambe scored 16 points.
Godin took care of the offensive rebounds with 8 and scored 10 points.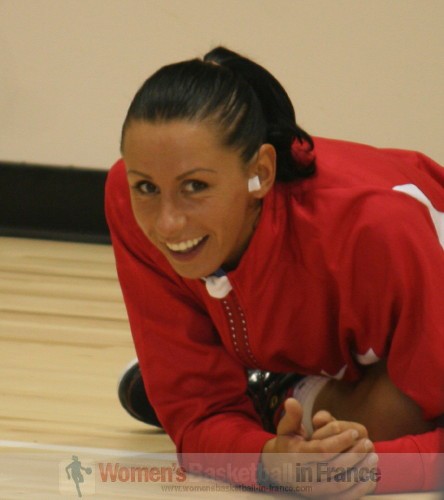 For Wisla Can Pack that are without Gunta Basko (left), had Magdalena Leciejewska to lead the way with 12 points in their defeat, while Erin Phillips and Janell Burse scored 11 points each with Burse also collecting 10 rebounds.
In the final game from Group B, Lotus Gdynia from Poland held off Gospic Croatia (90-88).
Monica Wright who is likely to be the EuroLeague Woemen player of the week led the scoring with 26 points for the winners.
Lotos head coach Dariusz Raczynski explained after congratulating his players that "In the first half we were down but in the second half the girls played in the way we wanted to play. Kaczmarska's shot was decisive. The whole team played very well, that's why we won."
All the basketball news from the day 1 of round 3 from FIBA Europe EuroLeague are available clicking on this link.
Look back on the second round news:
Taurasi picks up week award as UMMC Ekaterinburg close round with a victory
Fenerbahçe and Diana Taurasi put on a show
Game report: Ros Casares crush Bourges Basket
---
Return to the EuroLeague Women index
Return to the top of page
---
EuroLeague Women picture credits:

womensbasketball-in-france.com
sportacaen.fr
Viktor Rébay (FIBA Europe)

Date created: 12 November 2010
---