2011 EuroLeague Women
All Star Game starters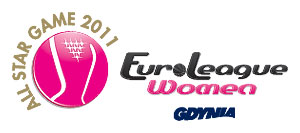 FIBA Europe have announced the ten starters for the 2011 EuroLeague Women All Star game, which is to be held in Gyndia, Poland on Tuesday, 8 March 2011. This event had already been hosted
in Gyndia in 2010
.
The players selected by the public voting will start the game while the bench players and coaching staff will be determined by FIBA Europe.
The format of the event remains the same with "Europe" taking on the "Rest of the World". During the interval there will be a three-point shooting contest.
The whole event will be shown live by Polish Television and EuroSport.
French international Sandrine Gruda is the only starter from the 2010 edition to make the public voting again.
The All Star Game starters in 2011 are:
G Céline Dumerc (UMMC Ekaterinburg - FRA)
G Alba Torrens (Halcon Avenida Salamanca - ESP)
F Amaya Valdemoro (Rivas Ecopolis - ESP)
F Sandrine Gruda (UMMC Ekaterinburg -FRA)
C Sancho Lyttle (Salamanca Avenida Salamanca - ESP)

The Top-5 vote-getters for the Rest of the World by position are:
G Monica Wright (Lotos Gdynia - USA)
G Seimone Augustus (Galatasaray - USA)
F Angel Mc Coughtry (Fenerbahce - USA)
F Candice Dupree (Good Angels Kosice - USA)
C Sylvia Fowles (Galatasaray - USA)

FIBA Europe will be announcing both line-ups, together with the coaches and medical staff.
---
Return to the EuroLeague Women index
Return to the index at the top of page
---
Picture credits:


FIBA Europe

Date created: 03 February 2011

---