Europe win EuroLeague Women All Star Game for the fourth time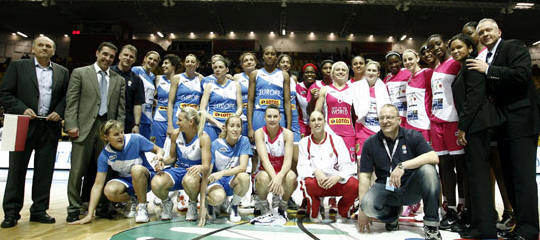 Europe picked up the EuroLeague Women All Star game allocate for the fourth time by beating the Rest of the World (93-89).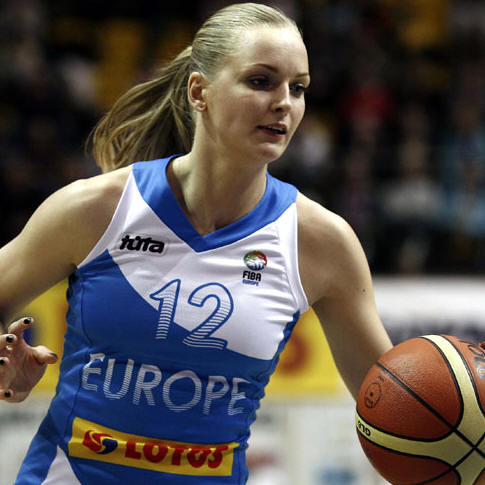 Polish international Agnieszka Bibrzycka (right) and UMMC Ekaterinburg star was awarded the MVP trophy at the end of the game.
She went 6-of-10 from behind the arc in compiling a game high 20 points.
Bibrzycka opened the scoring in the contest with a trey as Europe raced out to an early lead (9-2).
The Rest of the World picked up and Angel McCoughtry brought the teams level (19-19) with eight minutes played.
The Rest of the World then were more successful in scoring to go ahead into the second quarter (25-20).
Europe turned things around quickly. They were back in front briefly after Alba Torrens connected from the land of many.
Both teams warmed up for the three-point shooting contest with many players having some luck from beyond the arc.
Europe went into the locker room leading (47-46) after back to back scores from Sandrine Gruda and Marta Fernandez.
During the half-time show, Diana Taurasi (who was scoreless in the first half) beat Catherine Joens to win the three-point shooting contest.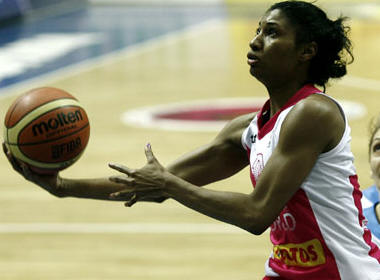 McCoughtry (left) and Candice Dupree decided to entertain the crowd by dunking. Yet it did not work out for McCoughtry (youthful exuberance) while Dupree was successful.
After the break Taurasi opened her account with a three-pointer for the Rest of the World. Later McCoughtry almost came off with the play of the match when she went up for a 360° lay-up.
However the two teams traded baskets for the whole quarter with the Rest of the World going in front into the final quarter (75-72).
During the last ten minutes, the pace of the game picked up and the match was only decided in the last seconds.
Europe led (90-89) with about ten seconds to play when Erin Phillips from the Rest of the World was hustled off the ball by Clara Bermejo Moreno.
Gruda picked up the ball and passed it back to Moreno, who in turn passed the ball up the court to Bibrzycka. Bibrzycka then hit a three-pointer to secure the EuroLeague Women All Star Game victory for Europe (93-89).
Europe

Rest of the World

4: Anete Jekabsone-Zogota 7
4: Candice Dupree 11 (9 rebounds)
5: Marta Fernandez 9 (6 assists)
5: Lindsay Whalen 2
6: Clara Bermejo Moreno 4
6: Penny Taylor 8
7: Sandrine Gruda 6
7: DeLisha Milton 6
8: Laura Macchi 10
8: Erin Phillips 5
9: Hana Horakova 3
9: Catherine Joens 10
10: Emméline Ndongue 12
10: Angel McCoughtry 13
11: Nevriye Yilmaz 6
11: Taj Mc Williams 8
12: Agnieszka Bibrzycka 20
12: Sophia Young 6
13: Anna Vajda 7
13: Diana Taurasi 5
14: Ivana Matovic 3
14: Janell Burse 0
15: Alba Torrens 6
15: Rebekka Brunson 15
---
2009 All Star Game won by Europe
Return to the EuroLeague Women index
Go to Women Playing Basketball In France Home Page
GO Back to the top of the page
---
EuroLeague Women All Star Game picture credits:

Wojtek Figurski @ FIBA Europe

Date created: 09 March 2010
---