EuroLeague Women competition warms up as the temperture drops
It appears nothing can stop the Euroleague Women competition as the seventh round got off to an explosive start.
Nadezhda Orenburg continued from were they left off last week with another victory. This time they won at home (75-59) against Frisco Sika Brno.
Once again Tina Charles (above) was the star of the show with 17 points and 14 rebounds for the Russian side who are right back in the hunt for play-off qualification.
On the other hand for Frisco with Frida Eldebrink scoring 19 points, qualification is becoming more difficult with just one win this season.
Tarbes suffered a heavy road loss to ZVVZ USK Prague (58-78).
Tarbes once again made things difficult for themselves when they allowed the hosts to go on a 15-0 run wit 8 straights points by Lindsay Whalen (right).
Tarbes trailed (19-33) halfway through the second quarter and never recovered.
Whalen finished the game with 17 points, 7 assists and 7 rebounds.
When it comes to shocks VICI Aistes are the specialists as they beat Halcon Avenida (80-77).
VICI Aistes, playing at home, went three-point shooting crazy by hitting 15-from-30 attempts. However they just managed to score just one triple during overtime.
Vita Kuktiene with 17 points and 9 rebounds was the top player for the hosts. Marina Solopova and Canadian international Courtnay Pilypaitis combined for 8 three-pointers and scored 14 points each.
Fenerbahçe
were made to work hard during the first 20 minutes against Gospic Croatia (45-38). After the break they blew their hosts away 28-7 to cruise to victory (92-60).
Once again Penny Taylor filled the statistic sheets with 19 points and 12 rebounds while Diana Taurasi and Ivana Matativic contributed 18 points each.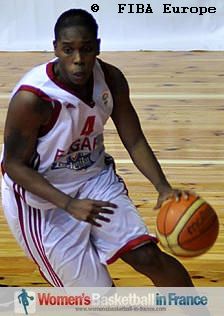 After three consecutive defeats in the EuroLeague Women Galatasaray pulled off an impressive home win against Sparta&K Moscow Region (85-83).
This match was shown on Eurosport as the ELW game of the week. It lived up to its billing as the match went to overtime.
Donneka Hodges (left) and Sylvia Fowles scored 20 points each for the hosts.
Seimone Augustus was the other player in double digits with 16 points while Fowles also picked up 12 rebounds.
For Sparta&K Lauren Jackson did not have one of her better shooting days but still led her team with 23 points while Epiphanny Prince followed up with 17 points.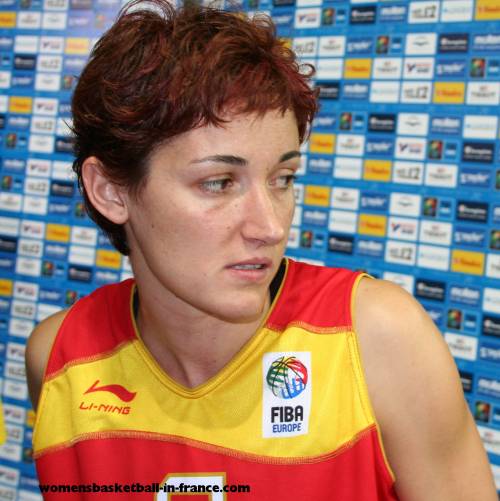 Bourges Basket fans gave Laia Palau (right) a warm welcome and plenty of encouragement despite the fact that she was playing for Ros Casares.
Bourges Basket had the worst possible start to the game (0-6) and trailed (9-19) by the end of the first quarter.
When Bourges stepped up defensively in the second quarter, they conceded just 7 points. They also reduced the deficit by the interval to (23-26).
The second half of the match was tight with neither side able to gain control.
The coach's strategy from Bourges Basket in not allowing the playmakers get the ball inside paid off as Ros Casares were unable to find the basket despite having many more shooting chances.
The fans were kept in suspense right to the end because Ros Casares went in front with a triple by Edwige Lawson-Wade (55-53) with just under two minutes remaining.
For the very last time Nwal-Endéné Miyem tied the game on the next attack for Bourges. Then with just over a minute to play the hosts stayed in front for good.
Cathy Joens closed the scoring by splitting a pair of free throws as Bourges ended up winning (58-55).
Miyem led the scoring for Bourges with 14 points while Jennifer Digbeu was the only other player from Bourges in double digits with 10 points.
Lawson-Wade and Rebbekah Brunson both scored 15 points for the guests from Spain.
Palau - who played for 18 minutes and scored 2 points - explained after the game that "The mentality of Bourges has helped them win the game. They were able to find solutions."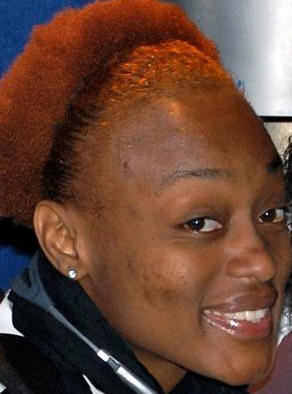 Candice Dupree
fired in 23 points as
Good Angels Kosice
recovered from a first-quarter deficit (11-23) to win on the road against USO Mondeville (77-60).
Charde Houston (right) who played in France last season with Tarbes added 19 points and picked up 11 rebounds for the player-of-the-match award as Good Angels completed the double over Mondeville.
Lenae Williams scored 16 points for Mondeville.
UMMC Ekaterinburg ran out winners at home against Lotos Gdynia (86-68). Lotus Gdynia arrived late for the game which appeared to have unsettled the hosts during the first half.
UMMC made too many turnovers during the first 15 minutes and just managed to stay in front (33-32).
However a 14-0 run enabled them to go into the locker room with a significant advantage (48-35).
UMMC then paced themselves to victory (86-68) with Sandrine Gruda leading the way with 22 points while Agnieszka Bibrzycka contributed 20.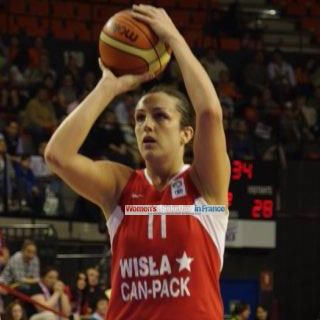 Céline Dumerc dished out 5 assists while scoring 3 points and making 2 steals.
Wisla Can-Pack Krakow is on an EuroLeague Women winning streak as they notched up their fourth successive victory by beating Pécs 2010 (67-57).
Ewelina Kobryn (left) did most of the damage for the hosts with 26 points and 3 blocks.
Look back on the basketball news from the previous round.

---
DeWanna Bonner was on fire for Rivas Ecópolis. She took 33% of her team's shots and ended up scoring 33 points in her team's (79-74) victory against MKB EuroLeasing Sopron.
She also picked up 13 rebounds.
In a tight game Rivas Ecópolis went in front for good with about three minutes on the game clock.
Tijana Krivacevic and Angel McCoughtry with 20 and 17 points each kept the guests from Hungary in the game until the final minute.
The home fans, on the edge of their seats until the last few seconds, were left to savour the victory.
The two Italian teams ended the 7th round of EuroLeague Women's action on a positive note with victories.
Cras Basket beat TTT Riga (56-42) with 14 points coming from Brooke Smith. Elodie Godin was the only other player from Cras Basket in double digits.
Cras Basket had a double celebration because they have booked their ticket for the eighth-final of the EuroLeague Women from Group A because Pécs 2010 lost.
Beretta Famila beat KSSSE AZS-PWSZ Gorzow (79-66) to force a three-way tie at the top of Group D.
Gorzow without Kalana Greene and Yelena Leuchanka got 15 points from Great Britain international Jo Leedham and outscored their hosts (13-4) in the final quarter.
Raffaella Masciadri, a player from Beretta Famila, explained after the game: "We controlled complete game but probably in the fourth quarter we let it go. We're not satisfied because of that. Now we expect a very hard away game in Valencia and we'll need to play 40 minutes and always be pushing."
Liron Cohen with 19 points and 8 assists was the driving force behind the victory.
The following teams have secured a place in the next phase of the EuroLeague Women: Cras Basket, Fenerbahçe and UMMC Ekaterinburg.
---
Game 7 EuroLeague Women results:

USO Mondeville 60-77 Good Angels Kosice
Pécs 2010 57-67 Wisla Can-Pack
Cras Basket Taranto 56-42 TTT Riga

Gospic Croatia 60-92 Fenerbahce
UMMC Ekaterinburg 86-68 Lotus Gdynia
Rivas Ecópolis 79-74 MKB EuroLeasing

ZVVZ USK Prague 78-58 Tarbes GB
VICI Aistes 80-77 Halcon Avenida
Galatasaray MP 85-83 Sparta&K M. R. Vidnoje

Nadezhda 75-59 Frisco Sika Brno
Bourges Basket 58-55 Ros Casares
Beretta-Famila 79-66 Gorzow

---
Return to the EuroLeague Women index
Return to the index at the top of page
---
EuroLeague Women picture credits:

womensbasketball-in-france.com
FIBA Europe
Tarbes (TGB)
Date created: 8 December 2010

---