2011 EuroLeague Women All Star Game
public voting opens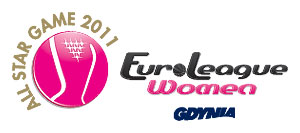 The sixth FIBA Europe EuroLeague Women All Star Game will be on 8 March 2011 in Gdynia, Poland.
Lotus Gdynia also hosted the the event last year in which Europe beat the Rest of the World (93-89).
Once again the public will be allowed to choose the starting five for the teams by participating in the internet poll organised by FIBA Europe.
The voting will run until 31 January 2011 with the result being announced immediately.
It is important to note: The FIBA Europe rules stipulate that not more than two players per club are allowed to participate in the All Star game.
One week after the starting five is announced, the remainder of the rosters and the coaching staff will be made public. To vote please click on this link which will take you to another website:
---
Return to the EuroLeague Women index
Return to the index at the top of page
---
picture credits:


FIBA Europe

Date created: 22 December 2010

---