Halcon Avenida qualify for
second EuroLeague Women final
Halcon Avenida
came into this EuroLeague Women tie with three consecutive victories against Ros Casares already this season.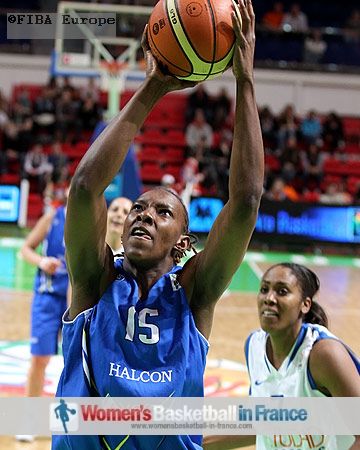 After a difficult first half in which they trailed (28-29), they turned things around late in the third quarter and then paced themselves to victory with 17 points coming from Spanish international Sancho Lyttle (in picture).
Belgium international Anke De Mondt from Halcon Avenida said after the game that her team was very excited with the victory.
She explained that they had started the game nervously but once the nerves settled, they had stepped up a gear and their team work and their fans' suport saw them through.
Ros Casares coach Natalia Hejkova was disappointed with the final result because defensively her team was okay, only conceding 60 points. However with just 49 points on the offensive end it was not enough.
She put down the defeat to the excellent game of their opponents and the lack of success of her tall players under the basket.
Halcon Avenida will face Sparta&K Moscow Region in a repeat of the of the EuroLeague Women 2009 final.
Halcon Avenida win all Spanish EuroLeague Women clash
Halcon Avenida got off to a flying start with the first 7 points of the game with just two minutes played.
Ros Casares finally got on to the scoreboard after three minutes with Czech international Jana Veselá finding her way to the basket.
Katie Douglas and Rebekkah Brunson stepped up for Ros Casares as they went in front (12-11) for the first time with seven minutes on the game clock.
Scoring continued to be difficult for both sides with Ros Casares holding onto the lead (15-14) going into the second quarter.
The match became more intense with Ros Casares winning the important duals. Yet scoring remained difficult with Ros Casares going into the interval ahead (29-28).
A trey by Alba Torrens with the first shot of the third quarter put Halcon back in front (31-29).
The lead did not last long due to back to back scores from Douglas.
Ros Casares maintained their advantage despite having Brunson return to the bench with her 3rd foul (33-31).
Halcon Avenida continued to win the battle of the boards with Sancho Lyttle and Erika De Souza scoring. But three-pointers by Laia Palau and Edwige Lawson-Wade kept Ros Casares in front (39-36) with 25 minutes played.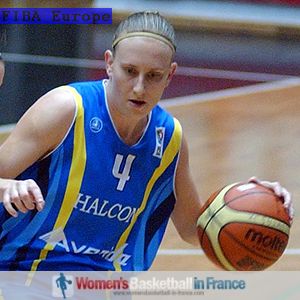 The last four minutes of the third quarter belonged to Anke De Mondt as she became the catalyst in a 10-0 run. She hit 5 points including a BIG three from the top of the arc that knocked the wind out of their opponents.
Torrens finished with a tip-in on the buzzer for Halcon Avenida to lead (46-39).
The officials started to blow their whistles more at the start of the final quarter which resulted in Veselá and Brunson having to take a rest for Ros Casares, likewise for De Souza from Halcon Avenida.
The captain from Halcon Avenida Isabel Sanchez who did not come onto the court encouraged her team-mates as they stayed in front.
Ros Casares were in difficulties and things went from bad to worse when Agne Abromaite was called for fouling Torrens in the act of shooting from beyond the arc.
Torrens hit all three free throws (52-41) to give her side a commanding lead with five minutes to play.
Lyttle continued her one-lady demolition job until she had to leave the game after falling over Palau with two minutes to play.
Halcon Avenida were not troubled and finished with a split pair from De Mondt for the victory (61-49) and qualification for their second EuroLeague Women final.
Halcon Avenida: Anke De Mondt 8 (3 assists), Belinda Snell 7, Silvia Dominguez 4 (3 assists), Alba Torrens 12, Isabel Sanchez DNP, Amaya Gastaminza DNP, Marta Xargay 2, Laura Gil DNP, Ana Montañana 3, Erika De Souza 8 (11 rebounds), Sancho Lyttle 17 (11 rebounds)
Ros Casares: Jana Veselá 9, Marta Fernandez 0, Cindy Lima 0, Edwige Lawson-Wade 3, Laia Palau 7 (3 assists), Nuria Martinez 0, Rebekkah Brunson 15, Sonia Cruz DNP, Agne Abromaite 0, Katie Douglas 15 (3 assists)

You can watch some game highlights and listen to after-match comments on FIBA TV
---
Return to the EuroLeague Women index
Return to the index at the top of page
---
EuroLeague Women picture credits:


FIBA Europe

Date created: 09 April 2011

---