USO Mondeville join 23 teams for EuroLeague Women next season
FIBA Europe have announced the 24 teams to play in the EuroLeague Women competition for 2010-2011 season.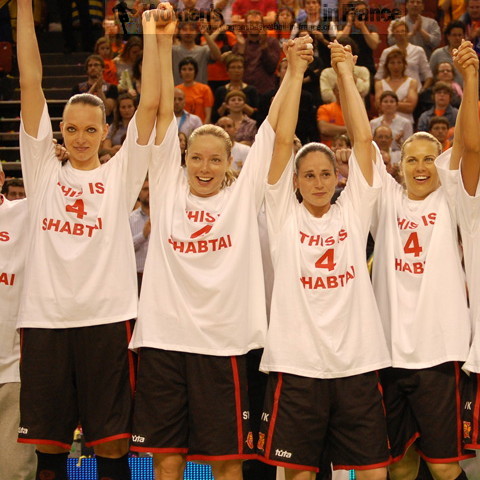 FIBA Europe have restricted the maximum clubs from one country since 2009-2010 to three clubs per federation.
Spartak Moscow Region Vidnoje from Russia qualified directly as defending champions.
Sony Athinaikos, winners of the 2010 FIBA EuroCup Women, also qualified for this competition yet they have declined.
No official reason has been given but their hall does not meet the minimum seating capacity.
FIBA Europe have the rights to award two wild cards which they gave to the French and Polish Federations.
The French Federation decided to give the wild card to USO Mondeville despite them finishing fourth during the French regular season behind Arras.
The Polish Federation awarded their wild card to 2009-2010 final four finalist Wisla Can-Pack.
The draw for the group stage will take place in Munich, Germany on Saturday, 3 July 2010.
The 24 teams in the draw are:

Croatia: Gospic Croatia Osiguranje
Czech Republic: Frisco SIKA Brno and ZVVZ USK Praha

France: Bourges Basket, USO Mondeville and Tarbes (TGB Elite)
Hungary: MKB Euroleasing Sopron and MiZo Pécs 2010

Italy: Cras Basket Taranto and Famila Basket Schio
Latvia: TTT Riga

Lithuania: VICI Kaunas
Poland: KS AZS-PWSZ Gorzow, Lotos Gdynia and Wisla Can-Pack Krakow

Russia: Spartak Moscow Region Vidnoje, Nadezhda Orenburg and UMMC Ekaterinburg
Slovakia: Good Angels Kosice

Spain: Ciudad Ros Casares Valencia, Halcon Avenida and Rivas Ecópolis Covibar Turkey: Fenerbahce and Galatasaray
---
Return to the EuroLeague Women index
---
Picture credits:

Miguel Bordoy Cano-womensbasketball-in-france.com

Date created: 18 June 2010
---