2011 EuroLeague Women
All Star Game on FIBA TV
Some of the originally named EuroLeague Women all star players have had to pull out due to injury: Czech international
Katerina Elhotova
replaces team-mate Eva Viteckova for team Europe.
Amaya Valdemoro is the second player from Europe to withdraw and will be replaced by Ausra Bimbaite. Katie Douglas will be coming for the Rest of the World in place of Ros Casares team-mate Rebekkah Brunson.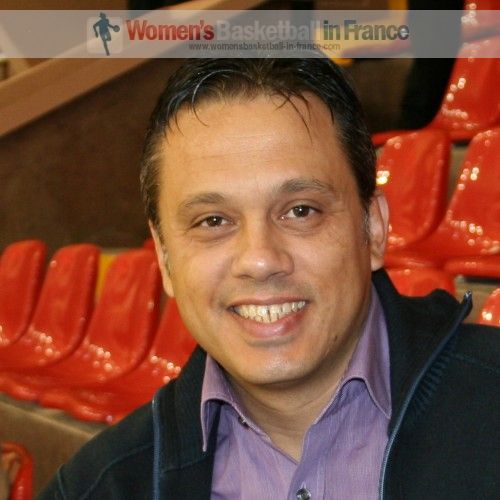 George Dikeoulakos (in picture) will coach the European team. He is currently head coach of Lotos Gdynia and the national women's team of Latvia.
He will be assisted by Wisla Can-Pack and Spanish head coach Jose I. Hernandez.
László Rátgéber will have the duties of coaching the Rest of the World and will be assisted by UMMC head coach Gundars Vetra.
The three officials selected for the game are: Asa Johansson (Sweden), Fabiana Nitu (Romania) and Grzegorz Ziemblicki (Poland).
Coverage of the event begins at 18:00 CET (17:00 GMT which is in the following time zones 12 AM ET/6 PM CET/3 AM AEST).
You will be able to watch the EuroLeague Women All star game live on: Canal 9 Dos (Spain), EUROSPORT 2, FBTV (Turkey), GSTV (Turkey, RYTAS TV (Lithuania), Sport+ (France), SPORT1 (Hungary), STV (Slovakia) and TVCYL (Spain).

For viewers outside these countries FIBA TV will also stream the game live.
The 30 players representing the two teams are as follows:

Europe
Rest of the World
Céline Dumerc
Seimone Augustus
Hana Horakova
Sylvia Fowles
Alba Torrens
Angel McCoughtry
Sancho Lyttle
Candice Dupree
Sandrine Gruda
Monica Wright
Liron Cohen
Sue Bird
Ausra Bimbaite
Tina Charles
Elina Babkina
Megan Mahoney
Yelena Leuchanka
Catherine Joens
Ewelina Kobryn
Katie Douglas
Katerina Elhotova
Dewanna Bonner
Justyna Zurowska
Alexandria Quigley
---
Return to the EuroLeague Women index
Return to the index at the top of page
---
Picture credits:


womensbasketball-in-france.com

Date created: 08 March 2011

---