More teams qualify for
EuroLeague Women play-offs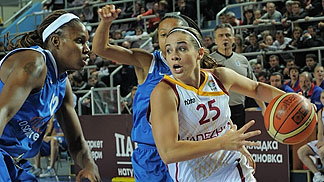 It was another perfect night for Russian clubs playing in the EuroLeague Women with three home victories.
Becky Hammon (left) and Shameka Christon from Nadezhda Orenburg with a series of three-point shooting during the final two minutes deprived Bourges Basket from snatching the game.
Nadezhda, playing at home, led (57-42) with seven minutes to play. But Bourges came storming back with a 16-0 run to edge in front with three minutes left to play.
The teams were back on level terms (60-60) with 90 seconds remaining in the game. Hammon and Christon fired in triples for the hosts while Cathy Joens connected from the land of many for Bourges.
Bourges had a chance of forcing overtime but failed to execute the final play by allowing Anastasiya Verameyenka to intercept the ball.
Tina Charles was the leading scorer for the hosts with 22 points and 9 rebounds. Christon and Hammon (4 assists) finished on 16 and 12 points each.
Joens scored 26 points for Bourges Basket. Despite the defeat Bourges Basket have qualified for the next phase while Nadezhda need just one win from the remaining games to qualify.
UMMC Ekaterinburg huffed and puffed their way to victory at home against Rivas Ecópolis (68-60) with 21 points coming from Cappie Pondexter.
Last week's ELW player of the week DeWanna Bonner led the Ecópolis attack with 15 points.
Sparta&K Moscow Region Vidnoje completed the series for the Russians with a balanced scoring attack to cruise past ZVVZ USK Prague (85-54) with four players in double digits.
For the EuroLeague Women defending champions a win in the remaining two games will see them through.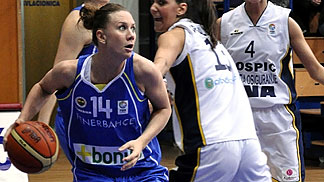 Penny Taylor
(left) has been having fun this season in the EuroLeague Women and finished the year with 37 points for
Fenerbahçe
in the road win against MKB Euroleasing (92-81).
Taylor scored 34 points during the second half of the game and played for just 28 minutes.
Fenerbahçe had to do without the services of Diana Taurasi. They were relieved that Nevriye Yilmaz was able to add 22 points and pick up 10 rebounds.
Angel McCoughtry who plays for MKB actually outscored Taylor with 39 points and kept her side in the contest for most of the game.
It is official that Galatasaray Medical Park cannot play away from home. They were beaten for the fifth time in this competition on the road and will be happy that they finish the first phase with two matches at home.
VICI Aistes who are without Ausra Bimbaite who is out injured went 14-of-30 from behind the three-point line in beating Galatasaray (91-86).
Vita Kuktiene who hit five times from the land of many led the way with 26 points for the hosts while Courtnay Pilypaitis contributed 20 points with 15 of those points coming from the three-point line.
Seimone Augustus and Sylvia Fowles scored 20 and 19 points each for the team from Turkey.
Halcon Avenida booked their ticket for the next phase with a comfortable home victory against Tarbes (87-49) with 16 points coming from Anna Montañana.
This result leaves Tarbes tied with VICI Aistes and Galatasaray with three wins each. However Tarbes' negative point score seem them occupying last position.
Gospic Croatia
ended the year on a high with their first victory in the competition by beating Lotos Gdynia (98-83).
Mauritia Reid led the way with 25 points while Marija Vrsaljko added 24 points.
This result favours MKB EuroLeasing who have now qualified for the next phase as neither team can overtake them in their EuroLeague Women Group.
Lotos Gdynia or Gospic Croatia can still qualify but this all depends on them both beating Rivas Ecópolis.
There was more drama in Group A with USO Mondeville losing at home to Pécs 2010 (62-66). This is the fourth straight defeat for the French side who are now on level points with Pécs 2010.
Valeryia Berezhynska who led the Mondeville attack with 22 points explained: "We should have won this game. We were much stronger inside but we didn't manage to use this strength. We lost this game ourselves because we missed many easy shots and we made too many mistakes in defense."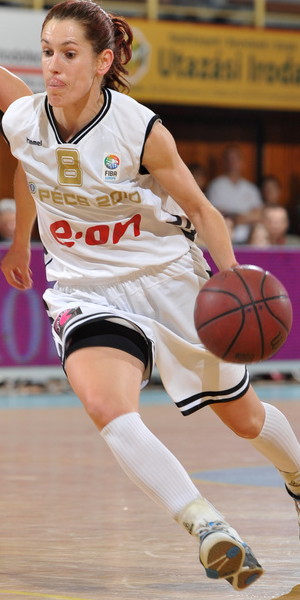 Her opinion was not shared by Zeljko Djokic, the head coach of Pécs 2010 who explained: "We had prepared for this game better than for the first game in Pecs. We managed to control the two most dangerous players, Sharp and Williams, who had a very good game in Pécs. The most important thing tonight was the very hard defense we played which allowed us to keep Mondeville at 62 points."
Zsófia Fegyverneky and Dalma Ivanyi (right) were in double digits with 18 and 13 points for the guests from Hungary.
Good Angels had a comfortable victory against TTT Riga (70-48) after blowing away their guests 22-3 during the third quarter.
Charde Houston had another strong game for Good Angels with 19 points and 9 rebounds while Candice Dupree contributed 15 points and 13 rebounds.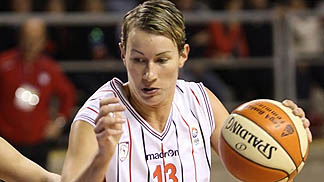 Cras Basket
will finish on top of EuroLeague Women Group A after beating Wisla Can-Pack Krakow on the road (58-57).
Elodie Godin (left) hit what turned out to be the game winning basket with 30 seconds remaining in the game. She was also the top scorer for Cras Basket with 14 points.
Michelle Greco added 10 points and dished out 8 assists for the Italian team.
Erin Philips who scored 18 points for Wisla Can-Pack had an opportunity to put the hosts back in front but the ball refused to drop.
José Hernandez, the coach from Wisla, was disappointed with the defeat and said after the game: "I am sorry. We lost and it is mine and my players' responsibility. We cannot make such stupid turnovers. They should not even think that, they are professionals. We have time now to think and analyse all that happened."
In Group D, Bourges Basket and Beretta Famila both lost but have still qualified for the next phase.
Ros Casares went back on top of the group after beating Beretta Famila (65-51) and also booked their ticket for the play-offs.
Katie Douglas scored 18 points for the Spanish hosts while Rebekkah Brunson compiled a double double of 14 points and 14 rebounds.
Isabelle Yacoubou-Dehoui led the Italians with 15 points.
Frisco Sika Brno have to thank Cheryl Ford for her 20 points and 20 rebounds as they held off KSSSE AZS-PWSZ Gorzow in overtime (71-64).
The Polish side managed to force overtime after a triple by Agnieszka Skobel (58-58) in the last few seconds of regulation time.
However overtime was not kind to them after youth international Alena Hanusová put her side in front for good from the charity stripes with four minutes to play.
This victory does not help Frisco Sika Brno who can not finish higher than fifth and will not take part in the EuroLeague Women eighth final.
---
Game 8 EuroLeague Women results:

Good Angels Kosice 70-48 TTT Riga
Wisla Can-Pack 57-58 Cras Basket Taranto
USO Mondeville 62-66 Pécs 2010

Gospic Croatia 98-83 Lotus Gdynia
UMMC Ekaterinburg 68-60 Rivas Ecópolis
MKB EuroLeasing 81-92 Fenerbahce

Halcon Avenida 87-49 Tarbes GB
VICI Aistes 91-86 Galatasaray MP
Sparta&K M. R. Vidnoje 85-54 ZVVZ USK Prague

Nadezhda 66-64 Bourges Basket
Frisco Sika Brno 71-64 Gorzow
Ros Casares 65-51 Beretta Famila

---
Return to the EuroLeague Women index
Return to the index at the top of page
---
EuroLeague Women picture credits:


womensbasketball-in-france.com
FIBA Europe
MIzo Pécs

Date created: 16 December 2010

---