EuroLeague Women quarter-final round-up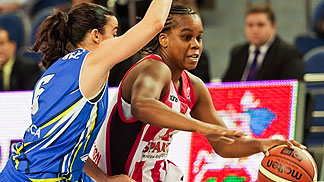 The four times EuroLeague Women defending champions
Sparta&K Moscow Region
and number 8 seeds completed a 2-game series sweep against top seeded Fenerbahçe (74-56) to book their ticket for the final four.
A third-quarter blitz by the champions put an end to the series as a contest (56-37).
Epiphanny Prince (in picture above) led the attack with 22 points while Sue Bird contributed 13 points and 3 assists.
Halcon Avenida had a comfortable road win against Wisla Can-Pack (72-60). They were ahead from start to finish and were led by 15 points by Belgium international Anke De Mondt.
Halcon Avenida will meet Ros Casares in the final four semi-final. Ros Casares completed the series win by defeating Bourges Basket (63-58).
Katie Douglas fired in a game high 24 points for the Spanish team. But it was a three-pointer by Laia Palau in the last minute that secured the victory.
UMMC Ekaterinburg completed the night of sweeps with a comfortable victory against Cras Basket (74-32) and will meet Sparta&K Moscow Region in the final four.
1. Sparta&K Moscow Region 74-56 Fenerbahçe
2. Wisla Can-Pack 60-72 Halcon Avenida
3. Bourges Basket 58-63 Ros Casares
4. Cras Basket 32-74 UMMC Ekaterinburg

Look back on the EuroLeague women basketball news from day one of the quarter-finals

---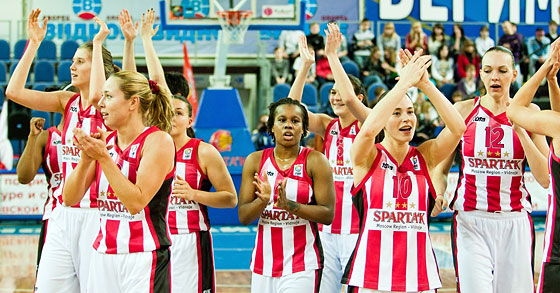 Sparta&K Moscow Region are back again
in a EuroLeague Women final four
From the tip-off Sparta&K wasted no time and scored on their first attack through Noel Kuin.
Taj Mc Williams added two more baskets for a (6-0) lead with two minutes on the game clock. It took Fenerbahçe almost five minutes and six attempts before Nevriye Yilmaz opened her team's account.
Sparta&K Moscow Region were playing better but were unable to stretch their lead because of the shooting of Esmeral Tuncluer from Fenerbahçe.
Tuncluer hit a couple of three-pointers in her first quarter total of 8 points. As a consequence Sparta&K Moscow's advantage was just 4 points (20-16).
Back to back three-pointers by Jelena Milovanovic and Sue Bird put the hosts back in charge (26-17) with 13 minutes played.
Milovanovic and Bird struck again, this time from two-point range (30-19). This forced Fenerbahçe's head coach László Rátgéber to call for a time-out.
Fenerbahçe put a stop on their opponents scoring while Ivana Matovic went on a scoring spree with 6 of her team's last 8 points.
However Fenerbahçe went to sleep at the end of this quarter which allowed Epiphanny Prince (Epifaniya Prints) from Sparta&K Moscow Region to score on the buzzer (34-27).
The third quarter belonged to Bird and Prince: Bird gave a master class in the art of passing while Prince took advantage in nailing a couple of treys as the hosts opened up the biggest lead of the game (54-33) with 29 minutes on the game clock.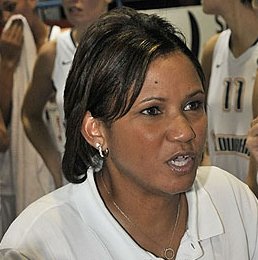 For the second game in the series Angel McCoughtry from Fenerbahçe was unable to find her scoring touch with just 2 points after three quarters.
The four times EuroLeague Women defending champions went into the final quarter (56-37) ahead.
Pokey Chapman (right) rotated her bench during the final quarter allowing all 12 players some time on the court as they cruised to victory (74-56).
Sparta&K Moscow Region: Epifaniya Prints 22 (4 assists), Sonja Petrovic 3, Natalia Vieru 4, Ilona Korstin 8, Jelena Milovanovic 10, Sue Bird 13 (3 assists), Ekaterina Ruzanova 0, Irina Osipova 4, Nadezda Grishaeva 0, Taj Mc Williams 8 (10 rebounds), Irina Sokolovskaya 0, Noel Kuin 2
Fenerbahçe: Özge Kavurmacioglu DNP, Anete Jekabsone 8, Hana Horakova 1, Birsel Vardarli 2, Esmeral Tuncluer 11, Saziye Ivegin 2,Nevriye Yilmaz 11, Ivana Matovic 11, Tammy Sutton-Brown 2, Nevin Nevlin 0, Angel McCoughtry 8 (3 assists)
Return to Group index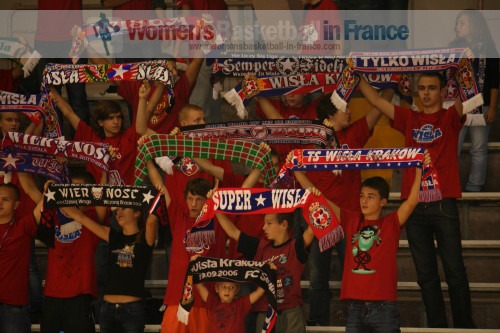 A second EuroLeague Women final four
for Halcon Avenida
The fans from Wisla Can-Pack were in good voice before the second leg of their EuroLeague Women tie against Halcon Avenida.
Sancho Lyttle's early scoring with two baskets was enough to unease the home fans. Then Erika De Souza added 2 more points for the Spanish side to lead (6-0) with three minutes played.
The hall exploded when Erin Philips connected from the land of many. They kept on cheering when on the next attack Yelena Leuchanka added 2 more points.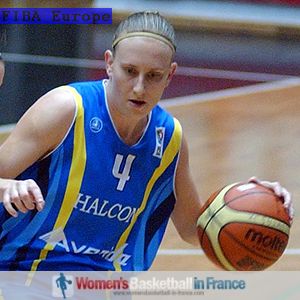 The two teams traded baskets until the last minutes when Halcon Avenida pulled away with 5 points coming from Anke De Mondt (in picture) for a (17-11) first quarter lead.
A quick start to the second quarter for the guests with Spanish internationals Anna Montañana and Alba Torrens scoring (23-13).
Wisla Can-Pack's head coach, José I. Hernández called for an immediate time-out. However nothing changed as his team fell further behind (15-28).
The game became more intense and finally the host started to give their fans something to cheer about with Nicole Powell recovering her scoring touch, Leuchanka winning duals in the paint and Gunta Basko getting to the charity stripes.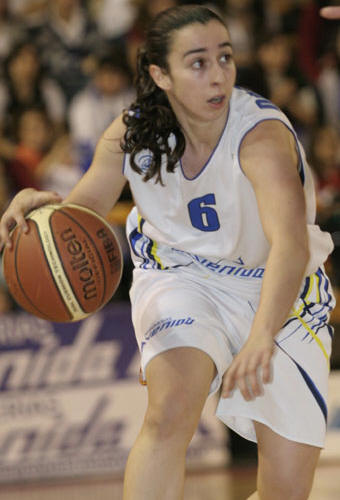 However Wisla Can-Pack forgot about Silvia Dominguez (left in picture) who managed to draw a foul with her trade mark barge to the basket.
Dominguez hit the free throws for the guests to hold an 8-point lead at the break (36-28).
The first five minutes of the third quarter was intense with neither side gaining the upper hand.
Lucas Mondelo, the coach from Halcon Avenida, decided to call a time-out with his team leading (43-38) to change tactics.
The game changed dramatically as Halcon dominated their hosts 14-2 with scores coming from all over the court.
This gave the Spanish side a significant advantage going into the final quarter (57-40).
The game was over as a contest with eight minutes left to play after Halcon Avenida put in 6 unanswered points (62-40).
The two teams played the game out with Halcon winning (72-60) and the series 2-0 to qualify for their second EuroLeague Women final four.
Wisla Can-Pack: Maja Vucurovic 0, Paulina Pawlak 5, Gunta Basko 7, Erin Phillips 5 (5 assists and 8 rebounds), Nicole Powell 8, Andja Jelavic 0, Ewelina Kobryn 12, Magdalena Leciejewska 4, Katarzyna Krezel 0, Yelena Leuchanka 19
Halcon Avenida: Anke De Mondt 15, Belinda Snell 0, Silvia Dominguez 10 (6 assists), Alba Torrens 14, Isabel Sanchez 0, Amaya Gastaminza 0, Marta Xargay 3, Laura Gil DNP, Anna Montañana 10, Erika De Souza 11 (8 rebounds), Sancho Lyttle 9 (8 rebounds)
Return to Group index
Ros Casares battle their way
into the EuroLeague Women final four
Bourges Basket like to make hard work for themselves as they had the better start to the game (7-4) after six minutes. They ended up trailing (7-18) after the first quarter.
Ros Casares continued to extend their advantage (22-9) while Bourges were huffing and puffing until Cathy Joens came to the rescue.
Joens went 5-of-5 from the free-throw line and hit a shot from the land of many as Bourges reduced their deficit (27-32) going into the locker room.
The third quarter was rough with bodies tumbling all over the court in a so-called non contact sport.
Katie Douglas kept her cool from the free-throw line as her team once again had a double digit lead (37-27).
While Douglas and Joens continued their scoring competition, Ros Casares started to miss free throws. Bourges Basket drew level (42-42) after a fast break finish by Maja Miljkovic.
Yet Douglas restored the advantage for the hosts from the free-throw line (44-42). Then Miljkovic had the chance to level the score but was unsuccessful from the charity stripes.
A quick exchange of baskets at the start of the final quarter had the home fans up on their feet as Bourges edged in front (45-44).
The lead did not last long due to a three-point play by Cindy Lima. Then Laia Palau and Douglas both scored (51-45) as the team from Spain pulled away for good.
Emméline Ndongue continued to score from the free-throw line (12-of-12) while Joens recovered her range from beyond the arc (56-60). But a three-pointer by Palau in the last minute ended any chance of a victory.
Bourges Basket: Anaël Lardy 2, Maja Miljkovic 5, Nwal-Endéné Miyem 5 (11 rebounds), Styliani Kaltsidou 5 (5 assists), Jennifer Digbeu 0, Catherine Joens 20, Paoline Salagnac 0, Emméline Ndongue 16, Ilona Burgrova 5
Ros Casares: Jana Veselá 6, Marta Fernandez 0, Cindy Lima 5, Edwige Lawson-Wade 4, Laia Palau 5, Sónia Reis 8, Nuria Martinez 3, Rebekkah Brunson 8, Agne Abromaite DNP, Katie Douglas 24 (9 rebounds)
Return to Group index
Return to Group index
---
UMMC Ekaterinburg will meet Sparta&K Moscow Region
once again in a EuroLeague Women semi-final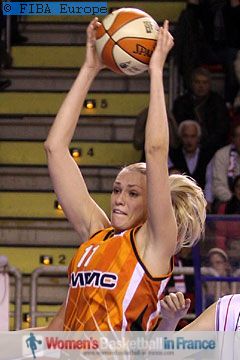 UMMC Ekaterinburg led from start to finish and were only troubled by their hosts for about 15 minutes (25-15).
Cras Basket ran out of ideas and went into the locker room trailing (17-33).
The rest of the game turned into a training session for the Russians who outscored Cras Basket 41-15 for a comfortable victory (74-32).
For the fourth consecutive season UMMC and Sparta&K Moscow Region will face off in a EuroLeague Women semi-final.


Cras Basket: Megan Mahoney 8 (4 assists), Valentina Siccardi 2, Michelle Greco 0, Angela Gianolla 4, Dubravka Dacic 6, Sara Giauro 0, Jami Montagnino 2, Kathy Wambe DNP, Elodie Godin 0, Sophia Young 12
UMMC Ekaterinburg: Olga Arteshina 5, Anna Ostroukhova, Sandrine Gruda 7, Céline Dumerc 5, Tatiana Vidmer 8, Maria Stepanova 10 (in picture), Zuzana Zirková 8, Candace Parker 16, Deanna Nolan 5, Cappie Pondexter 8, Svetlana Abrosimova 2
---
Return to the EuroLeague Women index
Return to the index at the top of page
---
EuroLeague Women picture credits:
Womensbasketball-in-france.com
FIBA Europe

Date created: 25 February 2011

---