EuroLeague Women Champions: Spartak Moscow Region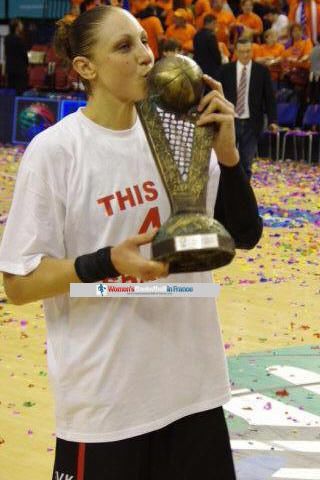 The EuroLeague Women trophy stays with Spartak Moscow Region after beating Ros Casares (87-80) in the final match.
Diana Taurasi (left) led the scoring with 29 points, while Janel Mc Carville contributed 20 points. For the hosts DeLisha Milton-Jones was the top scorer with 19 points.
Spartak Moscow Region had first won the trophy in 2007 and have defended it for the past three seasons.
Before the third-place match a minute of silence was observed as a show of respect for President Lech Kaczynski and other members of the Polish delegation, who had died in a plane crash on Saturday, 10 April 2010.
Select the links below to read the EuroLeague Women basketball news from the two games games:
1. Spartak Moscow Region did it again

2. UMMC Ekaterinburg beat Wisla Can-Pack for bronze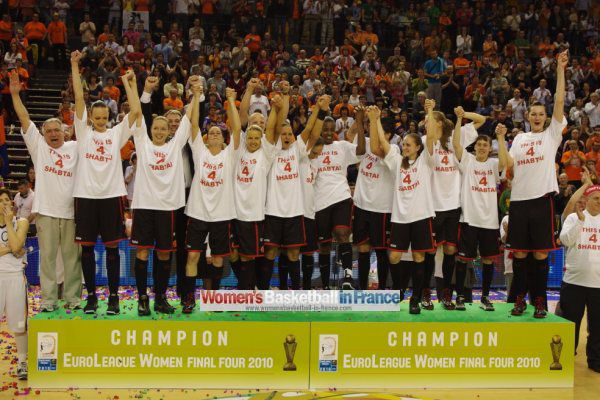 Spartak Moscow keep the EuroLeague Women trophy
The EuroLeague Women cup returns back to the Spartak Moscow Region trophy cabinet for the fourth successive year after they have defeated Ros Casares (87-80) in the final match.
Ros Casares had the best of starts and opened up an early lead (11-4) with three minutes on the game clock.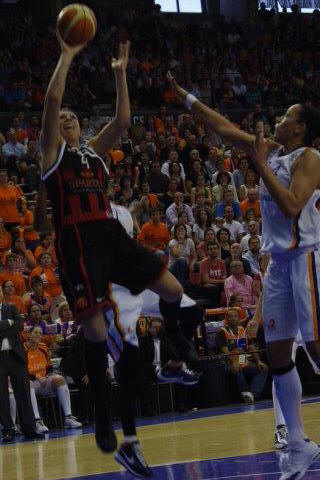 Spartak Moscow did not panic and were soon back on level terms thanks to some aggressive play by Marina Karpunina (11-11) with five minutes played.
Janel Mc Carville (right) completed the Spartak 9-0 run to put her side into the lead.
Mc Carville who was on for Sylvia Fowles who was in early foul problems picked up an offensive rebound from a Kelly Miller miss to score on the buzzer as Spartak Moscow Region edged the first quarter (24-23).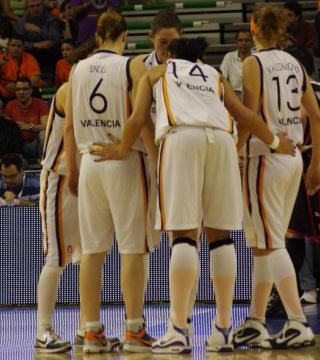 The second quarter was a lively affair. Delisha Milton-Jones despite in foul problems and Amaya Valdemoro kept Ros Casares on the tails of their guests during the first part of the second quarter (31-33).
Mc Carville was enjoying herself. She accumulated 13 points and 8 rebounds during the first 20 minutes and kept Ros Casares busy. However 6 consecutive points by Ilona Korstin enabled the defending champions to open their first big advantage of the match (45-34).
Korstin and Mc Carville scored once more as Spartak Moscow went into the interval ahead (49-39).
After the break, Ros Casares got the 7500 supporters on their feet as they outscored their opponents 9-2 to then trail by 3 points.
Pokey Chatman called for a time-out immediately. Diana Taurasi then took over the offensive duties for the champions with 6 points as they hung on to the lead (57-56).
Irina Osipova hit a couple of free-throws before Korstin closed the scoring at the end of the third quarter with back to back scores (63-57).
The final quarter started well for the hosts with Belinda Snell hitting a trey. But her side was soon trailing by 10 points when Mc Carville fired in a tree-pointer (62-72).
Ros Casares had seven minutes to save the game and went all out to reduce the deficit with Jana Veselá, Erika De Souza, Milton-Jones and Valdemoro finding the target.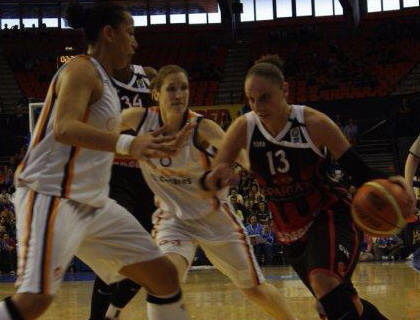 However with five minutes to play and Spartak Moscow leading (74-68) it was the turn of Taurasi (left) to settle matters.
She gave her trademark smile and winked before she went on a scoring spree that ended with a BIG three-pointer (81-70) with two minutes to play.
The last couple of minutes were scrappy. But with Sue Bird and Taurasi leading the way, Spartak Moscow were never in danger of losing the game.
Spartak Moscow won the game and are now a perfect 8-0 in the EuroLeague Women final four play. Taurasi is once again the tournament MVP.
Bird, Karpunina, Osipova and Taurasi picked up their fourth winner's medal.
Spartak Moscow Region: Janel Mc Carville 20, Marina Karpunina 5, Anete Jekabsone-Zogota 0, Ilona Korstin 16, Sue Bird 5 (6 assists), Irina Osipova 8, Diana Taurasi 29, Ekaterina Lisina DNP, Anastasia Anderson DNP, Natalia Vieru 0, Kelli Miller 0, Sylvia Fowles 4.
Ros Casares: Jana Veselá 5, Belinda Snell 12,DeLisha Milton-Jones 19, Begona Pallardo DNP, Laia Palau 4, Elisa Aguilar 0, Anna Montañana 10, Amaya Valdemoro 14, Erika De Souza 16, Ljubica Drljaca DNP.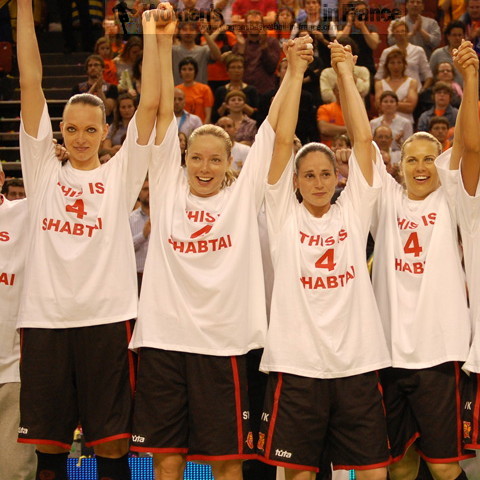 Return to the top
UMMC Ekaterinburg come away with another EuroLeague Women final four bronze medal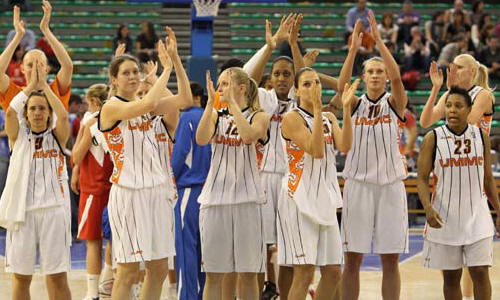 A slow from start offensively for both teams with defense been the order of the day. Ann Wauters scored 10 of her teams 12 points as UMMC Ekaterinburg trailed (12-17).
UMMC were a different team in the second quarter and outscored Wisla Can-Pack 14-3 to take control of the game (26-20) and resulted in a Wisla Can-Pack time-out.
Wisla Can-Pack put a temporary halt to UMMC's dominance and with 3:30 left to play before the break trailed (26-28).
However UMMC stepped on the accelerator and with Candace Parker leading the way went into the locker room leading (40-28).
The two teams matched each other offensively for the first five minutes after the break.
Wisla Can-Pack coach, José Ignacio Hernández decided to call a time-out with his side trailing (35-47) as he needed to find a solution for his players to close the gap.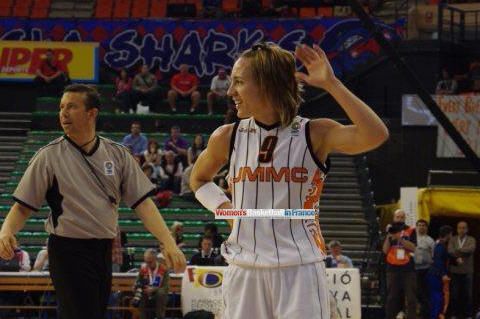 However after the time-out it was the players from Gundars Vetra that stepped up. Céline Dumerc (right) conducted the play, Parker hustled at both end of the court as they completed a 15-0 run to lead (57-35) going into the final quarter.
UMMC controlled the pace of the game for the whole of the final quarter and played the last 3 minutes with an all Russian line up as they cruised to victory (84-50).
Parker was the player of the match with 21 points, 7 rebounds, 6 steals and 4 assists.
UMMC Ekaterinburg: Olga Arteshina 6, Sandrine Gruda 8, Elena Volkova 3, Céline Dumerc 6, Tatiana Vidmer 0, Maria Stepanova 8, Agnieszka Bibrzycka 9, Candace Parker 21, Deanna Nolan 4, Ann Wauters 14, Cappie Pondexter 2, Svetlana Abrosimova 3.
Wisla Can-Pack: Agnieszka Kulaga 0, Marta Fernandez 10, Liron Cohen 3, Anna Wielebnowska DNP, Katerina Zohnová DNP, Ewelina Kobryn 6, Agnieszka Majewska 3, Janell Burse 11 (20 rebounds), Dorota Gburczyk DNP, Maja Vucurovic 0, Paulina Pawlak 3, Iziane Castro Marques 14.
Return to the top
---
Spartak Moscow Region and Ros Casares qualify for the final
Ros Casares, Spartak Moscow Region and UMMC Ekaterinburg qualify for EuroLeague Women final four
Return to the EuroLeague Women index
GO Back to the top of the page
---
EuroLeague Women picture credits:

Miguel Bordoy Cano-womensbasketball-in-france.com
FIBA Europe

Date created: 11 April 2010
---