EuroLeague Women final four qualification for Russian clubs
Basketball fans from around the world were spoilt for choice with live EuroLeague Women matches streamed on the internet as well as broadcasts on terrestrial TV.
It was a shame that many of the games overlapped and we can only hope that they make some of the matches available for viewing on demand.
For the teams that qualified, there were the usual tears of joys while the dream of making a final four appearance has come to an end for Halcon Avenida, Fenerbahce and Good Angels Kosice.
Frisco Sika Brno and Wisla Can-Pack play again next week in the deciding match to determine who will face Ros Casares.
Nothing more to say about Diana Taurasi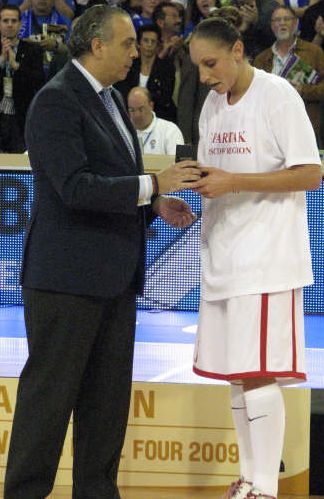 Spartak Moscow were on the back foot for 38 minutes against Fenerbahce and heading for defeat when Taurasi (left) struck with a three-pointer to bring the defending champions to within a single point of their hosts.
40 seconds later, Taurasi hit another three-pointer for her 32nd point of the match for Spartak to take the advantage. However with 13 seconds left to play, Nicole Powell somehow managed to get a shot over Anete Jekabsone-Zogota that forced overtime (73-73).
Jekabsone-Zogota made amends at the start of overtime with a trey. But the two teams were soon back on level terms (80-80)thanks to a three-pointer by Esmeral Tuncluer.
Sylvia Fowles (22 points) and Tammy Sutton-Brown continued to battle each other at both ends of the court.
The hosts managed to wrestle back the lead (85-82) with Powell (23 points) and Sutton-Brown (16 points) scoring with a minute to play.
Taurasi came to the rescue once again with back to back scores for Spartak to get the advantage back with 24 seconds left to play.
There was still time for more drama. Yet Fenerbahce failed to score and missed the chance of forcing game three.
Taurasi finished with a total of 38 points in the (87-85) victory. The only sad news of the night was the injury to Sonja Petrovic from Spartak Moscow.
Spartak Moscow Region will meet UMMC Ekaterinburg for the third time in a EuroLeague Women final four.
---
Frisco Sika Brno force game three again
Jan Bobrovsky
, the coach from Sika Brno, has pulled it off once again with his team beating Wisla Can-Pack Krakow (87-72) to force game three.
Eva Vitecková was the match winner with 25 points. She connected 5 times from beyond the arc in 8 attempts. Taj McWilliams was also in explosive form with 20 points and 9 rebounds.
Bobrovsky explained during the EuroLeague Women press conference how they had turned things around in the second half: "Krakow started very well, our rival shot very well. Our performance was better in the second period. We changed our tactic, played better in zone defense. In the second period we played excellent."
---
UMMC were not brilliant
UMMC Ekaterinburg booked their ticket for the EuroLeague Women final four with a hard fought victory (65-60) against Good Angels Kosice.
It appeared that UMMC would run away with the game after opening up a 10-point lead (15-5) with seven minutes played.
However they lost their concentration and became sloppy which allowed the hosts to stay in contact (9-17) by the end of the first quarter.
The second quarter was rather technical and slow with UMMC Ekaterinburg maintaining their advantage (31-24) going into the break.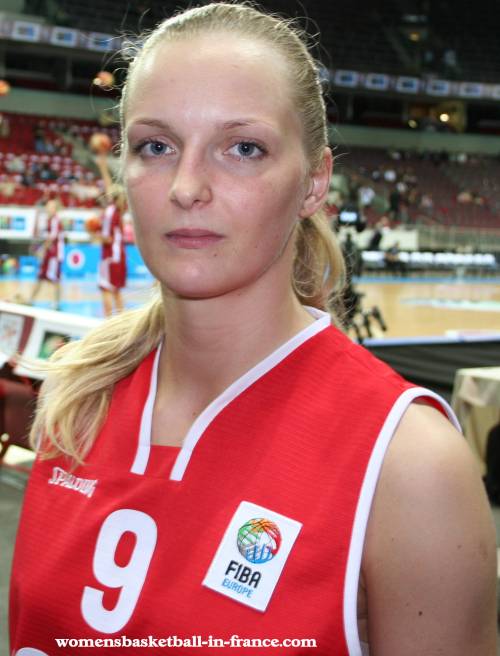 Good Angels Kosice picked up their game after the break and drew level after a 9-0 run (37-37) with 27 minutes played.
UMMC went into the final quarter with the lead (42-41) after Céline Dumerc split a pair of free-throws.
Angel McCoughtry gave the home fans hope of an upset as she put Good Angels in front at the start of the final quarter.
Agnieszka Bibrzycka (20 points, right in picture) rallied her team-mates from UMMC by scoring 11 of her team's 13 points as they regained control of the game (56-48).
The remaining six minutes were tough for both sides with UMMC holding on to win (65-60) and take the series.
French international Sandrine Gruda and Céline Dumerc contributed 10 and 3 points in the victory.
---
Ros Casares won the all-Spanish affair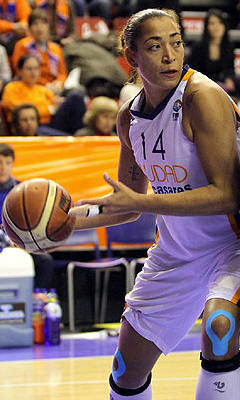 Ros Casares are back in a EuroLeague Women final four after a two-year absence. They beat Spanish rivals Halcon Avenida (63-57) with Erika De Souza exploding with 21 points and 8 rebounds.
The game had a dramatic finish: Ros Casares were leading (57-51) with five minutes to play after a trey by Amaya Valdemoro.
Avenida rallied back. With three minutes left to play they were back on level terms (57-57) with points coming from Le'Coe Willingham, Silvia Dominguez and Anke De Mondt.
Belinda Snell turned the game in favour of the guests with 90 seconds left to play. Avenida had no more luck and De Souza and Delisha Milton-Jones finished the job off for the Spanish champions (63-57).
EuroLeague Women quarter-final (game two) results and box scores
Fenerbahce 85-87 Spartak Moscow Region
Good Angels Kosice 60-65 UMMC Ekaterinburg
Frisco Sika Brno 87-72 Wisla Can-Pack
Halcon Avenida 57-63 Ros Casares
Return to the top
---
Game one quarter-final success for the home teams
Look back at game two stories from the eighth-final
Return to the EuroLeague Women index
GO Back to the top of the page
---
EuroLeague Women picture credits:

womensbasketball-in-france.com
Fiba Europe

Date created: 26 February 2010
---