UMMC Ekaterinburg win 2013
EuroLeague Women trophy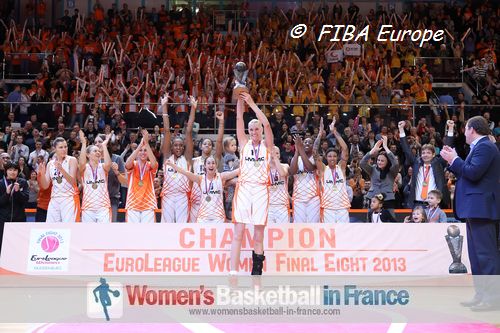 The long wait for another EuroLeague Women crown is over for UMMC Ekaterinburg after crushing Fenerbahçe SK (82-56) in the ELW F8 final match. The only time that UMMC had won this competition before was in 2003.
French international Sandrine Gruda and Deanna Nolan are the only members of the current roster to have finished in third place of the ELW competition from 2008 to 2012.

For Diana Taurasi, this was her 5th EuroLeague Women title, with her previous four titles won with Sparta&K M (2007-2010).
Spanish international Silvia Dominguez picked up her third winners medal in three seasons. In 2011 she captained Halcon Avenida to the title, while in 2012 she was a member of the now defunct Ros Casares that won the first ever Final 8.
This was also the second title for Russian internationals Olga Arteshina and Maria Stepanova.
The final itself did not really live up to its billing because UMMC destroyed Fenerbahçe SK in the first seven minutes of the game (21-4).
They hit 10 baskets from their first 15 shots with the starting five players all scoring at least 3 points.
By the end of the first quarter UMMC led (26-11) and Fenerbahçe SK were close to being knocked out.
With Anastasiya Verameyenka picking up her 3rd foul midway in the second quarter and UMMC leading (32-13) it appeared that the game was over.
Yet Fenerbahçe SK rallied back with an 11-5 run to give their supporters something to cheer about.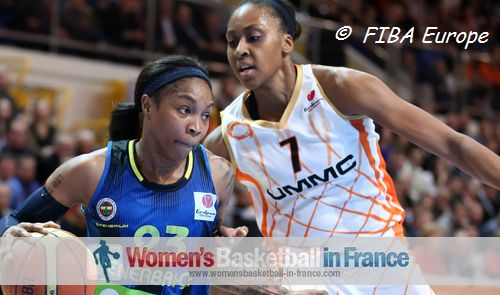 Sandrine Gruda (right in picture) scored the last points of the first half to send UMMC into the locker room with a comfortable advantage.
UMMC were always in control during the second half of the match despite the efforts of Ivana Matovic and Angel McCoughtry from Fenerbahçe with 22 points each.
For UMMC Candace Parker was the leading scorer with 24 points and 11 rebounds. Gruda and Taurasi were the other players in double digits with 19 and 14 points apiece.
UMMC Ekaterinburg: Olga Arteshina 2, Anete Jekabsone 5 (5 assists), Silvia Dominguez 5, Sandrine Gruda 19, Quanitra Hollingsworth 5, Maria Stepanova 0, Candace Parker 24 (5 assists, 2 blocks), Deanna Nolan 8, (6 assists), Tatiana Popova 0, Anna Petrakova 0, Ewelina Kobryn DNP, Diana Taurasi 14 (5 assists)

Fenerbahçe SK: Agnieszka Bibrzycka 9, Birsel Vardarli 0, Esmeral Tunclue 0r, Kübra Siyahdemir DNP, Anastasiya Verameyenka 0, Ieva Kublina 2, Yasemin Horasan DNP, Ivana Matovic 22, Olcay Cakir 0, Cappie Pondexter 1, Angel McCoughtry 22, Nevin Nevlin DNP
EuroLeague Women Final Eight MVP
Candace Parker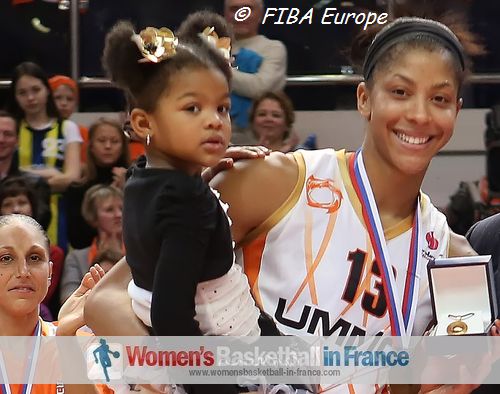 During the Final Eight Candace Parker scored 87 points, dished out 18 assists, picked up 62 rebounds, completed 9 blocks and came away with 7 steals. 
She finished the week with a shooting percentage of 61.4% and was the unanimous choice for MVP.
---
Like this page / Aimez cette page