Bourges Basket back on the
EuroLeague Women podium

Bourges Basket ended their 2013 EuroLeague Women campaign on a high with a victory against Good Angels Kosice (65-57) to claim third place.

Céline Dumerc was on fine form for Bourges Basket, scoring 24 points, picking up 7 rebounds and dishing out 3 assists. Romane Bernies enhanced her reputation with another solid performance while contributing 10 points.
Emméline Ndongue also scored 10 points, her biggest total in the F8 tournament.
However the performance of the day belongs to Nwal-Endéné Miyem who overcame her back pain. Although she only scored 4 points she picked up 10 rebounds.
For Good Angels Allie Quigley was the leading scorer with 18 points while Natascha Lacy and Plenette Pierson added 11 and 10 points each.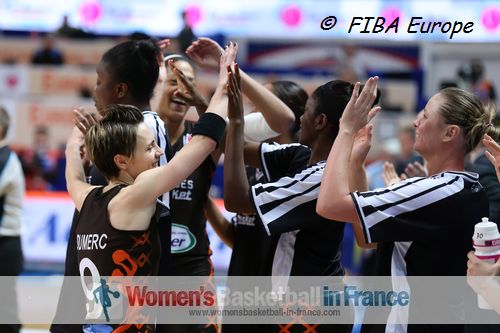 Bourges Basket had a slow start to the game and allowed Good Angels to finish the first quarter with an 11-0 run to open up a double-digit lead by the end of the first quarter (19-7).
Bourges Basket changed their approach from the start of the second quarter with aggressive defending and swift attacking. The result was an 11-2 run in their favour during the first six minutes of the quarter (18-21).
Good Angels managed to regain their composure but two shots from the land of many enabled Bourges to go into the locker room trailing by a single point (26-27).
The lead changed hands several times during an exciting third quarter. Bourges always came back with Jo Leedham and Marissa Coleman hitting the target from beyond the arc.

Good Angels on the other hand scored on fast breaks and good play under the basket.
However the momentum swung in favour for Bourges with Romane Bernies scoring on the quarter-ending buzzer (42-40).
The final quarter remained close for the first seven minutes with Bourges staying ahead (52-46).
Leedham then came up with a couple of points from nowhere by zigzagging her way to the basket with Bourges Basket finally on their way to a win.

By the time Dumerc fired in a three-pointer with 94 seconds to play, Bourges had their hands on the third place medal (58-46).
The rest of the game was played out on the free-throw line with Bourges holding on for their first EuroLeague Women's medal since 2001.
You can watch below highlights and post-game interviews below.
---
Visit our EuroLeague Women 2012-2013 page

Picture credits:
FIBA Europe

Date created: 24 March 2013
Like this page / Aimez cette page