Playing basketball is
Romane Bernies' world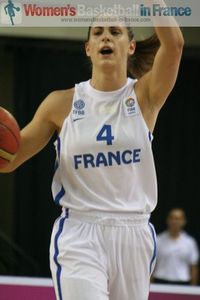 Romane Bernies has been playing basketball for Bourges Basket since 2008 but had to wait until 2011 before fulfilling her dream to play for France at a major youth international competition.
2011 turned out to be her lucky year as she also earned promotion from the Bourges Basket youth team to a full time member of its first team.
Trouvez en bas du page en français un résumé sur Romane Bernies.
Her basketball story started at nine years when she fell in love with the orange ball.
Her parents were both active people in the world of sports, the father played rugby while the mother was involved in athletics. This might explain Romane's strength and speed she displays on the basketball court.
At 13 she entered the pôle espoirs at Mont-de-Marsan where she continued to develop her game during the week and playing basketball for Temple-sur-Lot during the weekend.
In 2008, at the age of 15, she moved from her region to join the Bourges Basket "Centre de Formation".
Her three years in the youth structure brought her many accolades and rewards including the role of captain.
While playing basketball in Bourges, she also picked up one national title and two French cup winner's medals. She also picked up a school national title (UNSS) and then participated with her high school in the World Schools Championship in 2009.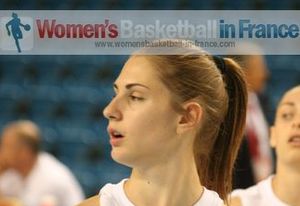 Despite all her success at Bourges Basket it was her omission from the French U17 roster for the 2010 World Championship to be held in Toulouse and Tony Parker's invitation that made the sports headlines.

When Romane was the last player to be cut from the squad, Tony Parker, the French NBA player decided to give her a call and invited her to be playing basketball at his camp in San Antonio.
After a crash course in English she was on her way to the US, a week that changed the way she played basketball.
In 2011 a more determined Romane made the final roster of a youth team and ended up playing basketball for France at the U18 European Championship where she picked up a silver medal.
After winning her first medal with France, she also received confirmation that she would be integrated into the Bourges Basket first team as the second point guard.
During the 2011-2012 season for the first time in her career she suffered an injury that was to keep her away from playing basketball for long period.
She recovered in time to finish the season and pick up a LFB championship medal. After a short break she took part in the selection process for the U20 and gained selection.
During the first two days of the 2012 U20 championship we, womensbasketball-in-france, joked with the FIBA Europe photographer about getting a good picture of Romane in full flight. However by the time we had got the camera in position she was already gone.
It was also interesting to see the French coach, Gregory Halin telling her to slow down and take it easy.
Romane worked hard all through the tournament, never giving up and using her low centre of gravity to become the defender everybody hated.
However her best moment which would have delighted Cathy Melain and Céline Dumerc came when her team-mates needed some magic.
Eight seconds of brilliance to show how much
Romane has developed

It was the last eight seconds of the game against the Slovak Republic that France won (68-63) that Romane demonstrated how far she has developed her understanding to read the game.
France needed to make sure that they won the match by at least 4 points to avoid elimination. At the same time the Slovak Republic knew that they did not need to win the match as long as they did not lose by more than 2 points.

France led by 4 points when Romane went on an uncharacteristic drive to the basket. In reality she had nowhere to go but she drew contact to draw a foul while attempting a shot.
She knew that as long as she made one free throw, the Slovak Republic would need to hit a three-pointer with the last shot. Romane missed the second shot.

Yet her magical moment came on her next action: she got back in defense and more or less pushed the Slovak Republic player Barbora Bálintová out to go wide. Bálintová lost two crucial seconds and was unable to set her feet while being off balance for her buzzer beater attempt.

The shot failed to hit the target and France had booked their ticket into the quarter-final.

The look Halin gave Bernies after the final buzzer more or less confirmed what she had done.

Capitaine persévérante et bienveillante: Romane Bernies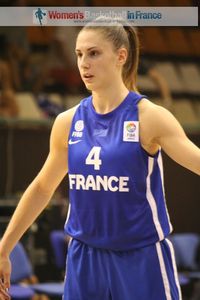 Née sous le signe du sport, combattante dans son cœur, Romane sait comment et combien il faut s'investir pour arriver au haut niveau dans le basket.
Dès ses neuf ans, Romane joue au basket, soutenue par sa famille. Elle fait vite connaissance avec des victoires: vice-championne puis double championne de France UNSS, championne de France cadettes avec Bourges Basket et double-vainqueur de la Coupe de France Cadettes.

Mais le succès demande beaucoup de courage, investissement, entrainement, endurance et confiance en soi. Il y a des hauts comme des bas: Romane est sélectionnée pour les moins 16 mais elle n'est pas retenue en 2009. A nouveau elle se bat pour une place dans l'équipe de France des moins 17, mais elle rentre bredouille après les présélections en 2010. Pourtant Tony Parker sait la consoler et l'invite venir aux Etats-Unis.

Pourtant quand Romane, à l'âge de 13 ans, joint le pôle espoirs de Mont-de-Marsan, l'avenir dans le basket lui sourit autant plus quand elle intègre deux ans plus tard, en 2008, le centre de formation de Bourges Basket. Elle voit des nouveaux objectifs et Céline Dumerc dont elle est plus qu'une fan.
Et puis, Romane se voit confier le rôle de capitaine de l'équipe des joueuses du centre de formation de Bourges Basket évoluant en nationale 2, et elle continue à être récompensée pour son acharnement.
Lorsqu'elle réussit finalement à être choisie dans les dernières 12 de l'équipe de France de moins 18, Romane obtient la médaille d'argent. En 2012, on lui confie le rôle de capitaine ce qui lui va comme une deuxième peau.
Et elle prouve que le choix a été justifié: afin de se qualifier pour le quart de finale France doit battre la République Slovaque. C'est elle qui empêche ses adversaires de remporter la victoire avec son sang froid, sa vitesse, sa défense ...
Son entraineur lui est reconnaissant en hochant sa tête.
---
Visit our home page

Visit our "What's New" page
Playing basketball picture credits:
womensbasketball-in-France.com
Date created: 5 September 2012
Like this page / Aimez cette page