U16 Youth International basketball preparation starts at Poinçonnet
---
---
The 2009 youth international basketball seasons tips off with the four-nation international tournament at Poinçonnet (le
Tournoi International du Poinçonnet
) for the U16's.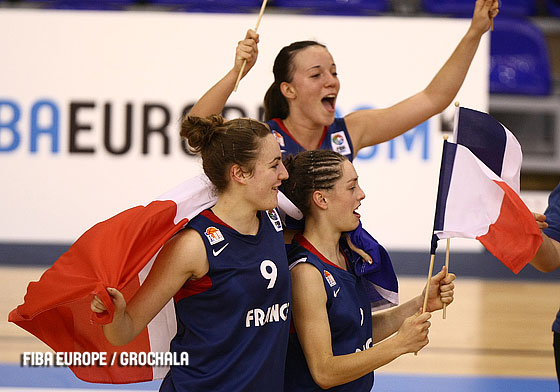 This tournament will take place between the 11th and 13th April 2009 and will feature the teams from Russia, Spain and Turkey.
Like France all these teams participate in the European Championship Women Division A U16 in Sweden later in the summer.
The programme for the this tournament is as follows. The times given are French local time.

11 April:
14:30 Russia vs. Spain
17:00 France vs. Turkey

12 April
14:30 Spain vs. Turkey
17:00 France vs. Russia

13 April
13:00 Turkey vs. Russia
15:30 France vs. Spain

French U16 2009 Training Roster
20 players have been called up for France and will be together from 5 until 10 April 2009. 14 players will then be selected for the Easter youth basketball tournament.
The coaching staff are:
Head Coach: Arnaud GUPPILLOTTE
Assistant Coach: Julien EGLOFF and Nicolas CROISY
The players are:
| | | | |
| --- | --- | --- | --- |
| Surname | First Name | Date of birth | Club |
| ARMAND | Dominique | 22/12/1993 | Tarbes Gespe Bigorre |
| BARTHELEMY | Justine | 30/11/1993 | Basket Lattes Maurin Montpellier |
| BERNIES | Romane | 27/06/1993 | Bourges Basket |
| BERRANGER | Clarisse | 02/10/1993 | Union Hainaut |
| BOUZENNA | Sabrine | 14/10/1993 | S.I.Graffenstaden (CFBB) |
| CORNELIE | Jodie | 20/04/1993 | S.I.Graffenstaden (CFBB) |
| DEAL | Nina | 12/09/1993 | Bourges Basket |
| DE ANGELIS | Lola | 12/12/1993 | Toulouse Métropole Basket |
| DESSACS | Romane | 29/06/1993 | Toulouse Métropole Basket |
| DIALLO | Christelle | 12/03/1993 | Marne la Vallée (CFBB) |
| GALLIOU | Margaux | 12/04/1993 | Bourges Basket |
| HERGOTT | Mathilde | 27/10/1993 | Basket Lattes Maurin Montpellier |
| MATALY | Lou | 14/01/1993 | Toulouse Cheminots Marengo (CFBB) |
| MBUYAMBA | Marie Bernadette | 05/01/1993 | Union Hainaut |
| MERCIER | Laure | 29/07/1993 | AL Mezieu (CFBB) |
| NAYO | Alice | 16/01/1993 | Paris Racing (CFBB) |
| NIAMKE | Esther | 17/07/1993 | USO Mondeville |
| PLUST | Caroline | 29/07/1993 | Union Hainaut |
| SOURIGUES | Gaëlle | 12/03/1993 | Basket Landes |
| STIEVENARD | Claire | 15/09/1993 | Wasquehal (CFBB) |
---
Return to the Youth International Basketball Index page
Picture credits:
FIBA Europe
Date created: 25 March 2009

---