EuroLeague Women suspense
in Group B

Bourges Basket have a good chance of qualifying for the EuroLeague Women semi-final (Final 4) after their victory over Sparta&K M. R. Vidnoje (71-64). Their Group B rivals Fenerbahçe SK beat Famila Schio (86-59).
In Group A, hosts UMMC Ekaterinburg have booked their semi-final place with a comfortable victory against Good Angels Kosice (72-41) while Galatasaray MP are the first team to be eliminated after losing (51-58) to CCC Polkowice.
The qualification scenario going onto day 3 in Group B is as follows:
Fenerbahçe SK are in the best position to qualify. But if they lose by more than 46 points to Sparta&K M. R. Vidnoje and Bourges Basket beat Famila Schio then they are eliminated.
For Bourges Basket to qualify a victory against Famila Schio and
Sparta&K M. R. Vidnoje losing to Fenerbahçe SK would be the ideal situation. 
Bourges Basket can also qualify for the EuroLeague Women semi-final if they lose to Famila Schio and Fenerbahçe SK defeat Sparta&K M. R. Vidnoje under the following condition:

if they score less than 80 points and lose by no more than 5 points or
if they score more than 80 points and lose by no more than 4 points.
Sparta&K M. R. Vidnoje will qualify by beating Fenerbahçe SK. They can also qualify without winning provided Famila Schio beat Bourges under the following conditions:
if they score less than or equal to 80 points but win by a margin between 5 to 11 points or

if they score more than 80 points but win by a marging between 6 to 10 points.
The only way Famila Schio can qualify is to beat Bourges by 11 points while Sparta&K M. R. Vidnoje has to be defeated.
Bourges Basket's first win in a EuroLeague Women
final phase since 2001

Bourges Basket's last victory during the final phase of the EuroLeague Women was in the 2001 final when a buzzer beater by Cathy Melain gave them 73-71 victory against USVO.
Bourges Basket had the best of starts scoring the first 10 points of the game.
Becky Hammon broke the sequence with her only points of the game. She appeared to have tweaked her hamstring and left the game for good with a little over four minutes played.
Bourges Basket continued to dominate and finished the first quarter with a three-pointer by Céline Dumerc (21 points and 6 assists) to go into the second quarter with a a 13-point lead (26-13).
Bourges continued to make shots during the second quarter and went into the locker room (48-27) ahead.
Sparta&K M. R. Vidnoje were more aggressive defensively after the break and made scoring difficult for Bourges. At the same time they slowly chipped away at the score.

However Bourges were able to hold on to win (71-64) with clutch shooting from Nwal-Endéné Miyem and Marissa Coleman with 16 points apiece despite late jitters at the free-throw line by Dumerc.
Seimone Augustus and Candice Dupree had 19 and 17 points for Sparta&K while Nika Baric and Isabelle Yacoubou-Dehoui had 8 points each.

You may watch the EuroLeague Women game highlights from this match below:
Elsewhere of day 2 - 2013 EuroLeague Women Final 8
Fenerbahçe SK had six players in double digits scores as they beat
Famila Schio (86-59) for their second victory in the competition.
Angel McCoughtry led the way with 15 points while Cappie Pondexter, Ivana Matovic, Agnieszka Bibrzycka added 14, 13 and 11 points respectively. Birsel Vardarli and Ieva Kublina joined with 10 points each.

Fenerbahçe SK put together a 19-0 run starting late in the second and ending early in the third quarter to break their opponents (50-28).
The remaining 17 minutes were just a demonstration for Fenerbahçe with nobody playing more than 25 minutes. For Schio Jantel Lavender was once again the leading scorer with 22 points.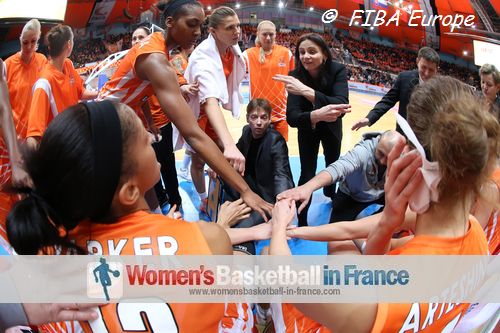 UMMC Ekaterinburg made light work of Good Angels Kosice (72-41). The contest was as good as over after six minutes with the hosts leading (15-0).
It was one-way traffic for most of the first half with UMMC going into the locker room (43-19) ahead.
Both teams just played out the second half of the match without much intensity. Anete Jēkabsone-Žogota had a good outing for the hosts with a game high 14 points while Diana Taurasi added 13.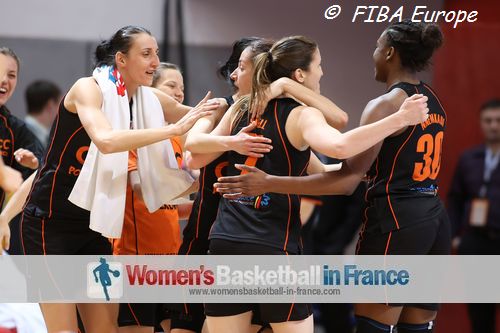 In the second game from Group A, CCC Polkowice beat Galatasaray MP (58-51) in an exciting match.
Galatasaray appeared to be in control leading (19-10) by the end of the first quarter. But they fell apart during the second quarter.
Belinda Snell (16 points) and Nneka Ogwumike (21 points) went on the war path for CCC with 10 and 15 points each during the quarter to give their side the lead at the break (37-28).
The rest of the game was a scrappy affair that went down to the wire.
Alba Torrens brought Galatasaray MP to within 3 points of CCC with just under four minutes to play (47-50) when she got the ball off
Ogwumike and went up the court for an uncontested lay-up.
Magdalena Leciejewska settled her team's nerves with a couple of crucial plays down the stretch. Valeriya Musina hit a couple of free throws (55-47) with just under a minute to play to put CCC once again back in the driving seat.
Galatasaray were able to force a couple of turnovers to again reduce their deficit to 4 points with 23 seconds to play. Yet with time against them they had to foul.
Belinda Snell hit 3-from-4 free throws to seal the victory (58-51).
This result means that the winner in the match CCC Polkowice and Good Angels Kosice will qualify for the semi-final.
Laia Palau's aggressive style led to her committing 7 turnovers. However her 10 assists, 7 rebounds and 5 points more than compensated this in the victory. Sancho Lyttle was the leading scorer for Galatasaray with 12 points.
---
Visit our EuroLeague Women 2012-2013 page

Picture credits:
FIBA Europe

Date created: 19 March 2013
Like this page / Aimez cette page