First games in 2013 EuroLeague
Women play-off series

In the 2012 EuroLeague Women play-off series, the only team to lose in game one of the best-of-three series did not qualify for the Final 8.
Bourges Basket and Nadezhda Orenburg were the only teams not to make home court advantage count this time around. They must now win on the road in game 2 to have one more chance of playing at home in game 3.

According to Valérie Garnier, the coach of the French Champions Bourges Basket, the loss came about because Polish international Paulina Pawlak was on fire.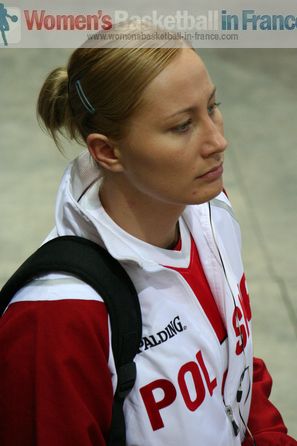 She also admitted that she had not been prepared for the bench players from Wisla who were covering for injured players.

However this fascinating match that started well for Bourges Basket with a 12-point first-quarter lead (20-8) ended in disbelief as Tina Charles (24 points, 11 rebounds) from Wisla hit the dagger blow with 2.1 seconds to play. 
It took Wisla Can-Pack almost 25 minutes to get them back on equal terms with Bourges Basket. Both sides remained locked together with two minutes to play (50-50).

Paulina Pawlak's (14 points, 5 assists - in picture) baseline jumper on the 24-second buzzer with 1.55 to play put finally Bourges on the defensive.
With 70 seconds left to play the left handed hook shot by Justyna Zurowska (9 points) gave the guests a 4-point advantage.
Bourges fought back. Emméline Ndongue (11 points, 14 rebounds) hit a pair of free throws before Céline Dumerc (11 points, 6 assists) tied the game with 4.7 seconds to play (54-54).
After a time-out Pawlak inbounded the ball to Charles who then turned and shot over the hands of Ndongue for the game winning shot.
Bourges still had 2.1 seconds left. But this time there were no miracles from Dumerc.
Styliani Kaltsidou was the leading scorer from Bourges with 15 points while Anke De Mondt was the other player from Wisla Can-Pack in double digits with 10 points.
You may watch the EuroLeague Women highlights from this game below:

What else happened in the EuroLeague Women play-off series
in game 1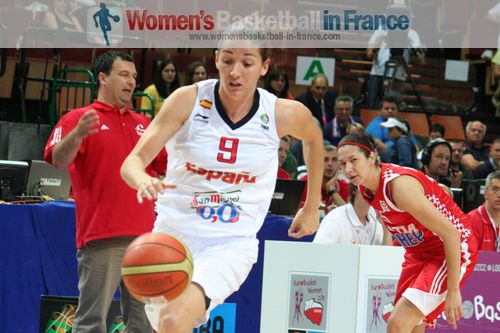 Nadezhda Orenburg's supporters have had to sit through many nail biting finishes this season. So being 3 points down with 44 seconds to play was normal for them.
However this time their club did not make up the deficit and allowed CCC Polkowice to beat them (74-71) and hand them their first home loss of the season.

For CCC Polkowice two players - who only joined the club after pre-season injuries ruled out signed players - were the stars of the match: Nneka Ogwumike (20 points, 8 rebounds and 4 steals) and Laia Palau (16 points, 7 rebounds and 5 assists - in picture). Belinda Snell and Agnieszka Majewska were also in double digits with 16 and 13 points each.
For the hosts Dewanna Bonner scored 22 points and pulled down 10 rebounds while Natalia Zhedik added 17 points.
Sparta&K M. R. Vidnoje forgot about defense and became involved in a shoot-out contest with Municipal Targoviste (91-84). Sparta&K connected 12 times from down-town with Becky Hammon (23 points) leading the way hitting 5-from-6.
Fenerbahçe SK had their game against Uni Györ wrapped up by half time leading (54-34). The second half was just a formality with Fenerbahçe SK playing in cruise control as they strolled to victory (93-61).
Turkish rivals Galatasaray MP required a coast to coast 2-point play with seven seconds to play by Lindsey Harding to seal their victory against ZVVZ USK Prague (49-48).
Good Angels Kosice returned to EuroLeague Women ways with a comfortable victory (82-62) against Perfumerías Avenida. It was not a good night for Spanish basketball with Famila Schio beating Rivas Ecópolis (69-63).


EuroLeague Women play-off game results:
Sparta&K M. R. Vidnoje 91–84 Municipal Targoviste
Fenerbahçe SK 93–61 Uni Györ
Galatasaray MP 49-48 ZVVZ USK Prague
Good Angels Kosice 82–68 Perfumerías Avenida
Bourges Basket 54–57 Wisla Can-Pack
Nadezhda Orenburg 71–74 CCC Polkowice
Famila Schio 69–63 Rivas Ecópolis
---
Visit our 2012-2013 EuroLeague Women page

Visit our home page
Visit our "What's New" page
picture credits:
womensbasketball-in-france.com

Date created: 20 February 2013
Like this page / Aimez cette page