Bourges Basket and Rivas Ecópolis
can still qualify for
EuroLeague Women finals

Bourges Basket's hopes of qualifying for the 2013 EuroLeague Women Final 8 now rests in their hands after beating Wisla-Can Pack (50-38) to tie the series. The two teams will meet again on Wednesday, 27 February 2013 for game 3 in Bourges.

Just like in game 1 Bourges Basket had a strong first quarter (21-6). But afterwards it was a struggle offensively.
Bourges were lucky that only Tina Charles (28 points, 15 rebounds, 2 assists and 3 steals) from Wisla Can-Pack was doing anything at the offensive end.

Wisla Can-Pack who are still without Cristina Ouvina and Alana Beard were still able to make it a 3-point game (33-36) with three minutes  remaining to play.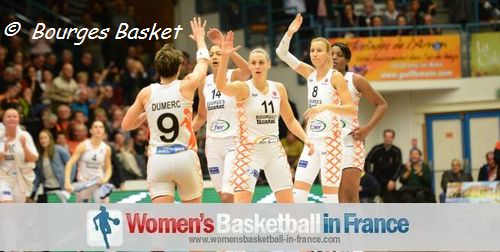 Despite the loud support of the Wisla Can-Pack fans, Bourges did not panic and finished the game with an 11-2 run to win the game and tie the series.
Jo Leedham was hurt in training, so did not play in this game for Bourges. Yet new signing Marissa Coleman (medical replacement for Cathy Joens) stepped in nicely with 10 points and 12 rebounds. Styliani Kaltsidou and Nwal-Endéné Miyem led the way with 11 points each.
Rivas Ecópolis walloped Famila Schio (75-47) at home to level their series. The Italians fell apart during the second quarter 8-25 and never recovered.
Famila Schio will have home court advantage for the final game of this series.

Qualified for FIBA Europe
2013 EuroLeague Women Final 8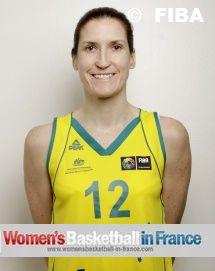 CCC Polkowice's EuroLeague Women competition opened with a defeat at home to USO Mondeville last October. Yet today they are celebrating their qualification for the Final 8.
They beat Nadezhda Orenburg (76-70) in an exciting game on their home court to sweep the series. The 28-point haul of Australian international Belinda Snell (in picture) will be the headline maker. However once again Laia Palau's hussle play and Magdalena Leciejewska's rebounding (5 offensive and 7 defensive) were the key as CCC made up a 7-point defict late in the third quarter to lead (60-58) with five minutes to play.
Palau finished with 11 points, 7 assists and 8 rebounds while Nneka Ogunwumike and Valeriya Musina helped themselves to 11 and 10 points respectively.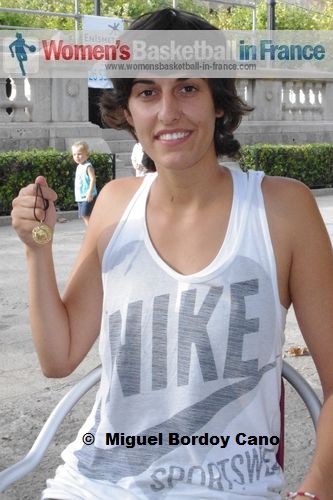 Alba Torrens (in picture) knocked in 20 points to help Galatasaray MP edge out ZVVZ USK Prague (70-63) to book their ticket for the final. They will be joined by their Turkish rivals Fenerbahçe SK who were pushed all the way by Uni Györ before coming out on top (70-63).
Sparta&K M. R. Vidnoje were forced to work hard to overcome Municipal Targoviste (68-63) despite leading by 12 points early in the second quarter. Becky Hammon and Candice Dupree (10 rebounds) were again the leading scorers with 16 points each.
French international Isabelle Yacoubou-Dehoui who did not play in game 1 scored 15 points and pulled down 8 rebounds in 21 minutes on the court.
Good Angels Kosice were the last team of the evening to punch their ticket for the Final 8 with a victory against Perfumerías Avenida .
EuroLeague Women play-off game 2 results:
Municipal Targoviste 63-68 Sparta&K M. R. Vidnoje
Uni Györ 68-77 Fenerbahçe SK
ZVVZ USK Prague 63-70 Galatasaray MP
Perfumerías Avenida 64-74 Good Angels Kosice
Wisla Can-Pack 38-50 Bourges Basket
CCC Polkowice 76-70 Nadezhda Orenburg
Rivas Ecópolis 75-47 Famila Schio
First Final 8 Groups participants confirmed:

Group A

UMMC Ekaterinburg
Galatasaray MP
Good Angels Kosice


Group B

Sparta&K M. R. Vidnoje
Fenerbahçe SK
Rivas Ecópolis / Famila Schio




---
Visit our 2012-2013 EuroLeague Women page

Visit our home page
Visit our "What's New" page
picture credits:
womensbasketball-in-france.com
Bourges Basket
FIBA Europe

Date created: 22 February 2013
Like this page / Aimez cette page