Angers are LFB cruisers while
Basket Landes return
to winning ways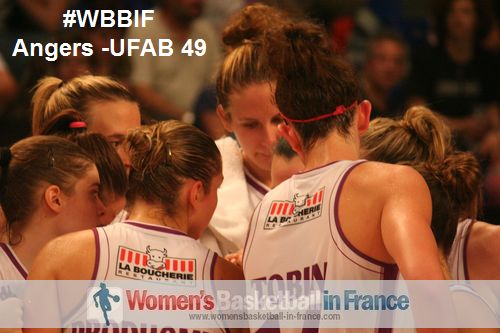 LFB: Angers alone in sixth place after 17 rounds
For the final weekend of games in January Nantes-Rezé secured the most important victory of the evening against Lyon BF (71-64). With no certainty of the end-of-season relegation rules due to the possibility of a 12-team championship next season (2015-2016), Lyon - who are now two games behind Nantes - must win three matches more than Nantes-Rezé in the remaining games to avoid a possible relegation
Veuillez trouver des informations en français sur la 17ème journée de la LFB en bas de la page.
It was business as usual for five of the top six teams with one more win to their tally. Basket Landes put an end to their three-game losing streak to claim 5th place alone while Angers picked up their 10th win of the season to move alone into sixth place.
Villeneuve d'Ascq were the only team in the top 6 to concede a defeat. At the bottom end of the table Hainaut Basket suffered their 11th consecutive defeat while Calais fell short for the 16th time this season.
LFB news from round 17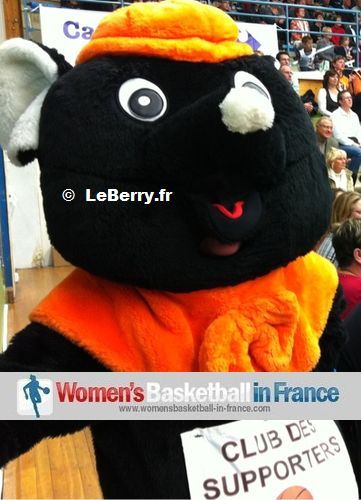 Corinne BONTEMPS, alias Pitchounette
The suspense in the LFB-TV game of the week between Tango Bourges Basket and Villeneuve d'Ascq lasted ten minutes. From the second quarter of the match it was one-way traffic with Bourges Basket running away to win the match (72-47).
Diandra Tchatchouang and Paôline Salgnac led the scoring with 14 points each. No player from Villeneuve reached double digits in a poor shooting day (27%).
You may watch the game below (once archived). The WBBIF team take this opportunity to send their condolences to the family of Mrs Corinne Bontemps, the lady in the mascot uniform for the Tango, who recently passed away.

Lattes Montpellier did not miss Mistie Bass (swollen knee) as they crushed Tarbes (86-58). Jenna O'Hea and Valériane Ayayi led a balanced scoring attack with 20 and 19 points each. For Tarbes Alex Bentley scored practically 50% of her team's total with 27 points. Cindy Lima's return to the LFB did not go well as she was picking up more fouls (3) than points (0) despite taking 2 offensive rebounds.
When Maggie Lucas is on fire from beyond the arc (5-of-9), Arras are difficult to beat. Lucas finished with 27 points in leading Arras to victory against Calais (87-69). However the player of the match was Lidija Turcinovic who filled the stat sheet with 13 points, 2 steals, 6 assists and 8 rebounds.
Calais have a very limited rotation. With two injured players, they were not able to compete effectively for rebounds. To make matters worse their remaining bench players Jasmine Hassell (16 points) and Marie-Bernadette Mbuyamba-Tshimanga both finished with 4 fouls.
Basket Landes did the damage during the first 20 minutes (54-26) to then pace themselves to victory (85-53) against USO Mondeville. Basket Landes connected with 55% of their shots and had five players in double digits. Former Latvian international Gunta Basko-Melnbarde topped the scoring with 20 points.
Lack  of concentration for almost 20 minutes made it impossible for Mondeville to catch up despite Courtney Hurt's 19 points.
Angers' ability to get to the free-throw line and score (29-from-30)  was crucial as they edged out Toulouse (85-80). Olivia Epoupa was the locomotive for Toulouse until she fouled out of the game. She scored 22 points, picked up 14 rebounds (including 4 offensive ones) while also dishing out 8 assists and picking off 4 steals.
Angers were more collective with three players scoring 15 points, while Lizanne Murphy led the way with 23 points.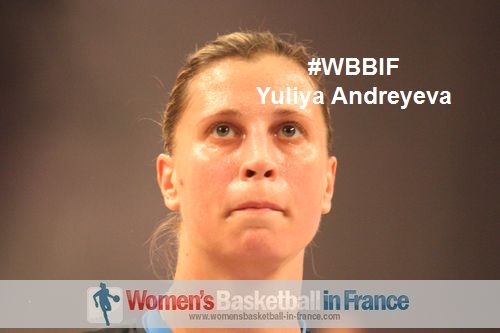 LFB player: Yuliya Andreyeva
Nantes-Rezé had lost to Lyon by 6 points early in the season. So their 7-point victory (71-64) gives them the advantage if the two teams are tied at the end of the regular season. With neither team playing with their regular point guards, the match was scrappy and intense.
In addition both teams had a miserable evening from the free-throw line.

Sarah Michel (17 points) made up for her poor free-throw shooting with her all round energy while Yuliya Andreyeva was a perfect 7-of-7 from the charity line. Margaux Galliou Loko, coming from the bench, led Lyon with 14 points and 13 rebounds.
Hainaut Basket's losing streak continues with their 11 consecutive defeat. Their opponent Charleville-Mézières were not brilliant themselves. They equalled their opponent with 25 turnovers. The only difference between the two teams was that the Flammes Carolo stepped up in the final quarter 24-15 to win the match (64-54).
---
La 17e ronde en LFB:
Un déjà vu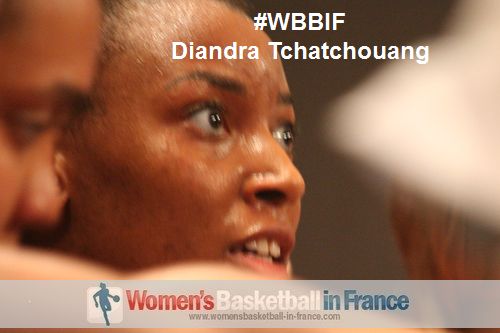 Diandra Tchatchouang, 14 points contre Villeneuve d'Ascq
Tango Bourges Basket se dispose de Villeneuve d'Ascq (72-47) pendant que Lattes Montpellier bat Tarbes Gesperre pour remonter à la deuxième place. Les équipes en danger de rélégation, Calais, Hainaut et Lyon, ont toutes perdues.
---
La confrontation entre Tango Bourges Basket et Villeneuve d'Ascq dure que dix minutes. Après, les Tangos dominent leurs adversaires pour gagner (72-47).
Même sans Mistie Bass Lattes Montpellier n'a pas de problème pour plier Tarbes (86-58). Jenna O'Hea et Valériane Ayayi contribuent 20 et 19 points chacune. Pour Tarbes c'est Alex Bentley qui s'illustre avec 27 points.
Quand Maggie Lucas (27 points pour 5 sur 9 en tir prime) a un jour d'excellente adresse, Arras est en bonne direction pour une victoire. C'est ainsi que COB Calais succombe (69-87). Lucas a été épaulée par Lidija Turcinovic (13 points, 2 interceptions, 6 passes décisives et 8 rebonds).
Basket Landes est de retour du côté gagnant battant USO Mondeville (85-53). La meilleure joueuse pour les Landaises était Gunta Basko-Melnbarde (20 points). L'effort de Courtney Hurt (19 points) n'a pas payé.
Ce sont les lancers francs (29 sur 30) qui finalement donnent la victoire à Angers contre Toulouse (85-80). Olivia Epoupa (22 points, 14 rebonds, 8 passes décisives, 4 interceptions) a bien poussé son équipe, mais doit s'incliner. Pour les Angévines, c'est Lizanne Murphy qui contribue 23 points.
Au bonheur de Sarah Michel (17 points) Nantes-Rezé arrache une victoire à Lyon (71-64) et remporte l'avantage d'1 point dans l'aller-retour en saison régulière en LFB

Avec cette défaite, Hainaut Basket perd son 11e match consécutif en s'inclinant devant Charleville-Mézières (54-64).
---
Like this page / Aimez cette page