FIBA Europe U18
European Championship for Women
Romania won the 2010 Global Vision FIBA Europe U18 European Championship for Women Division B in Timişoara as hosts and are hosts again but this time for the Division A event. Global Vision sponsor the event which is played in Oradea.
Hungary were Division B champions in 2009 but then relegated in 2010 from Division A. They are hosting the 2011 event in Miskolc which is sponsored by Pannergy.
The competition format for both divisions is identical this year because only 16 teams are playing in Division B after the withdrawal of Estonia.
16 teams are split into four groups of four teams. At the end of the preliminary round the top three teams per group move to the qualifying round.
The bottom four teams from Division A must play in a relegation group in which each team plays the other team twice. The bottom two teams are relegated to Division B for the 2012 edition. In Division B the bottom four teams play in the classification round 13th-16th place.
Division A:

Group A: Romania, Turkey, Sweden, Russia
Group B: Slovenia, Poland, Lithuania, Spain
Group C: Ukraine, Italy, Serbia, Belgium
Group D: Slovak Republic, Czech Republic, Netherlands, France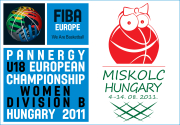 Division B:

Group A: Bulgaria, Germany, England, Belarus
Group B: Switzerland, Croatia, Portugal, Hungary
Group C: Luxembourg, Denmark, Israel, Finland
Group D: Austria, Latvia, Greece, Norway

The second round, also known as the Qualifying Round, is the creation of two groups of six teams.
Groups A and B are merged to form Group E while Groups C and D become Group F. The results from the preliminary round are taken into account while teams from the opposing preliminary round groups play each other.
The top four teams from the two groups then qualify for the Final Round, also known as the final 8 or quarter-final. The remaining teams participate in the 9th to 12th place Classification Round.
The Final Round is basically a knock-out competition with the brackets determining the finishing order in each group.
The first team in each group plays the fourth team in the other group while the second placed teams play the third placed ones.
The losers from the quarter-final play off in the 5th to 8th place competition. The winners of the semi-final contest the final while the losers play in the third place match.
In Division B, the semi-final is the most important match, also known as the promotion to Division A game.
womensbasketball-in-france is following the progress of the French team during the competition and is giving a daily round-up from both competitions.
This page is updated regularly during the competition and appears in our RSS Feed to help you keep track. In order to subscribe to our RSS Feed please read: What is a RSS Feed?
---
Leave FIBA Europe U18 European Championship 2011 page and go to U18 History
Return to the top of page
---
Basketball picture credits:


FIBA Europe

Date created: 3 August 2011
---