FIBA Europe U18
No quick return to top flight for Hungary
Hungary's bid for promotion at the 2011 FIBA Europe Pannergy U18 European Championship for Women Division B has come to an end after a crushing defeat by Latvia (80-59).
Hungary have struggled all through this competition in staying focused for 40 minutes. They paid the prize against a well organised Latvian team.
Hungary were looking good at the start of the game and moved 10 points clear (16-6) with four minutes played.
Noémi Czirják (19 points) was having a field day as Hungary dominated the first eight minutes (24-7).
Latvia finally woke up and finished the quarter with an 11-2 run at the end of the first quarter (18-26).
Back to back three-pointers by Agate Geka at the start of the second quarter brought Latvia right back into the game.
Although Hungary adjusted their defensive system to stop Latvia from having easy shots from long range, Latvia continued to attack and managed to draw level with Geka's third three-pointer of the quarter (36-36) with 17 minutes played.
Hungary managed to weather the storm. With 5 points from Fanni Szabó (10 points) they went into the locker room (41-39) ahead.
The fist five minutes of the third quarter was evenly contested with Latvia gaining the advantage (51-48) thanks to Geka (17 points).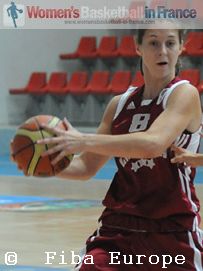 Hungary started to tire and Latvia 5-point advantage (55-50).
Latvia completed a 10-0 run that they had started during the third quarter with a three-pointer by Krista Bridina (11 points).
Hungary had eight minutes to make up the deficit (50-63).
Latvia more or less hit shot after shot in an impressive spell of counter attacking basketball as they finished with a 17-7 run to win the game (80-59).
Ance Aizsila and Renate Reine (right) scored 14 points each while Guna Lagzdina chipped in 10 points.
Confirmation from the favourites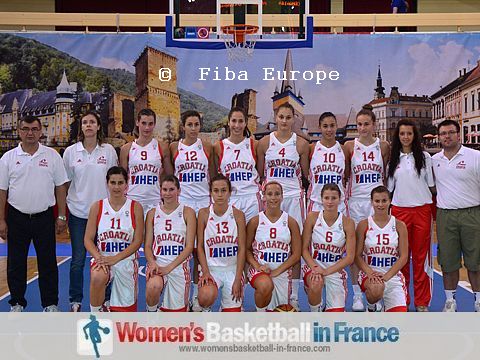 Croatia are on a mission for promotion and they had no problems in seeing off Israel (85-49). They led from start to finish and blew their opponents away during the a 30-12 second-quarter blitz.
Iva Cigic led Croatia in the absence of Ivana Tikvic with 19 points while Ivana Blazevic compiled a double-double of 13 points and 13 rebounds.
Finland never trailed against Portugal but had to wait until the second half to pull away. Annika Holopainen and Evita Iiskola did most of the scoring with 23 and 21 points each in the (82-62) victory.
Maryia Papova has a summer to remember with her performance at the U20 European Championship Division A for Belarus. She was the driving force for Belarus with 13 points, 7 rebounds and 3 assists against Greece.
However Greece have Artemis Spanou who led her team with 20 points, 6 rebounds, 4 steals and 2 blocks to victory (59-45).
Croatia face Latvia while Finland meet Greece in the games for promotion.
Elswhere Germany play Denmark in the match for 9th place. Germany had no problems in beating Norway (89-50) while Denmark beat Bulgaria (70-45).
In the 13th place classification group Austria used a 25-5 run in the final minutes to overturn England (68-56).
Switzerland finish in 16th place after losing to Luxembourg (56-72).
---
Leave FIBA Europe U18 European Championship 2011 page and go to U18 history
Return to the top of page
---
U18 FIBA Europe European Championship basketball picture credits:


FIBA Europe / Dukovski D




Date created: 12 August 2011
---