FIBA Europe U18
Croatia are Division B champions
Ivana Tikvic is MVP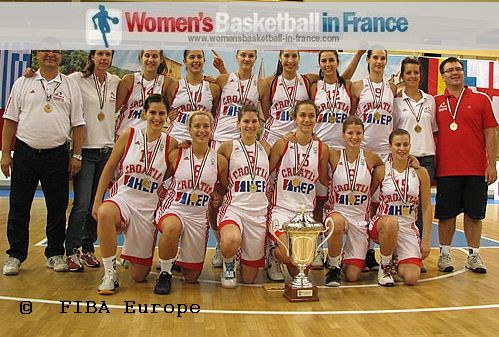 The FIBA Europe youth international basketball festival in Miskolc has come to an end with Croatia taking home the Pannergy U18 Championship trophy by beating Greece (63-49) in the final game of the tournament.
All the teams were in action on the final day with classification games.
Switzerland ended on a high with their first victory of the competition by beating England (63-56).
England still hung on for 13th place because Luxembourg beat Austria (79-74).
For Luxembourg Lena Hetto scored 28 points in the victory and finished the competition as best scorer with 24.6 points per game.
Luxembourg finished 14th while Austria had to settle for 15th place and Switzerland ended up in last place.
Norway beat Bulgaria in the 11th place match (66-60) while a pair of free throws by Laura Hebecker gave Germany the victory (57-56) over Denmark for 9th place.
Portugal finished 7th after holding off Israel (68-57) and Hungary, the hosts had to settle for fifth place. They powered their way past Belarus (82-65) with 28 points coming from Amadea Szamosi.
A strong third quarter by Latvia was enough for them to hold off Finland (71-64) in the bronze medal match.
Guna Lagzdina (13 rebounds) and Renate Reine led the way with 14 points each while Ance Aizsila added 13 points. For Finland Annika Holopainen led the way with 21 points and 10 rebounds while Anette Juvonen and Meral Bedretdin chipped in 13 and 11 points each.
Croatia maintained their perfect record by beating Greece in the final match. Croatia had the better of the first 20 minutes and went into the locker room leading (33-18).
Greece mounted a furious fightback in the third quarter with a 19-2 run to make it a 1-point game (37-38) with 28 minutes played.
Croatia responded with an 8-0 run to finish the quarter (46-37). Greece were unable to respond in the final quarter.
Ivana Tikvic was the leading player for Croatia with 21 points, 14 rebounds and 3 blocks. Glorija Sikiric chipped in 11 points and dished out 4 assists while Anja Majstorovic added 8 points.
For Greece an exhausted Artemis Spanou led the way with 16 points while Anastasia Slouka added 14 points and picked up 10 rebounds.
Tikvic was voted MVP by the coaches at the 2011 FIBA Europe Pannergy U18 Championship. She averaged a double-double for the tournament with 20 points and 12.6 rebounds per game.
She was joined in the all-tournament team by: Artemis Spanou and Georgina Kantara (both from Greece), Evita Iiskola (Finland) and Fanni Szabo (Hungary).
---
Leave FIBA Europe U18 European Championship 2011 page and go to U18 history
Return to the top of page
---
Basketball picture credits:


FIBA Europe

Date created: 14 August 2011
---