Global Vision FIBA Europe U18
No surprises, only disappointment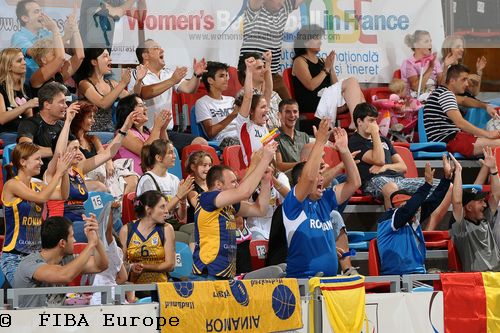 It is not often at a FIBA Europe youth event that on the last day of qualifying round action nobody is eliminated. However this was the case in the 2011 European Championship Division A for Women.
Italy and Romania started the day in the worst positions with no victories to their name in the second round. Yet they still had a chance of qualifying for the quarter-final. They needed to win by big margins and hope that other results would be in their favour.
However both ended up losing and ended up finishing bottom of their groups.
Slovenia, playing in the same group as Romania, needed to beat Turkey in the first game of the day to stand a chance of picking up a qualification place. Turkey won to clinch third place and Slovenia were out of the race.
In the last game of the evening Serbia ended the dreams of Croatia from qualifying.
The quarter-final pairings are as follows:

Spain vs. Netherlands
France vs. Poland
Sweden vs. Serbia
Belgium vs. Turkey

You can read about the final day event of qualifying round and also about the third day of relegation group news by clicking on the link of interest below.
Spain top Group E
France topple Belgium
Slovak Republic undefeated in relegation group

Spain beat Sweden for first place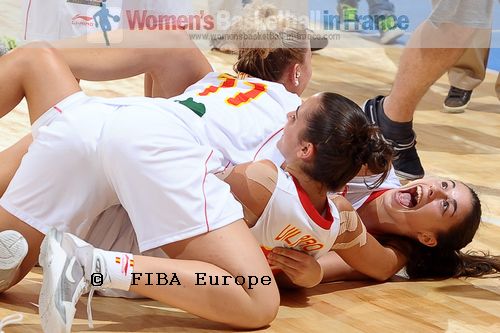 Spain were forced to work hard in stopping Nordic Champions Sweden from ending their unbeaten record.
Spain won (58-47). But with three minutes to play their advantage was just 3 points (50-47).
Elena de Alfredo then came up big for Spain, first with a shot from beyond the arc that touched nothing but the net. Her next action sealed the game, when she collected a defensive rebound and went coast to coast for 2 more points.
Sweden still had time to get back into the game but Spain's defensive wall was impossible to break.
Marlés Balart and De Alfredo finished with 13 points each for Spain while Amanda Zahui compiled another double double of 14 points and 10 rebounds for Sweden.
Turkey battered Slovenia in the paint by scoring 42 points inside on their way to victory (66-58). Although it was not a vintage performance by Turkey their solid defending always gave them the edge.
Slovenia were unable to hit many shoots from outside. They did the best they could with Alina Gjerkes, Nina Gabrovsek and Ursa Zibert combining for 39 points.
However Özge Kavurmacioglu was again the star for Turkey with 17 points and 14 rebounds.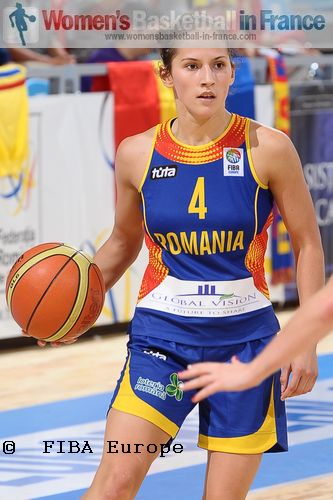 Poland turned around a 5-point first-half deficit (25-30) to beat Romania (53-51).
Romania needed to win by a big margin but found the going tough during the third quarter and fell behind.
To complicate things for them Sonia Ursu fouled out with 12 minutes to play.
Laura Pal (right) led the hosts with 17 points but Poland held their nerve in front of 700 hundred screaming Romania fans.
Karina Szybala was the top scorer for Poland with 11 points.
Return to the top of FIBA Europe U18 news page
France give Belgium no chance
All the players from Belgium and France are no strangers to each other. So it was always going to be a case of the team getting into their stride first would win.
As soon as the official blew the whistle to start, the French players stopped smiling and were ready for business. During the first ten minutes France played hard and fast and blew Belgium apart (20-6).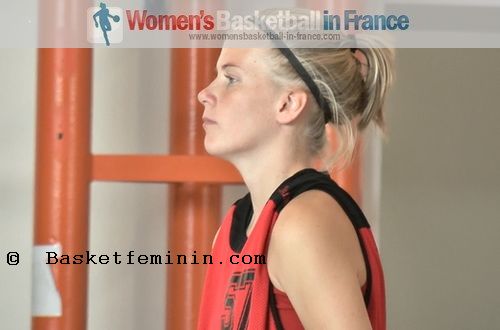 Belgium were lucky that Julie Vanloo (left) was ready to play. She took on France by herself scoring her team's first 9 points of the second quarter. She finished the quarter with 12 points as her team trailed (25-38) going into the interval.
After the break France stepped on the accelerator and dominated the rebounds. They finished the quarter with a 23-point advantage.
The only French player not to score was Lola De Angelis as France strolled through the final ten minutes to win comfortably (68-48) to top the group. Vanloo from Belgium finished the match with 25 points and 3 assists.
French players: Romane Bernies 4, Claire Stievenard 6, Esther Moisan Niamke 7, Olivia Epoupa 9, Mamignan Touré 1, Alice Nayo 10, Sara Chevaugeon 3, Margaux Galliou-Loko 6, Jodie Cornelie 9, Lola De Angelis 0, Christelle Diallo 6, Marie Mbuyamba 7
The Netherlands brought an end to the title defence of Italy (55-48). It was a curious game that finished on a flat note for Italy.
Italy needed to win to have a slim chance of qualifying for the quarter-final. They managed just three shooting attempts during the last two minutes. The first shot which turned out to be the last score of the game went in from the land of many.
It was the turn of Kourtney Treffers to lead the Dutch side with 17 points.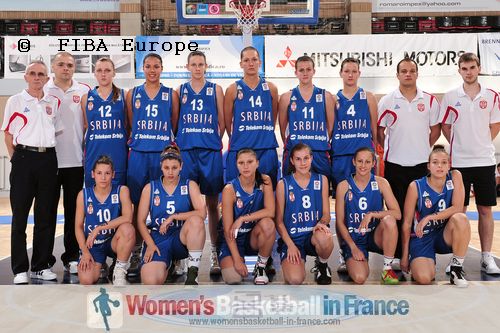 Serbia and the Czech Republic produced the best match of the day with end to end basketball for the first 37 minutes. Neither side was able to build a lead of more than 6 points during this time.
Serbia were able to finally take hold of the game with a 10-0 run to lead (80-70) with two minutes left to play. The Czech Republic were unable to reduce their deficit and ended up losing the game (81-89) and were eliminated.
Natasa Kovacevic (25 points), Ivana Brajkovic (24 points and 14 rebounds) and Aleksandra Stanacev (16 points and 8 assists) were the driving forces for Serbia. Nada Salacová was the leading scorer for the Czech Republic with 23 points.
Return to the top of FIBA Europe U18 news page
Slovak Republic get the job done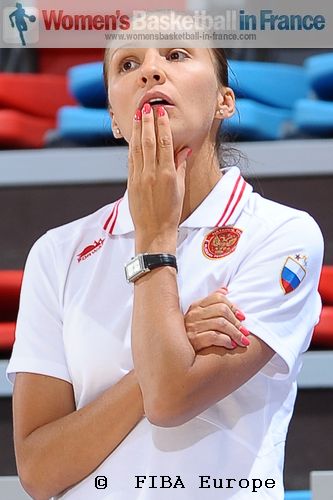 The Russian coach Anna Arkhipova Fon Kalmanovich (left) has had a lot to think about with Russia stuck in the relegation group.
All the same her players found their scoring touch as they hammered Lithuania (83-51) for their second victory.
Galina Kiseleva led the way for Russia with 19 points in match they controlled from the tip-off. Leading (25-10) by the end of the fist quarter, Russia had more or less sealed the victory by half time leading (43-16).
The Slovak Republic once again led from start to finish to record victory number three. They beat Ukraine (65-54) with another solid performance by Sabína Oroszová who led the scoring with 16 points.
The Slovak Republic have the chance of confirming Division A status for next year by winning their next game against Russia.
Return to the top of FIBA Europe U18 news page
---
Leave FIBA Europe U18 European Championship 2011 page and go to U18 history
Return to the top of page
---
U18 FIBA Europe European Championship basketball picture credits:


FIBA Europe / Viktor Rébay
Basketfeminin.com


Date created: 11 August 2011
---