Global Vision FIBA Europe U18
Belgium are the champions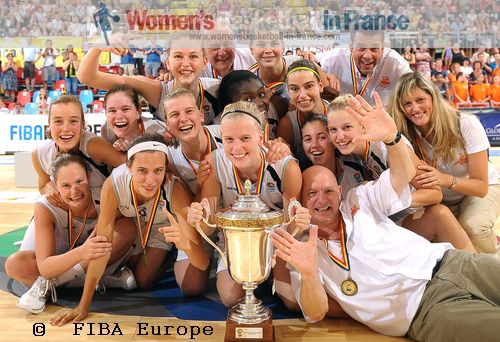 It is a new name on the FIBA Europe U18 European Championship for Women Division A trophy after the victory of Belgium (77-49) against France.
For Emma Meesseman, MVP and Julie Vanloo this victory makes up for the overtime defeat to Spain in the U16 final two years ago.
The bronze medal went to Spain who had to wait until the final quarter to get past Sweden (85-69).
The Netherlands' rise in European youth basketball continues with a fifth place finish (80-62) against Poland. Turkey ended the tournament with a victory against Serbia to claim 7th place.
The Czech Republic had to wait until the last minute to get past Italy in the 10th place match. Monika Satoranská scored 6 points in the last 55 seconds for the Czech Republic to win (59-54).
Slovenia edged out Romania (50-47) for 11th place.
You may read the stories of interest by selecting the link below on all the stories from the final day 2011 FIBA Europe Global Vision U18 European Championship for Women Division A.

France 49-77 Belgium
MVP - All tournament team
Final placements

Belgium U18 are champions of Europe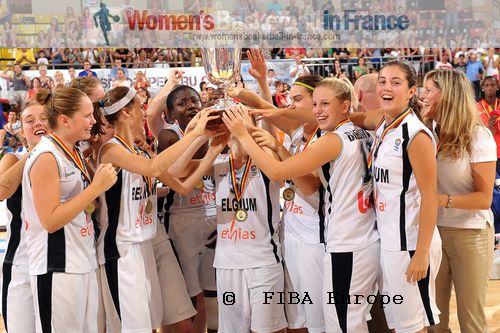 For the last three years the 1993 generation of Belgium players have moved up the international youth basketball table. In 2009 Spain needed overtime to get past them in the U16 final. In 2010 they finished 4th at the FIBA U17 World Championship for Women.
This year they have jumped to the top of the European ladder by beating France (77-49) in the final of the Global Vision European Championship.
Emma Meesseman was once again the pillar of the Belgium team with 25 points and 9 rebounds. She also drew 9 fouls.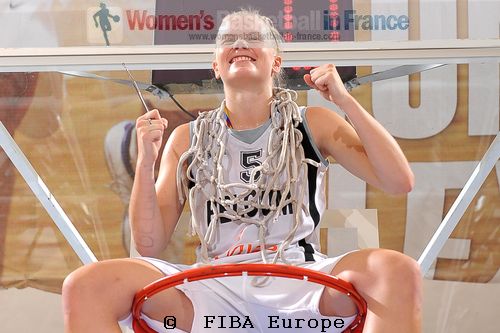 Their captain Julie Vanloo (right) may not be going to Iowa State University in America as planned but gave everybody a reminder of her basketball skills with 18 points.
France once again were faster out of the starting blocks and raced out to an early lead (13-7) with just over six minutes played.
A quick change of tactics by Belgium and back to back scores by Meesseman resulted in Arnauld Guppillotte, the French coach, calling for a time-out although France were leading (13-11).
Despite a trey by Sara Chevaugeon for France, Belgium were playing better. The fast break points started to come with Antonia Delaere and Vanloo scoring.
Romane Bernies restored the 3-point advantage for France with a minute to play in the quarter. However Belgium were back on level terms at the break with a pair of free throws from Vanloo and and a split pair by Meesseman (18-18).
Belgium picked up the intensity at the start of the second quarter and started to defend harder.
France were forced to work harder in creating offensive opportunities.
Olivia Epoupa's trey was the major highlight for France to open the scoring in the second quarter.
Belgium then went into overdrive outscoring France 16-2 in a space of four minutes (34-23) to take control of the game for what turned out to be for good.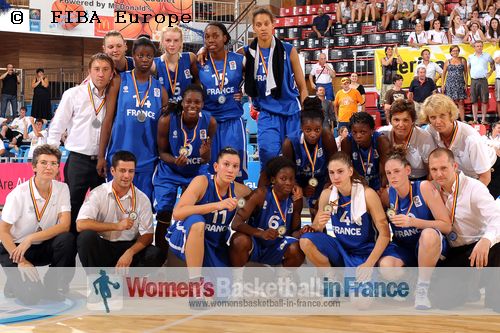 Belgium went into the locker room leading (42-27) with three minutes played in the third quarter.
They had more or less killed the game off with a 9-1 run.
The French coach called a time-out (28-48) to motivate his players.
Whatever he finally told them did not work because France managed just 4 points for the rest of the quarter while Belgium added 14 more points for a commanding lead (62-32).
The final quarter was just celebration time for Belgium for all the players getting to play some minutes as they cruised to victory (77-49).
French: Romane Bernies 6 (3 assists), Claire Stievenard 2, Esther Moisan Niamke 3, Olivia Epoupa 3 (3 assists), Mamignan Touré 6, Alice Nayo 5, Sara Chevaugeon 6, Margaux Galliou-Loko 7, Jodie Cornelie 7, Lola De Angelis 0, Christelle Diallo 4, Marie Mbuyamba 0
Belgium: Louise Platteau 1, Julie Vanloo 18, Antonia Delaere 8, Sien Devliegher 12 (4 assists), Lien Delmulle 1, Jolien Goyvaerts 0, Evi Hayse 2, Emma Meesseman 25 (9 rebounds), Liza Biebuyck 2, Lynn Delvaux 0, Heleen Adams 4, Harriet Bende 4
Return to the top of FIBA Europe U18 news page
MVP: Emma Meesseman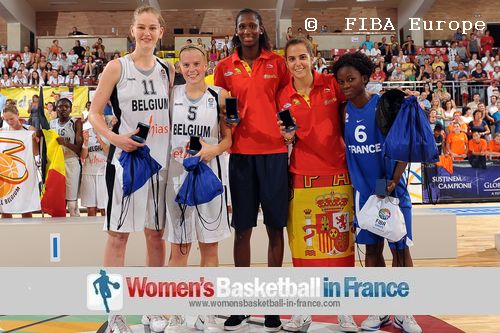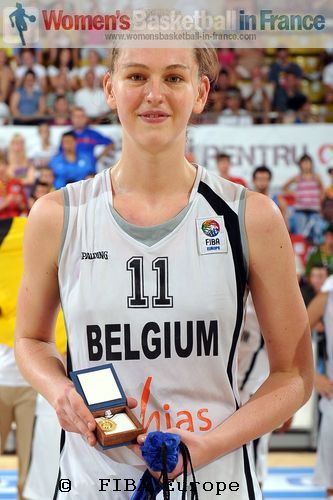 Emma Meesseman (right) of Belgium has picked up her second FIBA Europe MVP trophy which she won in 2007 at U16 and repeated the success this time at U18 level.
Meesseman was the leading scorer with 16.9 points per game. She also picked up 10.3 rebounds and dished out almost 2 assists per game while averaging more than 2 blocks. She was a frequent visitor to the free-throw line. Her performance during money-time in the quarter-final against Turkey and again in the semi-final against Spain enter into Belgium folklore.
She was joined in the all-tournament team by Julie Vanloo (Belgium), Esther Moisan Niamke (France) and Spanish players Astou Ndour and Andrea Vilaró.
Italy was given the fair play award.
Return to the top of FIBA Europe U18 news page
Spain in bronze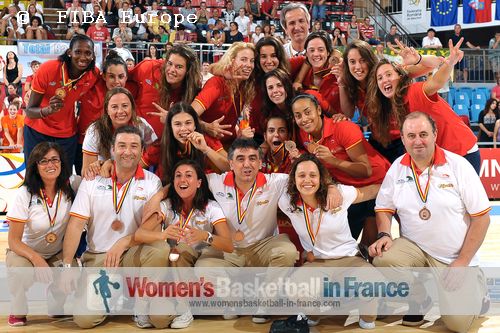 Spain had to wait until the final quarter to finally blow away Sweden and win the third place match (85-69).
Sweden were back to their best and with Amanda Zahui regaining her scoring touch with 22 points they gave Spain a tough physical battle. On the odd occasion tempers flared.
Spain were not ready to let this game slip by them and with five players in double digits they did enough to hold off Sweden.
Yurena Diaz was leading the way with 20 points. Astou Ndour (9 rebounds) and Marlès Balart scored 15 points each. Andrea Vilaro and Elena de Alfredo completed the group with 12 and 11 points each.
---
The Netherlands' rise to the elite of women's youth basketball in the last three years have seen them getting promoted to Division A in all age groups.
With four members of this squad coming down from the U20 Championship last month, the Netherlands were hoping for a top four finish. However this is their year playing in Division A at the FIBA Europe U18 Championships and a fifth place finish is a step in the right direction.
The Netherlands had to wait until the third quarter to pull away from Poland and then a barrage of three-pointers in the final quarter saw them through (80-62).
Richelle van der Keijl led the way with 18 points and 10 rebounds while Loyce Bettonvil and Kourtney Treffers joined her in the double-double category.
---
The final placing is as follows:
1. Belgium
2. France
3. Spain
4. Sweden
5. Netherlands
6. Poland
7. Turkey
8. Sweden
9. Czech Republic
10. Italy
11. Slovenia
12. Romania
13. Russia
14. Slovak Republic
15. Ukraine
16. Lithuania

Return to the top of FIBA Europe U18 news page
---
Leave FIBA Europe U18 European Championship 2011 page and go to U18 history
Return to the top of page
---
U18 FIBA Europe European Championship basketball picture credits:


FIBA Europe / Viktor Rébay




Date created: 14 August 2011
---