FIBA Europe U18
The top 8 in Division B
The best 8 teams at the 2011 FIBA Europe Pannergy U18 European Championship Women, Division B are Belarus, Croatia, Finland, Greece, Israel, Hungary, Latvia and Poland.
These teams have qualified for the quarter-final, also known as the final round stage of the competition.
Alexandra Maerz had experienced promotion at U16 level. She should be disappointed to miss out on a quarter-final spot again. In 2009 she just missed promotion when her team lost in overtime to the eventual champions Hungary.
Germany went into the locker room trailing (21-30) to Portugal. Despite a spirited effort in the third quarter, they were unable to draw level. Laura Hebecker was the leading player for Germany with 14 points, 9 rebounds, 3 assists and 2 steals.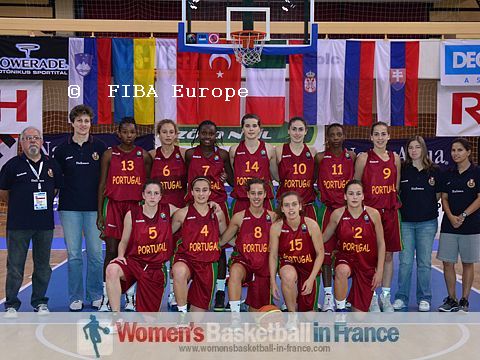 For Portugal, Jessica Almeida led the way with 20 points while Joana Jesus added 18. Mariyana Kostourkova who has been the coach of the Portuguese U18 team for a number of years should be hoping that her team can clinch a semi-final place.
In the rest of Group E action Croatia maintained their unbeaten record with a (64-58) victory against Belarus. Croatia went into the final quarter leading (51-38) but took their foot off the accelerator during the final phase allowing Belarus back into the the game.
Ivana Tikvic was again the leading player for Croatia with 14 points.
Hungary beat Bulgaria (66-57). But it was not a convincing performance against a team already eliminated. Fanni Szabó had to play 33 minutes as she paced her team-mates with 16 points and 6 steals.
In Group F, Finland confirmed their status as promotion candidates with a convincing victory over Greece (58-46). The Finns took advantage of a slow start by their opponents to open up a double-digit lead by the end of the first quarter (22-10).
Anette Juvonen from Finland was the top scorer with 22 points. Artemis Spanou led Greece with 16 points and 9 rebounds.
Latvia did not have it all their way in beating Denmark (76-68). Agate Geka and Linda Vild were the big scorers with 20 and 15 points apiece for the Baltic side.
Denmark were led by a double effort by Maria Jesperse's 20 points and 14 rebounds. Due to the fact that Israel had beaten Norway earlier in the day, Denmark had been eliminated before entering the court.
Israel's Keren Mozes scored 24 points and picked up 9 rebounds in the victory (76-58). But the performance of the day belonged to Julie Mccarthy from Denmark who scored 24 points and picked up 24 rebounds.
The quarter-final pairings are as follows:

Croatia vs. Israel
Finland vs. Portugal
Belarus vs. Greece
Latvia vs. Hungary

In the 13th place classification series England beat Switzerland (54-36) while Luxembourg beat Austria (85-56).
---
Leave FIBA Europe U18 European Championship 2011 page and go to U18 history
Return to the top of page
---
European Championship basketball:


FIBA Europe

Date created: 11 August 2011
---